We get a chance to review Collect and Display's Mascot, Hugo and Geoff The Pumpkin resin figure. Designed by non other then JC Rivera then Dave Boydell 3D sculpted Hugo and Geoff and casted by Evan Morgan. 
"Its Halloween and everything is frightfully scary, everything except Geoff that is. Geoff is a discarded Halloween pumpkin, thrown aside for his lack of scare.
Whilst taking a stroll pondering on what his purpose is in this world he comes across Hugo! He approaches Hugo with his sad pumpkin face and starts to tell him about his feelings of neglect and having no purpose. Hugo picks Geoff up, looks him in the eye and tells him not to worry.
Hugo invites Geoff back to his shack in the woods and on the way tells him about how everyone in this life has a purpose although it may not always be that obvious. 
Once they arrive at the shack Hugo pulls out a knife and starts to dice Geoff up into small pieces! He then proceeds to use Geoff to make his renowned pumpkin pie! Although Geoff was a little sad and felt befriended by Hugo he was ultimately happy and fulfilled, as Hugo had given him a purpose."
Here's our Youtube review. (sorry about the camera angle in advance ooops)
[youtube url="https://youtu.be/P4eIAYRGQLQ" width="1000″ height="900″]https://youtu.be/-q6KyIQkaQk[/youtube]
Hugo and Geoff  come in bagged with a nicely done headercard, of course in the same colour theme as Hugo and Geoff. not forgetting to mention the easy opening from the bag which we are used to seeing UMEToys use this method and others should do the same.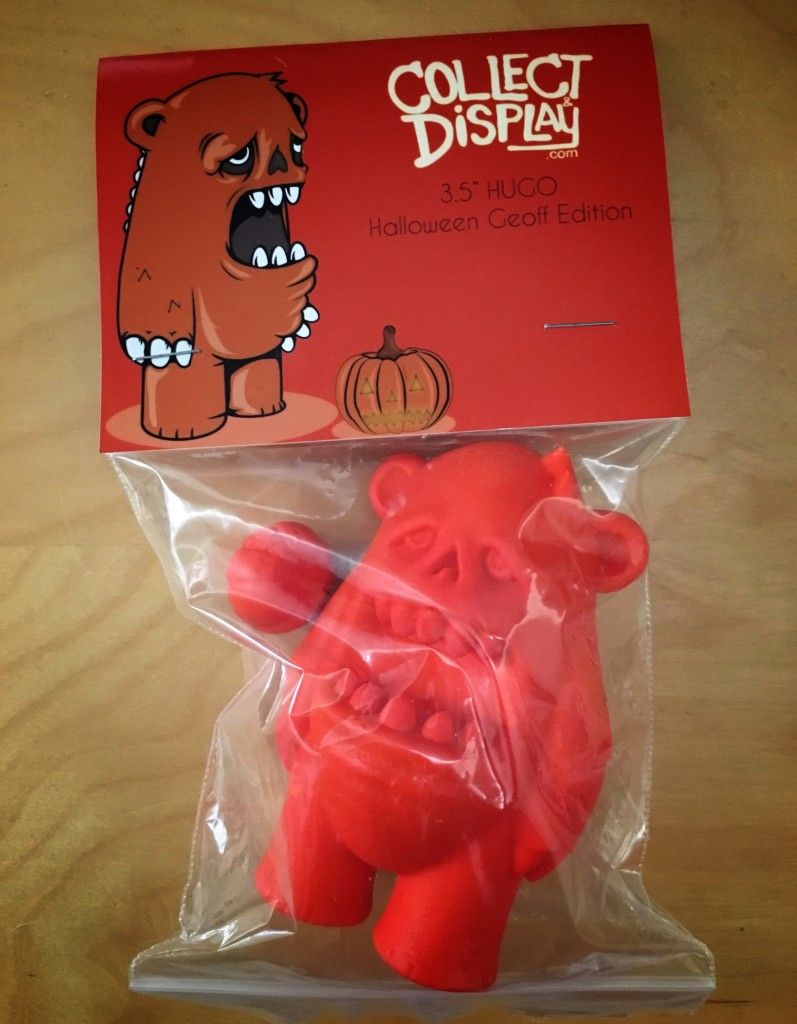 lets start off with Geoff The Pumpkin. Geoff is nicely sculpted and no casting marks can been seen, unless you look one the bottom of the figure which you won't because you're not as daft as me. The air brush finish is flawless with all the areas covered.
I was impress how the sculpt came out from the casting, as all the detail within the mouth was clean. No air bubbles that can be seen which is a good thing because sometimes resin toys can have minor air bubbles.
Dave Boydell  3D sculpted Hugo did a great job turning JC Rivera Hugo into a 3D design. Getting in all the details like the mouth and droopy eyes. Everything resembles Collect and Display's Mascot, Hugo.
[slider source="media: 32643,32644,32645,32646,32647″ width="1300″ height="1060″ title="no"]
The only minor issue (maybe for the Hugo I received) was the the seam marks on the back of Hugo from the resin casting. It looks to me it could of been smoothed out a little more, but saying that it does't really effect it as it's on the back. You can only tell when you look at it closely. You can see it a little clearer in the video above.
[slider source="media: 32641,32640,32642″ width="1300″ height="1060″ title="no"]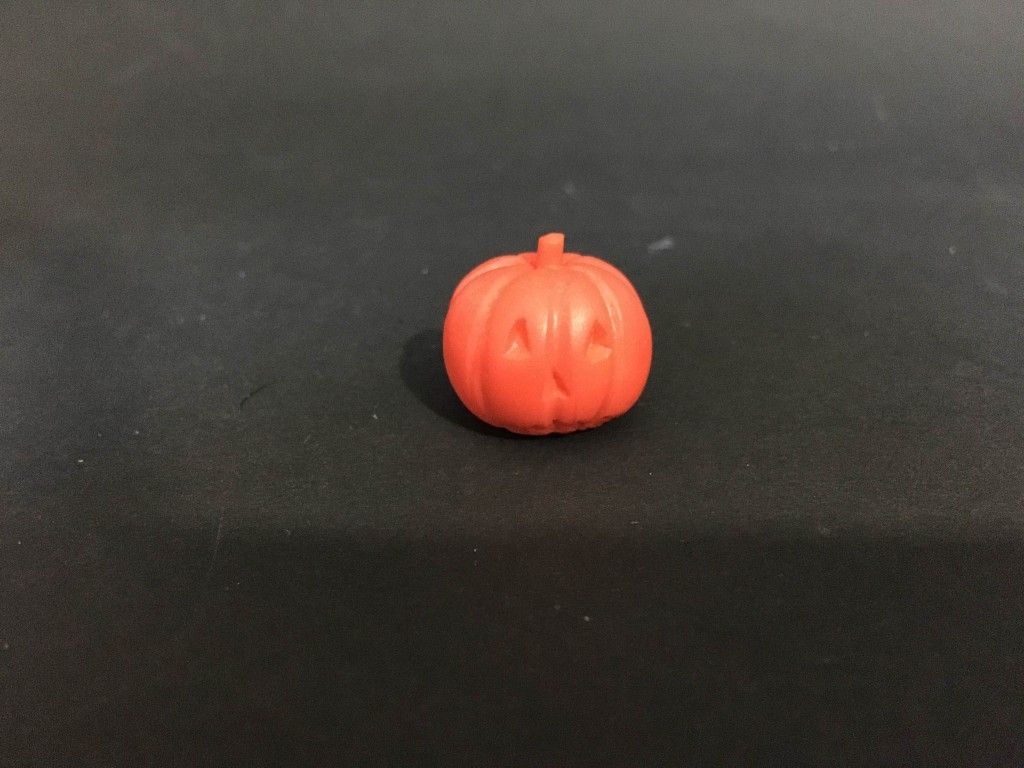 Geoff makes a good companion for Hugo.
Maybe it's my personal view but I like Geoff but the line going right through the nose would of been better positioned. I guess it's down to personal taste.
Hugo is heavy and bigger then expected looking from the prototype photos. Even though measurements are always given, you never expected it to be this big. The size will sit nicely on your display and the weight will make it less likely to fall.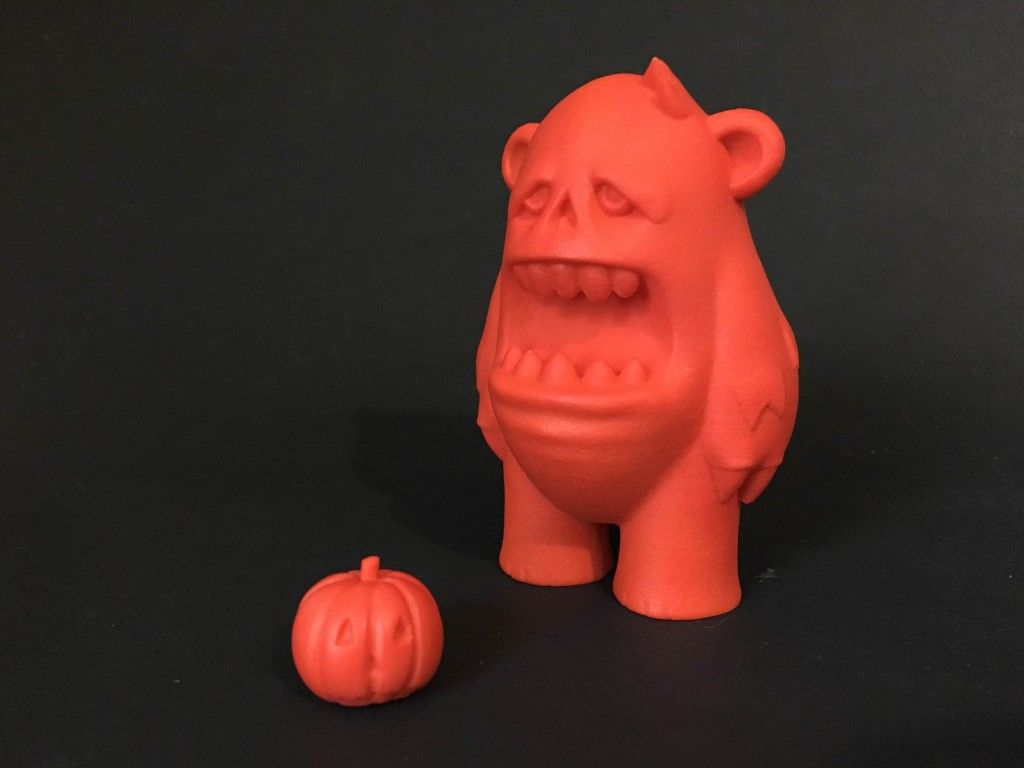 Would I buy another colourway or versions of Hugo? dam right I would. Amazing price point and quality products used to make Hugo and Geoff.
You'll be able to order Hugo and Geoff Thursday 22nd at 8pm UK time at http://www.collectanddisplay.com/  Limited Edition of just 30 pieces. Hugo and Geoff come packaged in a polybag with a Halloween themed header card. Hugo measures 3.5″ in height and Geoff is just under 1″
Made in the UK by Evan Morgan 
Hugo Design by JC Rivera
Digital Sculpt by Dave Boydell 
Please note: Hand cast and painted resin hand-made collectible for ages 15+, may contain small imperfections and may appear slightly different to the above images.