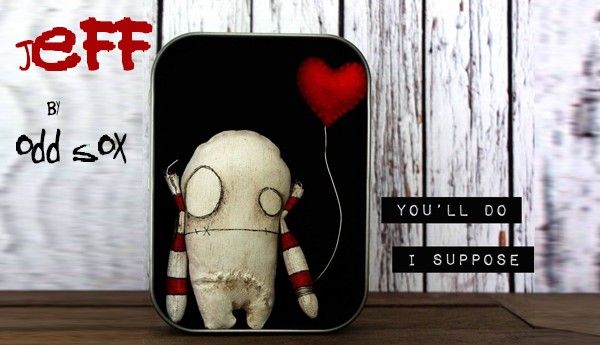 Odd Sox's Jeff makes a heartfelt return this weekend, with odd sox's fans glued to the screen waiting for Jeff's comeback. Jeff comes with a lovely heart this time round perfect for this valentines season, still won't make Jeff smile but he might make you smile.
A romantial creepy little Jeff holding a lovely red heart shaped bloon.
A nice valentine gift for the spesh person in your life who likes weird stuff or maybe just a present for yourself, because let's face it, you're totally worth it.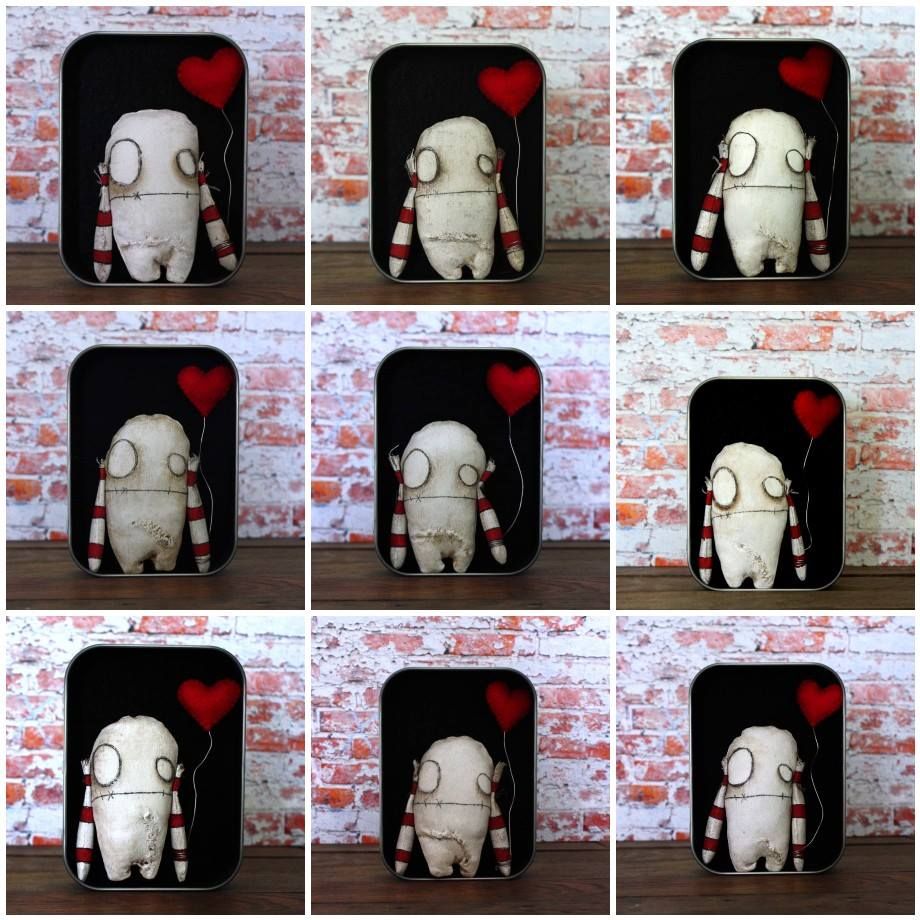 The rugged looking chap has so much grumpiness, gruesome charm and goes right long with Odd Sox stories so don't miss out on little Jeff who stands around 3.5 of awesomeness. I was luck to own a Jeff so I can voucher him being a good lad and doesn't throw tantrums. But then again every Jeff is a little different in some way. Thats what makes your Jeff YOURS…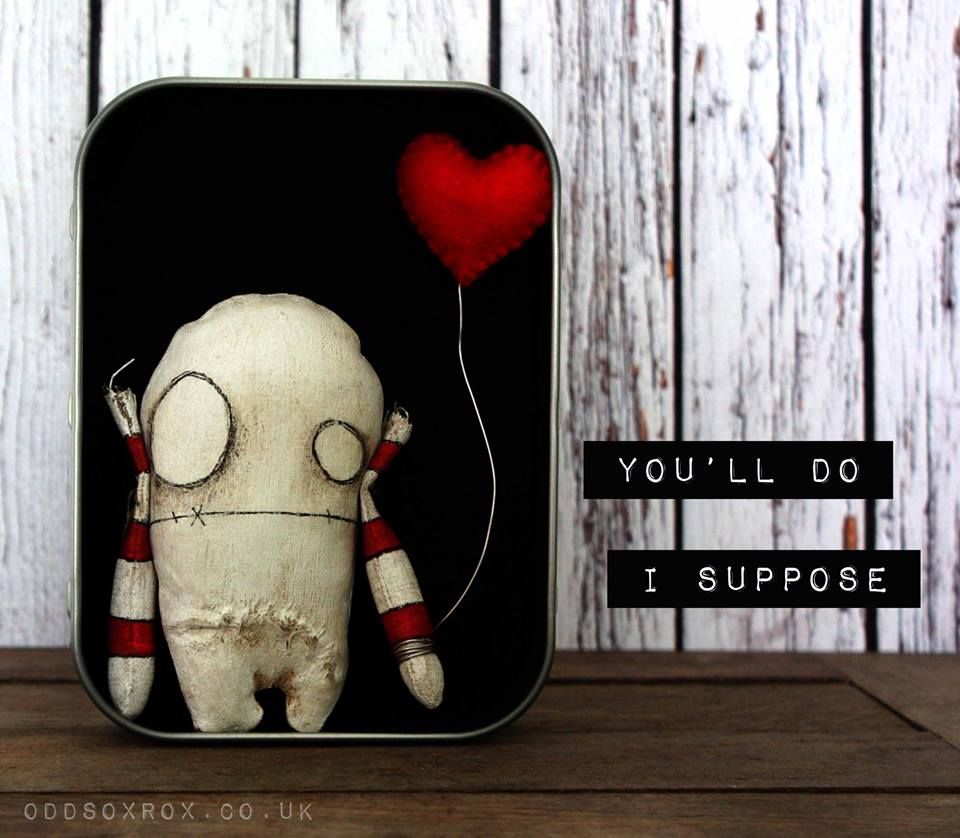 They are approximately 3″ small and are made from fabric that has been painted. As such, they are NOT AT ALL SUITABLE FOR CHILDREN.
They are made as decorative art dolls for growed up humans only.
Children already have enough stuff of their own and do not require Jeffs!
Jeff's arms are sewn loosely enough to allow a little movement but if you develop a habit of swinging him round by the arms, they will eventually fall off. So don't do that.
Jeffs bloon is held up not by helium (surprising I know) but by wire, and is detachable.
The end of the wire is not terribly sharp but is bent over for safety just in case you are an idiot. (insert smiley winky face here)!
Jeff Valentine will be ready for you 1pm GMT at http://oddsoxrox.bigcartel.com/ priced at £55. Don't say I didn't warn you but Jeff is very limited and takes a long time to make and by judging past sales Jeff gets sold out within minutes! remember every Jeff is different and all hand painted and made with love and care
 http://www.oddsoxrox.co.uk/ ,STORE, Facebook  , Twitter and Flickr 
Jeffs are precious and as such will be delivered by a signed for service only, accompanied by a chorus of winged angels riding rainbow unicorns and playing heavenly music.*
*part of that last sentence may or may not be the actual truth.
Jeff tins are deliberately left plain and simple to allow for customisation. If you decide to create a little habitat for your Jeff, please them the pics. Good quality pics will be shown on our Facebook page and random prizes will be awarded for the best tins.
You could win a print, a set of greeting cards, a friend or a pet for Jeff – or if you're really good, maybe even another Jeff! Hurrah!