Bitbots Toys? I have to admit I have never seen or heard of this company. I was doing some research for TTC and stumbled on a vinyl toy company, to my surprise it was from the UK and how happy I was! but sadly I don't like the platform. Just not a fan of the head I guess, not too sure, maybe it will grow on me and customisers will change my view and why do new platforms have to use more or less the same hands as a Dunny?
I hope the company does make a name for itself really soon I like to see UK in the toy scene. I would like to see the quality of the production too, fingers crossed its good quality.
Anyway if your a fan of the design and platform then your in luck. Bitbots are doing a HUGE sale! you can pick up the
Jinny Bigtop by Jon Burgerman is a 6-inch size Jinny which is Limited edition of 500
Now at £20
'Human brains get weighed down with all the things they're trying not to think and obsess about; Did I leave the gas on? Will I have enough money to pay the rent and buy LA Noir this weekend? What will happen if the Sun explodes? Why are Curly Wurlys getting smaller?
Sometimes you have to sip your over priced, unethically sourced mochafrappacapoeirachino and smile through it all. Give up the anxiety and take your Bigtop to the circus, they have clowns and dancing bears.' – Jon Burgerman
Here are a few  Jinny  blindbox designed by other artist
Series Zero is Bitbots first series. With designs created by 5 fantastic UK artists. This series is a very limited release is available to buy HERE and at selected retailers worldwide.
Each Jinny comes in a sealed blind box making each design a surprise. You can also buy cases of 12 allowing you to collect the whole set!
They have another offer on right now which is Jinny 6-inch Bigtop, 6-inch DIY, & 1 case of Jinny Series Zero (SAVE £55) £40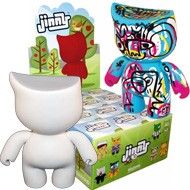 You can find all the Bitbot products HERE
Follow them on