The Toy Chronicle artist spotlight makes a long awaited return and shines the spotlight over in Spain to an amazing artist Sandra ArteagA. She maybe not as well known in the designer toy world but dam it will be our duty to change that. The potential for her to crossover and set the stage alight. Sandra's creativity is unbelievable, quirky, freaky, cute using all kinds of mediums in her processes.
A few of her latest work and on sale right now are these Super Hero characters.
Delphine – Wonder Repipi
Repipi:  stands at Approx 5.1 inches fronting skin like paintwork and super sculpted with realism. From the eyes to the costumes everything looks spot on. Repipi reminds myself of the good old days of bring young and playing as a super hero using my coat as a cape.
Superskeptical
Vegetableman 
Vegetableman stands around 7.5 inches "Vegetableman" is sculpted with polymer clay over an strong armature covered with polyfil allowing repositioning some parts of his body. His suit is sewed by hand with fabrics and findings of the best quality by Sandra.
Meet Jim Porter another one of Sandra's creations the superb finish and scale to this figure showcases she can work in any size.
Miyu sets Sandra's tone that she can create darker sculpture art with Miyu, the idea is totally creepy yet beutiful in its own way, the cracked paint texture giving off the darker side. The idea of her holding up and sketched eye was the highlight for me.
Even Sandra's older work dating back to 2011 are still brilliant, everyone very interesting with an array of characters.
Sandra not only does figures she also has wonderful paper toys as well as accessories, one of our fav is this space creature pendent.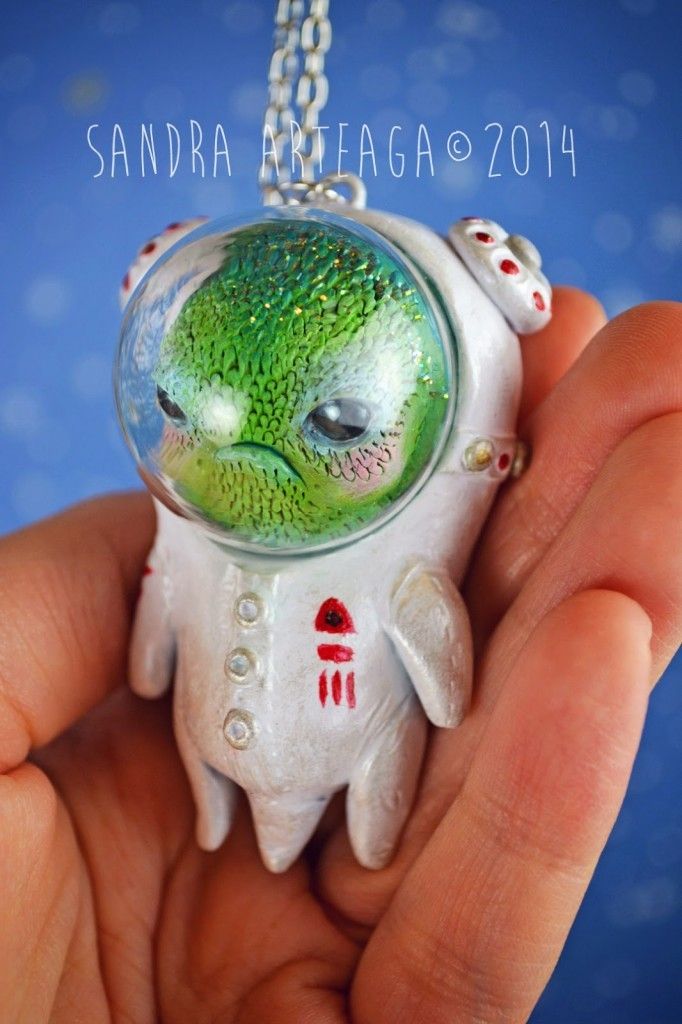 As you can see her photography skills are freaking amazing too. Every artist should have good photos or at least presentable.
We will leave you to explore Sandra's world, you can find Sandra via her Blog and Facebook.
Her shop  https://www.etsy.com/uk/shop/SandraArteagA you can find things like Medusa & Otto. You have to check out her pints and clothing too.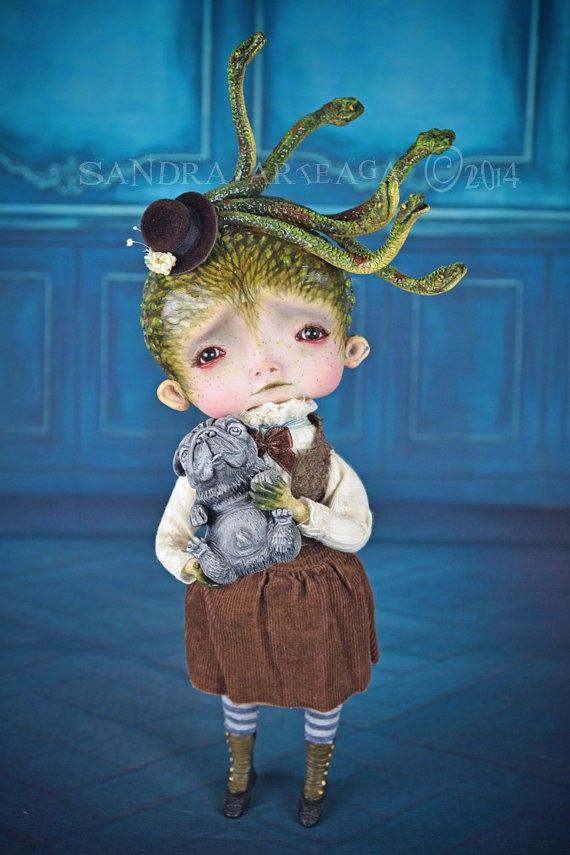 (all photos and info lifted from http://sandra-arteaga-dolls.blogspot.co.uk/)