Hey! Hey you! Do you want to exhibit your art at the 2017 edition of ToyConUK? Yeah, of course, you do. Why wouldn't you? ToyConUK will be five years old in 2017 and this year they're only getting bigger. Extending to two days in April, rather than the original day event of TCUK past.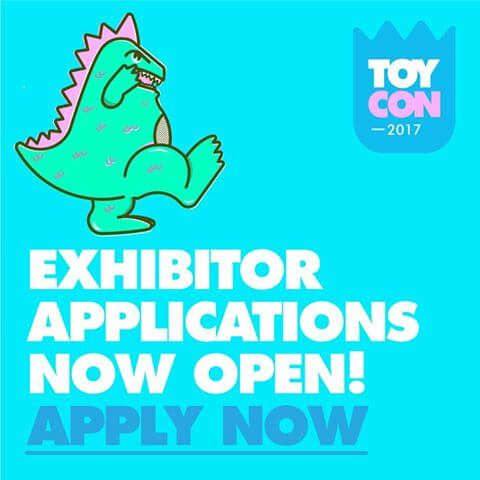 Click HERE to send your email to ToyConUK Team now. Once you click on the link, your email application will open with all the details you need to complete for your application to be completed. These are:

Contact Name:
Artist/Company Name:
Link to Work:
Small Bio (to be used on website):
First Choice Space: Weekend Booth, Saturday Table, or Sunday Table
Second Choice Space: Weekend Booth, Saturday Table, or Sunday Table
You can also visit the ToyConUK website HERE and click on the 2017 Exibition Application button at the top.
As there are two days to ToyConUK 2017, there may be artists that wish to do both days, or an individual day – which is why you need to pick your preference.
Pricewise, you're looking at Weekend booths estimated at £225 and day tables are £100. There may not be any day booths only tables, as an FYI. More details will become known as we get closer to the date. The TCUK Team will be in touch after they have sorted the preliminary layout for the event for confirmation. There will also be a wait list started as most years do see a few cancellations as we move closer to the event.
Tickets will become available at a future date, we'll keep you posted on details as they become available.
Hopefully see you all in April! x