New ToyCon exclusive reveals for you this sunny day, and they're from Andrew Byham! First off we have the stoic Wartoise "On Air":
[frame align="center"]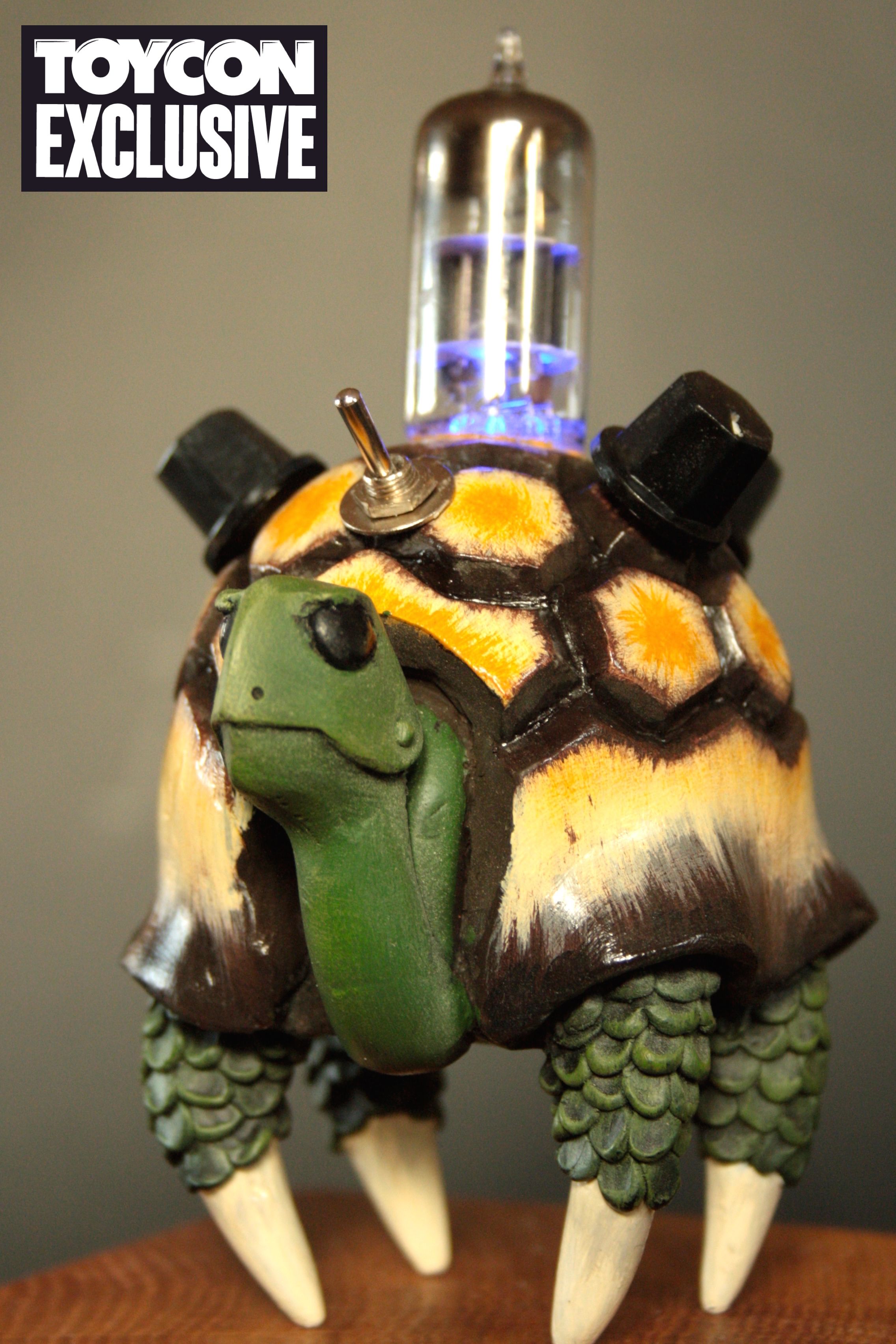 [/frame]
In the days before water based pirate radio stations such as Radio Caroline, Wartoise dabbled in a little unlicensed radio broadcasting. Despite installing the tallest thermionic valve he could find he still had trouble reaching listeners more than a few yards, so stood on tippy toes to increase his reach. The initial flurry of listeners soon dwindled due to the limited playlist of quite literally one track – A Summer Place by Percy Faith. Alright? Not half!
[frame align="center"]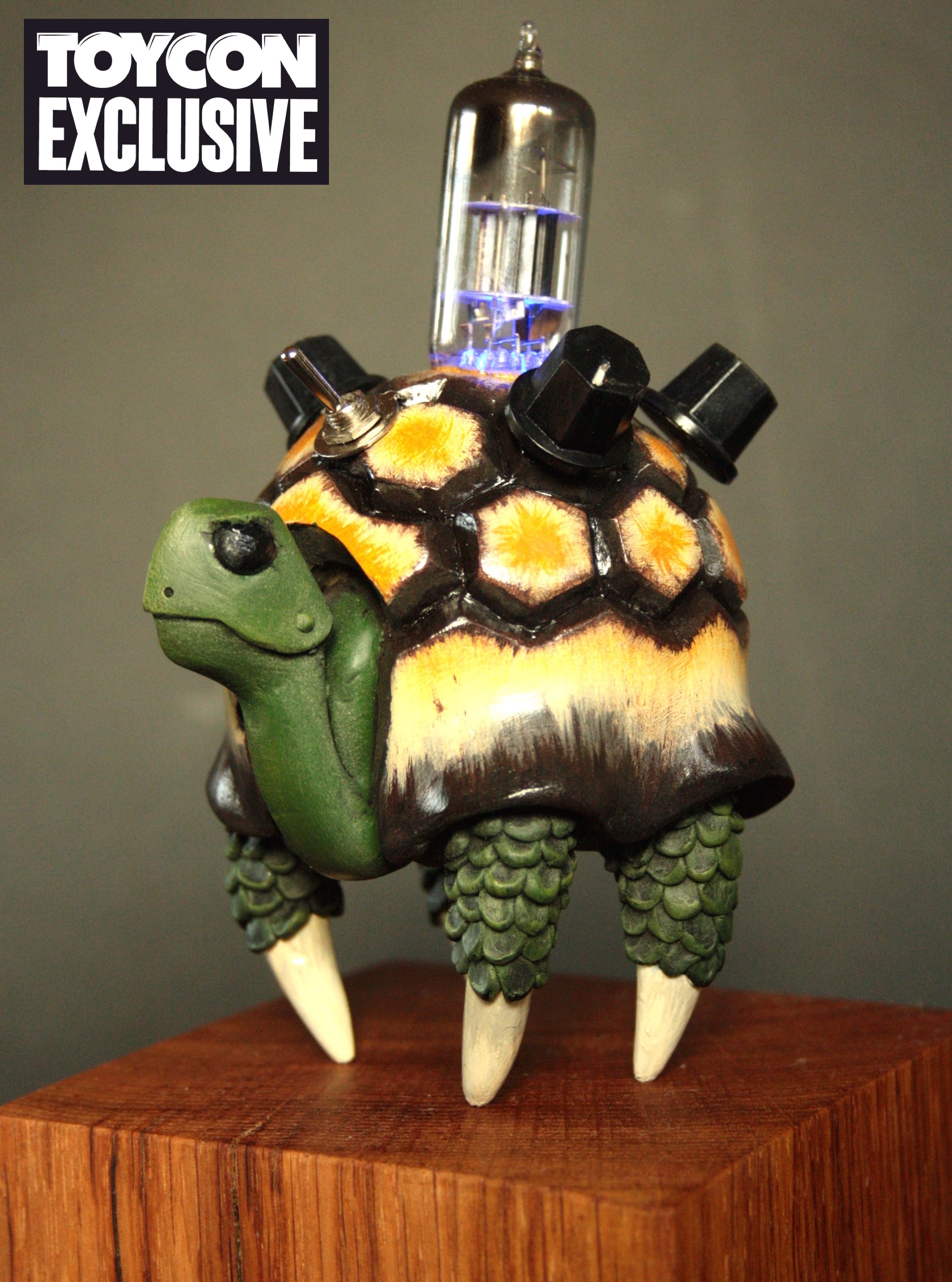 [/frame]
This is a one-off Custom Wartoise figure that features a radio valve, LED with micro switch and top hat tuning knobs. Very cool!
The next reveal is Robot #9:
[frame align="center"]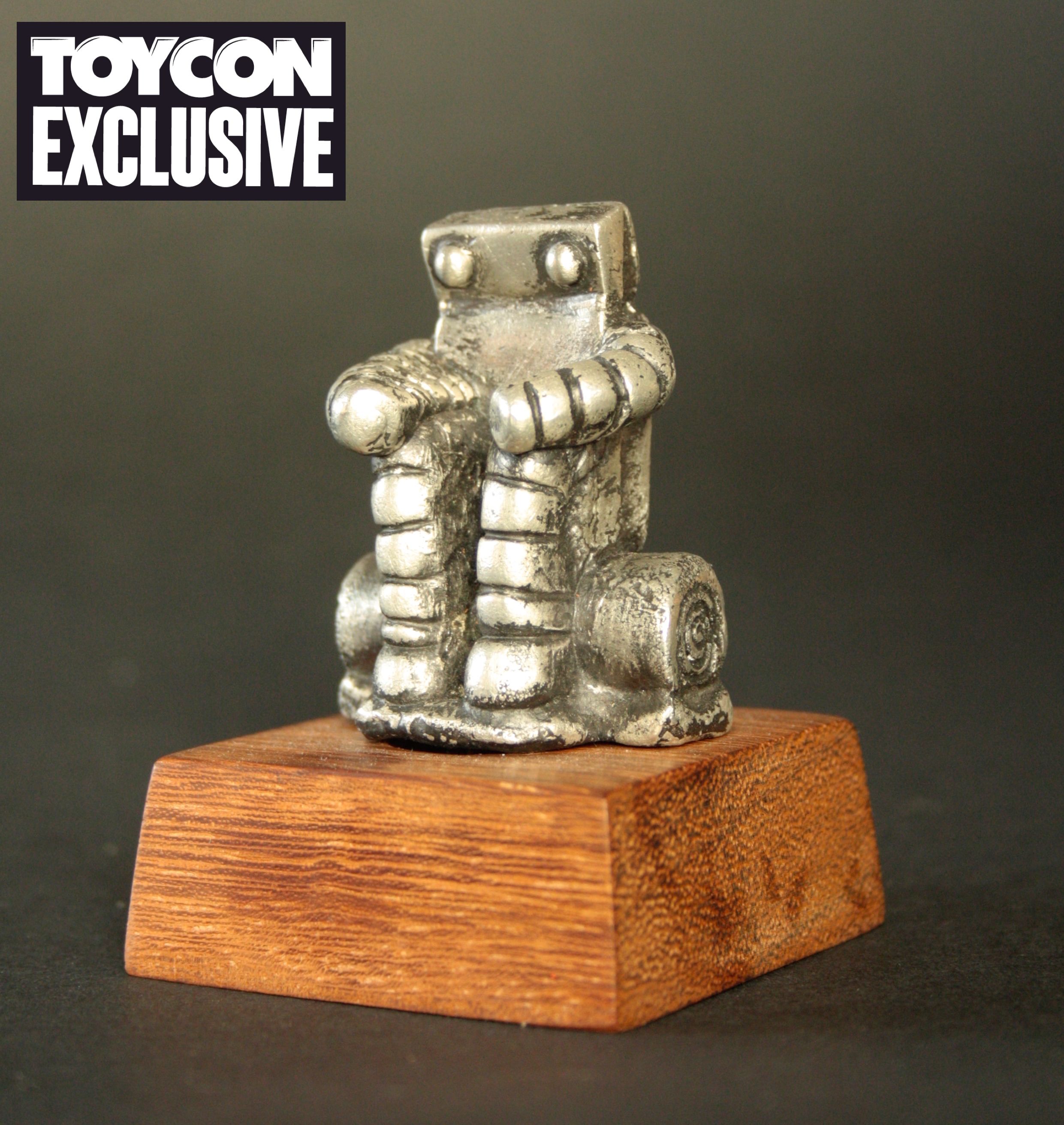 [/frame]
While a quiet and mysterious flying saucer was monitoring a small insignificant planet one of the robotic occupants fell through a faulty hatch to the ground below. Alone and scared in an environment he was far from familiar with, he was chased by wolves until finding sanctuary up a tree. He managed to make a fire to keep the wild beast at bay while he sits and waits to be rescued.
This lonely little guy is a new 1.5 inch figure, designed by Joseph Byham and cast in pewter. There will be an initial run of 5 of these sweet dinky robots, so find him fast on the day if you want one!
Finally, his newest reveal is the intimidating, The Administrator:
[frame align="center"]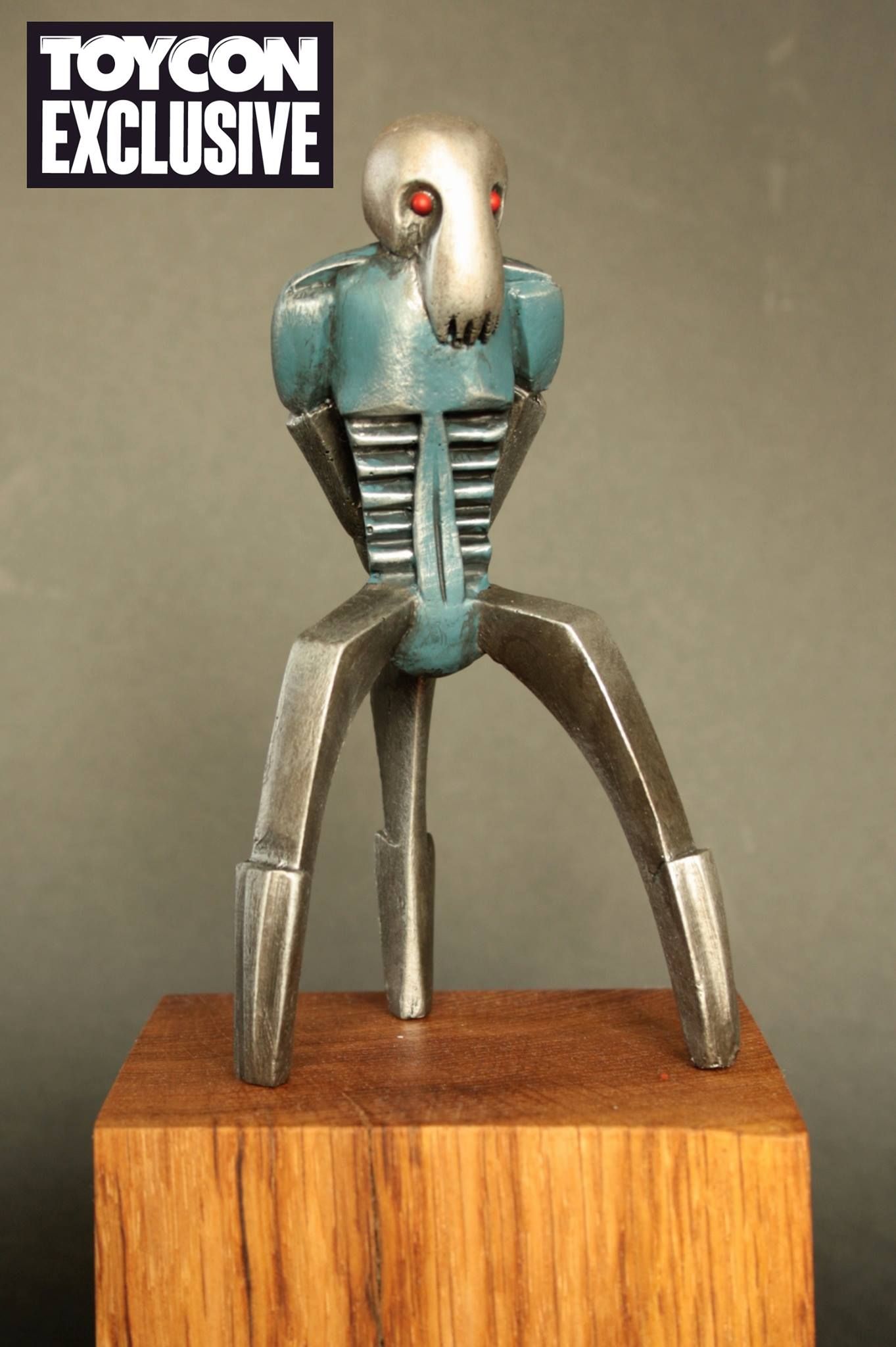 [/frame]
Beneath the grand rooms of Falcon Hall lies an estimated 15 miles of tunnels, corridors and crypts, housing accounts, paperwork, historical records and the largest collection of wines in England.

An army of shadowy figures pace around the corridors and rooms keeping paperwork in order and, when required, locating the perfect bottle of Vacqueyras as requested by The Admirable Crichton during the many sumptuous dinner parties above ground. The figures, known as Administrators (model SH-R1-K3), make their way through unlighted corridors by the light of their illuminated eyes.
[frame align="center"]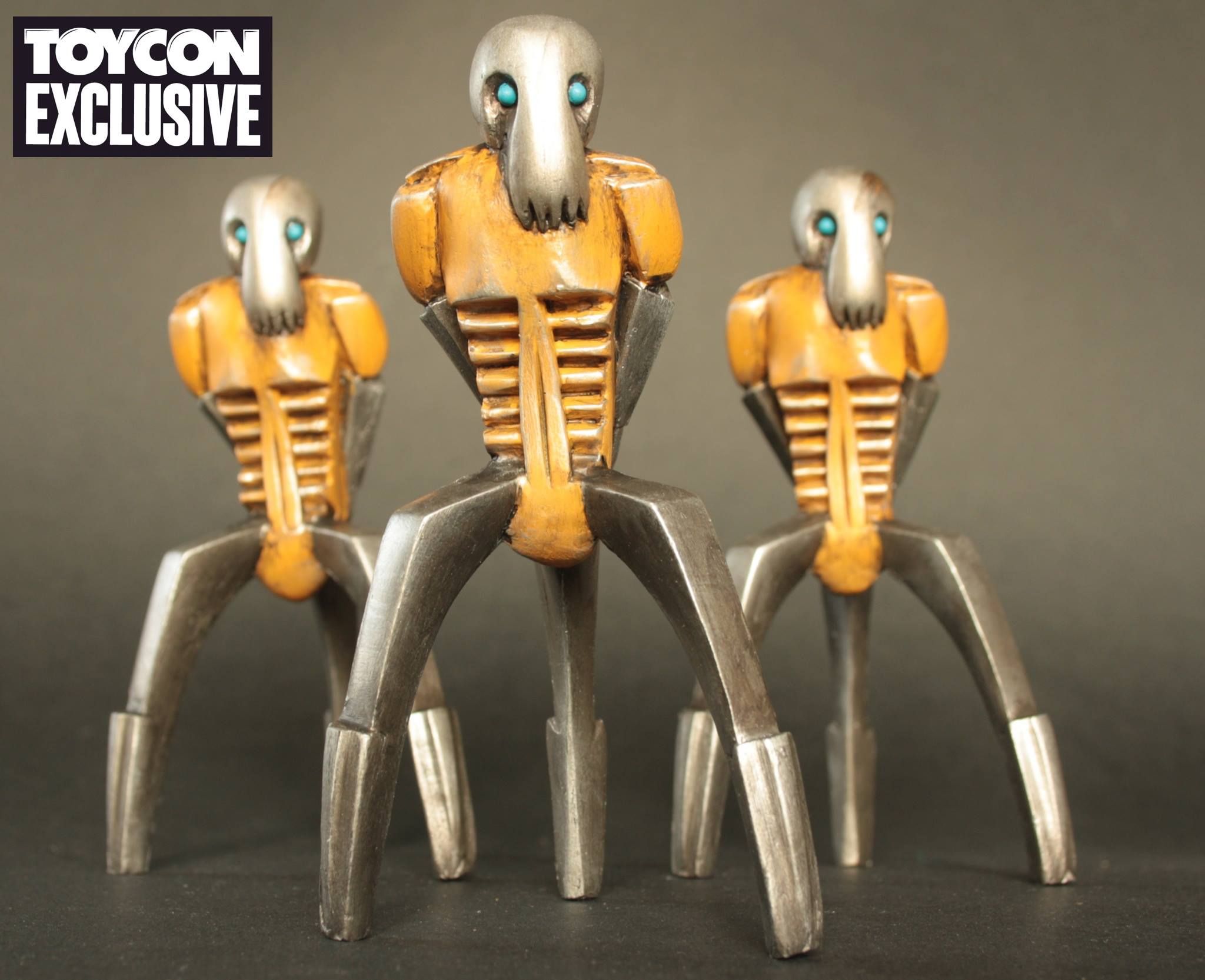 [/frame]
Administrators are rarely seen so their appearance is somewhat less polished than the staff in the main house. When spotted, adult visitors to Falcon Hall are often, misguidedly, fearful of the austere, slightly intimidating stature. No so the children. Many Administrators are kindly with a sense of humour, happily allowing the young Duke and his friends to play tunes on their xylophone like ribs.
These original resin figures stand at roughly 5″ tall, in blue or yellow colour variations. There will be only 4 of these dignified chaps in each colour and they'll cost £25 each.
Intrigued? Then keep checking Andrew's Facebook page for future reveals!