Oh YES! they are finally being released, the wait is OVER. Having made collectors go wild when they first made their debut at SDCC 2015. Thimblestump Hollow (Carnival Edition) by Chris Ryniak x Amanda Louise Spayd have officially loaded up their new site and ready to take orders. Designed by Amanda & Chris, produced by Cardboard Spaceship, Amanda & Chris are in fantastic hands with Cardboard Spaceship as from past products the quality has been outstanding and we are sure Thimblestump Hollow's will be as good!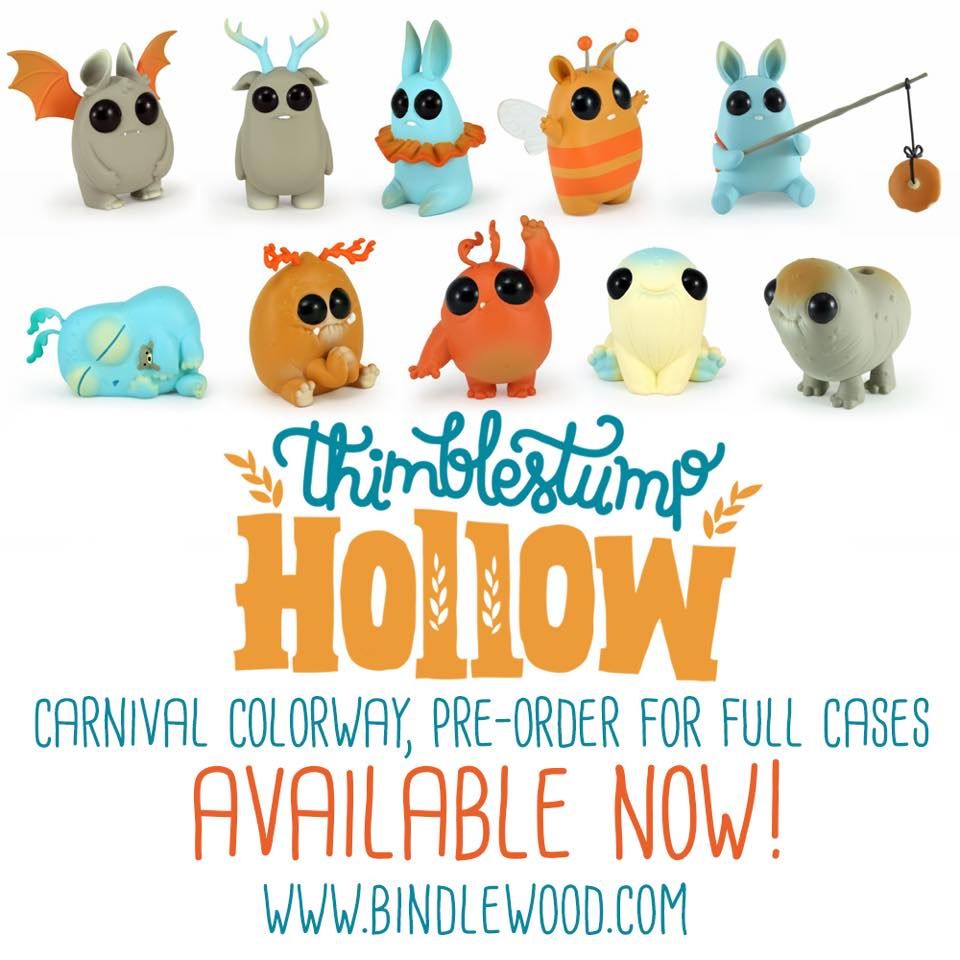 "Bindlewood.com is the new online store for both myself and Amanda Louise Spayd. We've been collaborating on so much work over the past few years, and both of our online stores are fulfilled from the same location. With the release of our first collaborative mini-series, Thimblestump Hollow, we realized that combining our online stores would make the most sense for our fans, make it easier for you to pick up stuff from both of us and combine shipping, and just generally simplify all that yucky business back-end stuff we have to deal with. "
Bindlewood.com is now LIVE!
Of course support the artists first as you can pre-order from Bindlewood.com priced at $140.00 per case. Each case contains 10 unique characters (an entire set, blind-boxed individually), as well as 2 blind-boxed random, rare chase pulls from the "Buttermint" colorway. Figures are all different, and are slightly different sizes, but average at 3″ – 3.5″ tall.
But for us Non UK residents its a sign of relief that http://www.collectanddisplay.com/ will be getting them in stock too, time to save a few pennies on shipping and TAX costs!  £11.00 per blind box and £13.00 for the SDCC Leprechaun Edition.

Amanda's Blog http://mandilouise.blogspot.co.uk/ you can also find Amanda on her Facebook , Twitter and Instagram.
Check Chris Ryniak via his Facebook ,Twitter  and Instagram.
(all info lifted from Bindlewood)