Over 2700 TTC posts during the course of 2018! Wow! Mostly down to our beast, Mr Hung, knocking out some absolute belters over the past 12 months. Averaging over 220 a month! Impressive. Whilst others have leant more towards Facebook sharing, TTC has continued to stick to what we are good at. Finding & writing about awesome content for you. It's never an easy task, but one that we love doing. Trying to narrow down my Top Nine Highlights of 2018 is also a task that is never easy, but one that must be done. I've gone with my Top Nine so I can make a nice Instagram image too, but there have been clearly more than nine highlights this past 12 months. So shall we start…
Number Nine Highlight of 2018
DesignerCon 2018!
DesignerCon makes my list AGAIN in 2018. Easily really as it's such an awesome event in the Designer Toy calendar. Moving to Anaheim was an interesting move for DCon, and increasing the size was HUGE. We shared a booth with the guys over at Xpanded Universe, Kill666, Nate the Milkman and Vitalmarks! Five beautiful boys, wouldn't you say? Solid, the lot of them.
Also at DCon 2018, Kidrobot asked if I would like to officiate the Arcane Divination Discussion Panel featuring all the artists involved in this award winning Dunny series. Of course I said yes, but I also went out the night before and was perhaps a little rough around the edges during the discussion. You can watch our live stream of the panel on our Facebook page below. Despite the hangover, it was a fun little discussion!
Number Eight Highlight of 2018
Toy Think Tank!
During 2018 a collective known as Toy Think Tank joined forces to help the UK Designer Toy scene feel re-invigorated. With Uncle Absinthe, Robotic Industries, Fugi Me and myself from TTC we had a great group of guys to create events & interest. We did just that in August when Toy Think Tank put on a Gallery show in Norwich. Attack of the Creature from Beyond the Forbidden Island was the show, and it was a huge success for us. Folks travelled to Norwich to be a part of the show and it was great to see so many lovely faces. You can check out the remaining art on the Toy Think Tank online store HERE. In December just gone, Toy Think Tank also helped me out with the Superplastic Janky Series One launch that we held in London. Another great event, also an awesome bunch of folks turned up too to meet Janky artists Pete Fowler & mcbess.
Number Seven Highlight of 2018
TTC Five Year Skull Heeds by Koncrete
Five years have passed since The Toy Chronicle formed in October 2013. To celebrate we asked our good pal Koncrete to re-sculpt our logo – the TTC Skull Heed. As per tradition, Koncrete absolutely nailed it and the Skull Heeds were a huge hit at DesignerCon this past November. We are hoping to have more made, as they've all currently sold out. We shall keep you posted on progress.
Number Six Highlight of 2018
Hattori Taro Bakeneko Release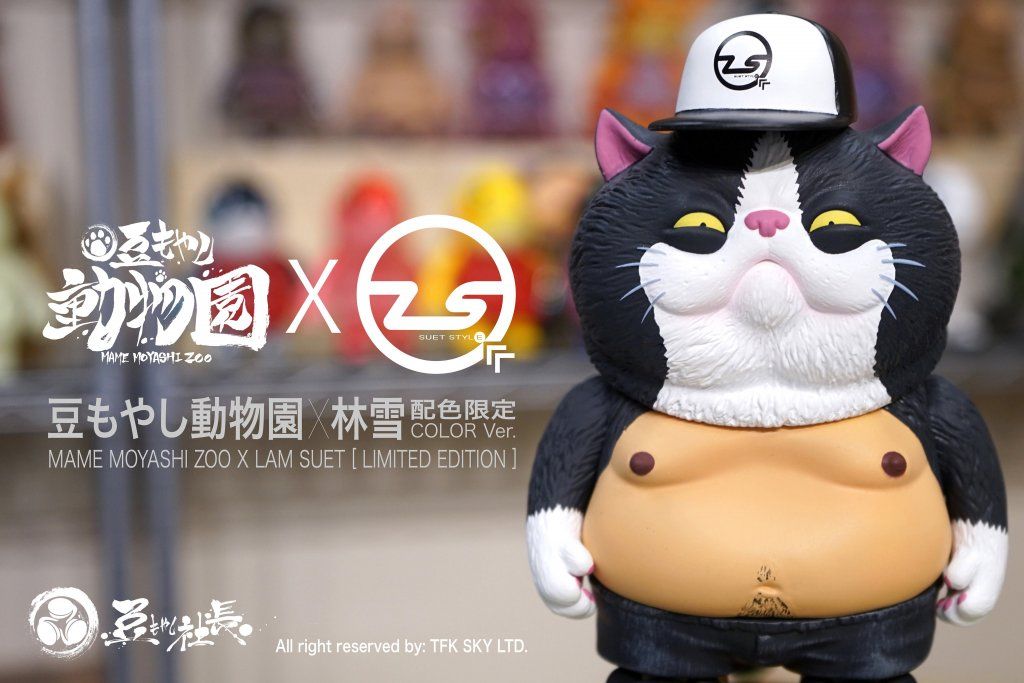 Any release that resembles our Bella the Fella cat is going to make it into the Highlights! That's exactly what is the case with the Hattori Taro Bakeneko release by Mame Moyashi Zoo x Lam Suet! Arriving at TTC HQ in February 2018, Bella & myself both fell in love with the design & style of Hattori Taro Bakeneko!
Number Five Highlight of 2018
Azazel Demon Kidrobot Dunny by JPK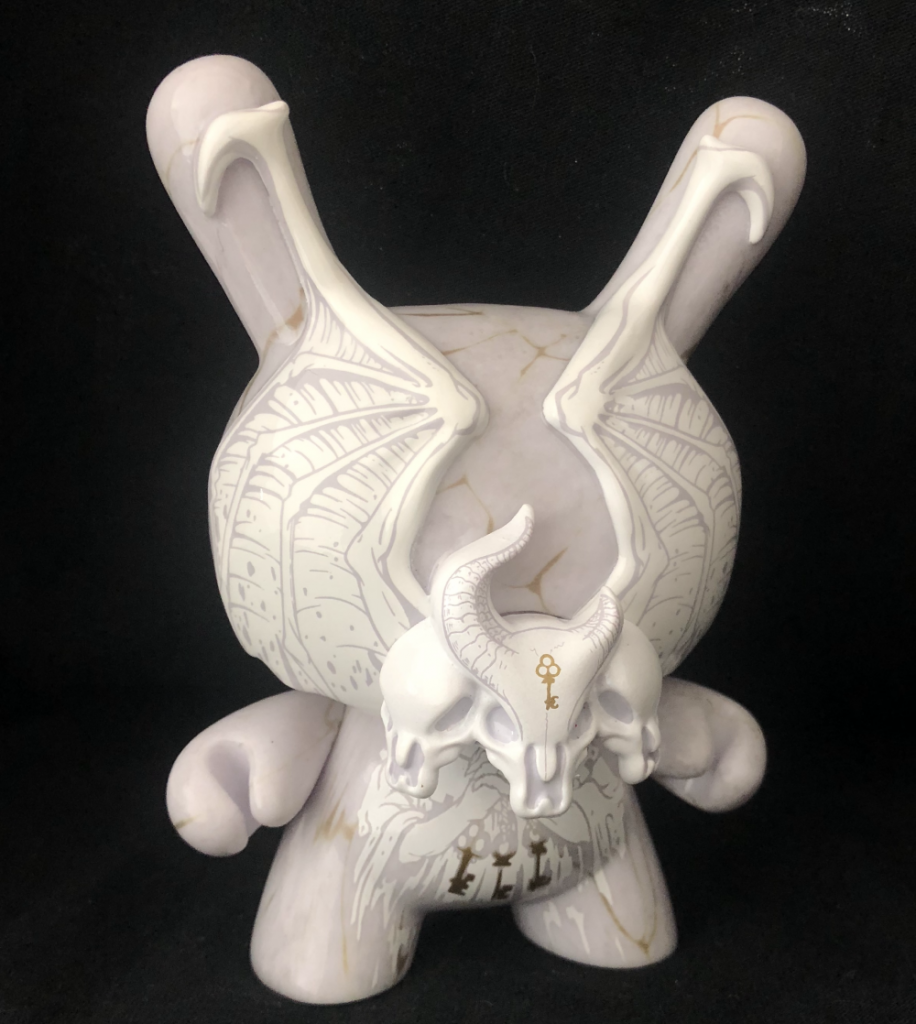 When we caught wind of the new 5inch Kidrobot Dunny by Jon-Paul Kaiser we were stoked to see Jon get a crack at the newish platform size. Tying in with the Arcane Divination Dunny series, Jon has designed an incredible Dunny design that really stands out – literally & figuratively!

You can read more about the Azazel Demon Dunny HERE when we got the chance to review it first back in August! Keep your eyes peeled for the follow-up to the Azazel Demon Dunny later this year, when J*RYU adds his design to the 5inch Dunny!
Number Four Highlight of 2018
DTA BEST MEDIA OUTLET WIN!
In our fifth year of existence, The Toy Chronicle have managed to snag THREE Designer Toy Awards! Following up on our DTA Best Blog win in 2017, we successfully defended our title in 2018 – although the DTA category is now known as Best Media Outlet we'll still take the win and the beautiful DTA award sitting at TTC HQ. We certainly couldn't win without all your support. Every vote is always appreciated, but it's a lot more than votes. It's the love & support you guys show us throughout the year that helps us continue doing what we do.
Number Three Highlight of 2018
FIVE POINTS FESTIVAL!
Five Points Festival was my Number One Highlight of 2017, and it could have easily been Number One in 2018 too. Following up on their inaugural festival in 2017, the guys at Clutter did an amazing job of putting together the 2018 edition of Five Points. The perfect combination of Designer Toys, Craft beer, Street Art & Street food. The venue in Brooklyn is perfect sized. Great location. Five Points Festival is definitely one NOT to be missed in 2019. We are already counting down the days till we head out to New York again. If you're in NYC on 1-2nd June 2019, go check it out! https://www.fivepointsfest.com!
Number Two Highlight of 2018
SUPERPLASTIC!
Superplastic have come in hard during 2018, and we love 'em for it! The hype train began in late Dec 2017 when Huck Gee initiated a countdown clock to end in May 2018 (read more HERE). May 2018 arrived and the Superplastic Kickstarter started. Within hours we already knew that this was going to be a success! Over the next month they had amassed $547,566 in pledges! Roll on December and folks were starting to receive their Kickstarter pledges, and to say we were all impressed would be a massive understatement. Superplastic have done a great job of reinvigorating the Designer Toy scene with their blind box Janky series. The quality of each design is near on perfect from what we have seen so far. Mixing in with the Janky series are the larger Super Janky pieces, as well as the Max Ca$h releases by Pete Fowler. It has all come together nicely and we are already super excited to see where Superplastic go over the next 12 months!
I just put together a short Youtube video with a Q&A with Superplastic founder, Paul Budnitz, which you can also check out below.
Number One Highlight of 2018
CZEE AND THE BROKEN ANKLE!
Is it wrong that I'm putting Czee breaking his ankle at DCon as my Number One Highlight of 2018? Ok, that sounds cruel but it wasn't that he broke his ankle, but his strength to continue to rock DesignerCon this past November with a broken freakin' ankle! My brother from another mother, Czee is my 2018 Number One Highlight. He has had an absolute cracking (literally) year! Our boy from Weymouth has had numerous sold out shows in New York & San Francisco. Countless sold out conventions over the past 12 months. His mix of street art, cute & original art has really struck a cord with the Designer Toy community. Customising, sculpting & creating have all been really strong from Czee in 2018. Czee, as well as being an awesome artist, he's also a great friend/brother to have in your corner. Czee is my pick to take home the DTA Breakthrough Artist of the Year at the upcoming Designer Toy Awards in June. Solid choice. Solid friend. Solid artist.
So there it is. The TTC Beard's Top Nine Highlights of 2018! What do you think of the Designer Toy scene in 2018? What did you like? What did you dislike? What hopes do you have for 2019?
---