Devils Head Productions continue with more teasers since the last post a couple of weeks ago. Today we have some news with a firm release date. 
"A cold wind blows across the barren Norwegian countryside. The cackle of crows echoes through skeletal trees. Pale figures don robes of glass as their eyes and mouths recede into shadow. No words are uttered as crimson letters are scribed across the oath of the damned. We are six."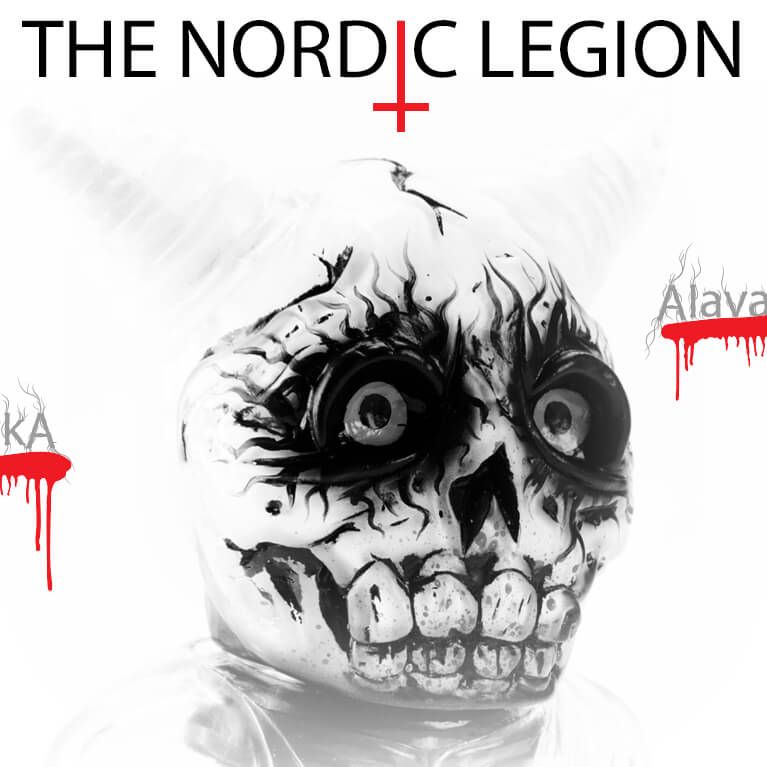 The Nordic Legion Alavaka will be available on March 5th in the DHP webshop. They will pop up at random during the morning (EST) and be priced at $60.00 each. Clear vinyl with red, white and orange paints. Comes with "heart" guts and wrapped bones accessory. Made in Japan. Not intended for children under 14 years old. Also includes a copy of The Plagues "Epidemic" cd which was Devils Head Records number fourteen. *NOTE: While The Plague was NOT a Norwegian black metal band you can hear cues to the original Nordic Legion in both their lyrics and music.
SPECIAL NOTE: If you would like to be entered in a chance to receive a FREE East Coast Skull Krew t-shirt (size S or XL only) with your Nordic Legion Alavaka order please add a note saying "TNL S" or "TNL XL" with your order. Maybe one will be included \../
And don't forget…if you missed out on previous Alavaka releases you still have the opportunity to grab a couple. See below:
MICFITS x ALAVAKA
DHP has teamed up with the punk rock underground experience know as The Micfits to give you an awesome Disney themed treat. The Maleficent tribute features anAlavaka painted in metallic tones to mimic the classic villain from the 1959 animated feature Sleeping Beauty. Also included is the evil black raven (Diablo) who is Maleficent's confidante and assistant. Finally a set of two 5 x 7 inch prints featuring a Maleficent themed Micfits character accompanies the toy. There is also a secret evil chase version. Available in the Micfits webshop (http://www.storenvy.com/shop/?q=micfits).
SCARECROWOVEN x ALAVAKA
DHP has teamed up with illustrator extraordinaire, Scarecrowoven to give you some awesome Alavaka packages. Both Dave (Scarecrowoven) and Toby (Devils Head Productions) did colorways of Alavaka on red and milky white marbled vinyl. An AMAZING Alavaka 5 color silkscreen print featuring glow in the dark ink and 7 color silkscreen tshirts are among the other goodies that will be part of the collaboration packages available in the DHP webstore (http://devilsheadquarters.storenvy.com/)