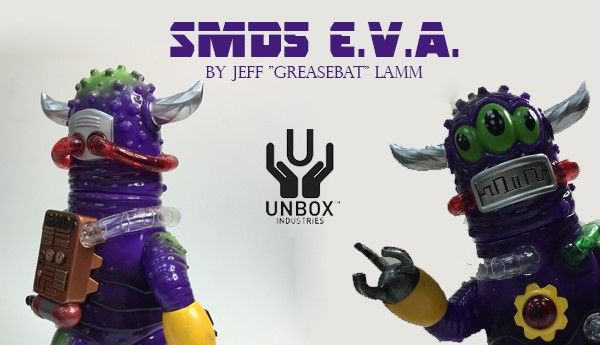 Jeff Lamm and Unbox Industries have done it again! the all new SMD5 is the latest creation by them and arguably one of the best versions to date. With Jeff's trademark designs and the SMD5 is fully equipped along with some awesome colour combinations. No doubt Unbox production quality will be at a high standard.
 Unbox are proud to offer our latest collaboration with Jeff "Greasebat" Lamm for your consideration.
SMD5 is from a breed of monsters known as Star Eaters, this particular individual has been domesticated and put to industrial use.
SMD5's natural heavy armour and strength make him well suited for deep space mining operations. A few modifications to his mouth (rock crushing metal jaws) and breathing apparatus turn him into the ultimate deep space digger. 
Five points of articulation.
Packaging: Header card and polybag designed by Jeff Lamm
SMD5 stands approximately 23cm tall around the same hight as me and is up for pre-order right now. This is the PRE-ORDER EDITION so for this version you will only be able to get right now over at Unbox Industries Shop HERE.