Skeleton Warriors are on a comeback from the 90's with the help from our friends over at Toybreak George Gaspar (October Toys). With little under 17 hours left to get this project fully funded which is 93% funded right now!
The Skeleton Warriors 5″ fully articulated (26 points), customisable, Glyos compatible Baron Dark and Skeleton action figures!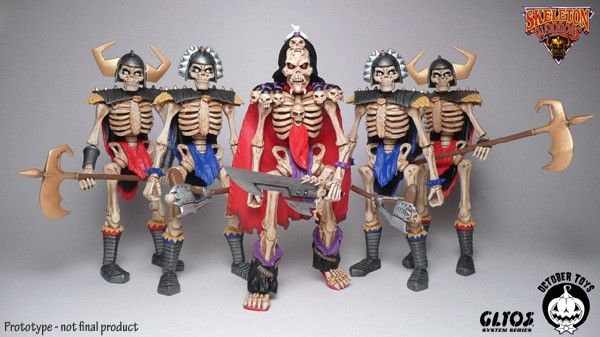 We love toys! We love monsters and skeletons! To make a long story short, our fondness for the Skeleton Warriors figures from the 90's led us to investigate the possibility of redesigning and updating the characters…starting with the bad to the bone Baron Dark!

Originally launched in 1994, it happens to be the 20th anniversary of the Skeleton Warriors brand, which seems like the perfect time to revamp and update these ridiculously fun characters!

As toy collectors ourselves, we are designing these figures with collectors in mind and drawing inspiration from both the 90's cartoon characters as well as original concept art provided by the awesome team at Goddard Film Group, LLC.

Possibly the coolest feature of these new figures is that they are Glyos compatible!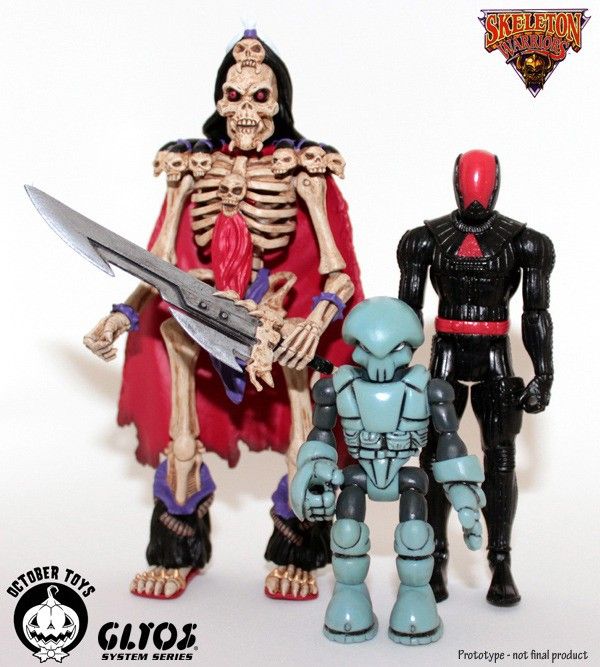 The Glyos System, developed by the insanely talented Matt Doughty of Onell Design, is a system for making action figure parts interchangeable and is currently used by several independent toy companies. These figures utilize Glybrid style joints, which allows for a combination of traditional insert molded articulation with the swivel based Glyos fit functions. We have been working closely with Matt throughout our development process to ensure maximum compatibility while still maintaining the unique characteristics of the Skeleton Warriors.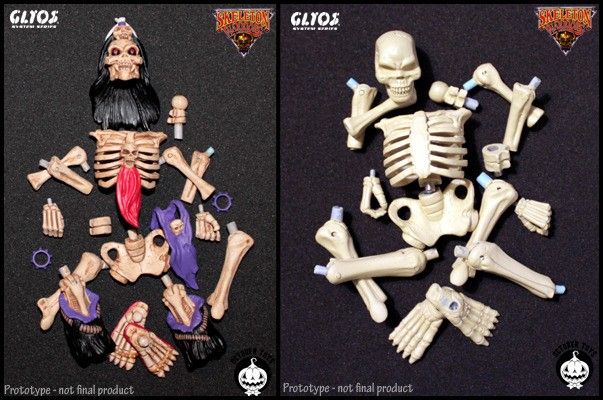 That means you can break these figures apart, reassemble them, and even use the parts interchangeably with other Glyos System brands such as The Four Horsemen's Power Lords, Outer Space Men, and even classic Onell Design Glyos figures!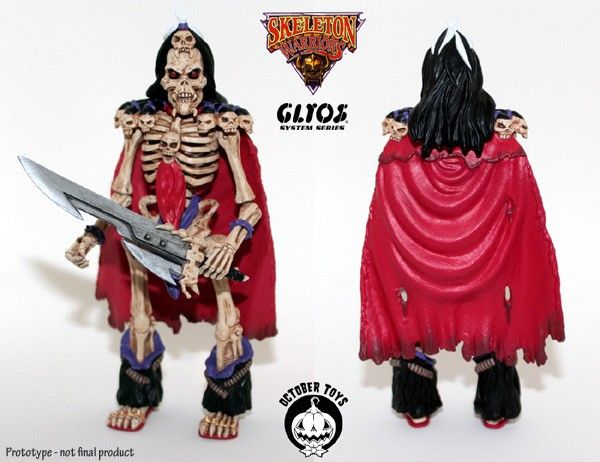 5″ fully painted PVC action figure
17 modular official Glyos compatible pieces
26 points of articulation
Comes with removable sword, cape, loin cloth, and arm guards (for a total of 21 pieces)
Packaged in full color collectors window box
Available in original colors and Kickstarter exclusive Lightstar Crystal Translucent Blue
This is designed to be a 1/18th scale line of articulated PVC action figures. Baron Dark is the biggest of the main cast of characters and clocks in at 5″ tall with 26 points of articulation and sword! Future figures will remain in scale; so for instance, Prince Lightstar will be 3 3/4″ tall.
Head over to the Official Kickstarter project for more information and reward system.
http://kck.st/1kxZrcd
[youtube url="https://www.youtube.com/watch?v=GYinhAk96vU"]