If you guys slept on the OG release of Sickboy Life & Death release like us. Don't be sad as Sickboy have teamed up with Line Dot Editions to give you guys a chance to catch this exclusive edition.
"Line Dot Editions- Following the UK edition, Line Dot has partnered with artist Sickboy to release an exclusive, hand-finished US edition of 10 "Life and Death" sculptures in a unique blue/purple color way. This limited edition will first be available in-person at a launch party at the gallery, then online the following morning at www.linedoteditions.com"
"Sickboy has fascination for countless signs and symbols, but it's that six-sided funerary box that you pop a corpse into that you might say is his most macabre. Somehow, though, the artist brings his vibrant color palette and that infectious positivity that the world praises him for to a subject matter as chilling as the coffin – not simply confronting death, but, he says, "laughing in its face."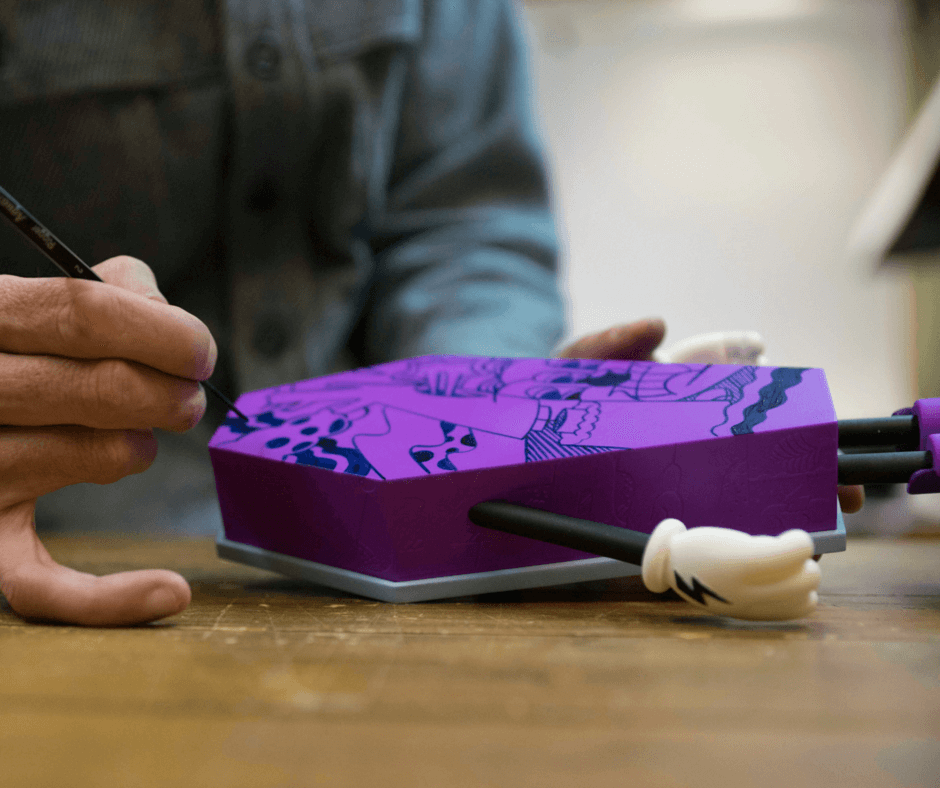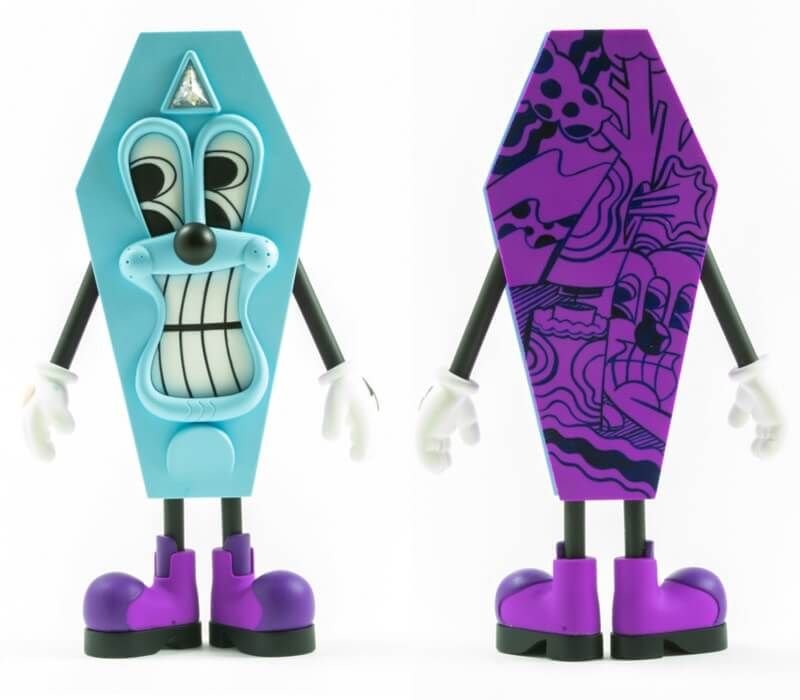 "The good news is, for anyone willing to laugh along with him, Sickboy has taken this medieval, much-used but far less talked about means of burial and turned it into a sculpture – the only official sculptural release from the 'Save the Youth' stable since the highly- sought-after 3D temple release of 2010."
"You might already recognize him from Sickboy's effervescent canvases – a charismatic, color-drenched character that first sprang to our attention six years ago, taking visual cues from legendary cartoonists such as Max Fleisher. And, with his toothy grin, animated appendages and bright red dance-ready boots, we've long coveted his cheerful company in our picture frames. But now hand-cast in resin and brought to life in three dazzling dimensions, this – stop the press – is the very first time the character has been released in sculpture form."

"What has Sickboy taken away from his flirtation with fatality, his dancing with the dark side? "An increased gratitude for life." So should you need your own frail existence affirmed, your own life's burdens lifted with some finely-moulded mortality for the front room, this delectable slice of death – signed, sealed, nailed – could be yours. "
From 6:00-10:00pm Thursday 19th May to get yours first and to check out new original works by the artist at Line Dot 1023 N Western Ave Chicago, IL www.linedoteditions.com
About Line Dot Editions: Specializing in contemporary editions and multiples, Line Dot showcases emerging and established artists whose work explores and defies the boundaries between traditional fine art and street-based artistic practices. As a joint venture with Oliver Hild of Maxwell Colette and Patrick Hull of Vertical Gallery, Line Dot features an ever-changing series of work on display and a diverse collection accessible online and in the gallery space. The extensive roster of renowned local and international artists includes Pure Evil, Swoon, Shepard Fairey, Banksy, Hellbent, Bäst, Hush, Paul Insect, Hayden Kays and CANTSTOPGOODBOY.
Need the OG UK edition? One left HERE.
[slider source="media: 45772,45775,45777,45773,45774,45776″ limit="100″ width="720″ height="1000″ title="no"]
4 colour hand-cast Resin Sculpture with spot colouring
Size (mm): 65mm (w) x 170mm (d) x 270mm (h)
Weight: 499g
Edition: 30
Year: 2016
Authenticity: Signed and numbered by artist, presented in a screen printed box made by Save the Youth
More info at http://www.linedoteditions.com/