As Fools Paradise returns to the Star Wars inspired pieces, we have never seen the famous Keiko in this kind of role before. The tongue  and cheek continue within the trooper line, as she rides the Dewback. Fools Paradise "Sand K.troop at Coin Rides Game #1″ has really done a marvellous job and we think it's a fun piece to have on display, especially if you're a Star Wars fan.
[slider source="media: 28669,28670,28671,28672,28673″ width="1100″ height="1100″ title="no"]
The little details are what make it feel special. We don't know if Disney will be a happy bunny about the transition. We really love how they have mixed in the fun with this art resin piece, from the way Keiko is riding the Dewback to the coin slot.
[slider source="media: 28675,28676,28677″ width="1100″ height="1100″ title="no"]
Was this concept done by the mighty Coarse Toys before? Similar it may be but we guess this is a different take on a ride.  Fools Paradise have done a smashing job on the texture as well, the Dewback skin texture is marvellous and in keeping with the theme that its a play ride.
We expect more from this series, will Darth and Boba be on a ride? we are sure they will and hopefully soon.
Sand K.troop at Coin Rides Game #1
   • Price 269 US +20US Global EMS Shipping, around £171
   • Made to Order
   • Available to ship on 4th quarter 2015
   • Around 31cm Height
   • Material : Vinyl, PVC, ABS.
• Pre-order period 18th August  to 8th September 
Pre-order begin on 18.August  00:00am (HKG time) till 08.September at http://doublefools.blogspot.co.uk/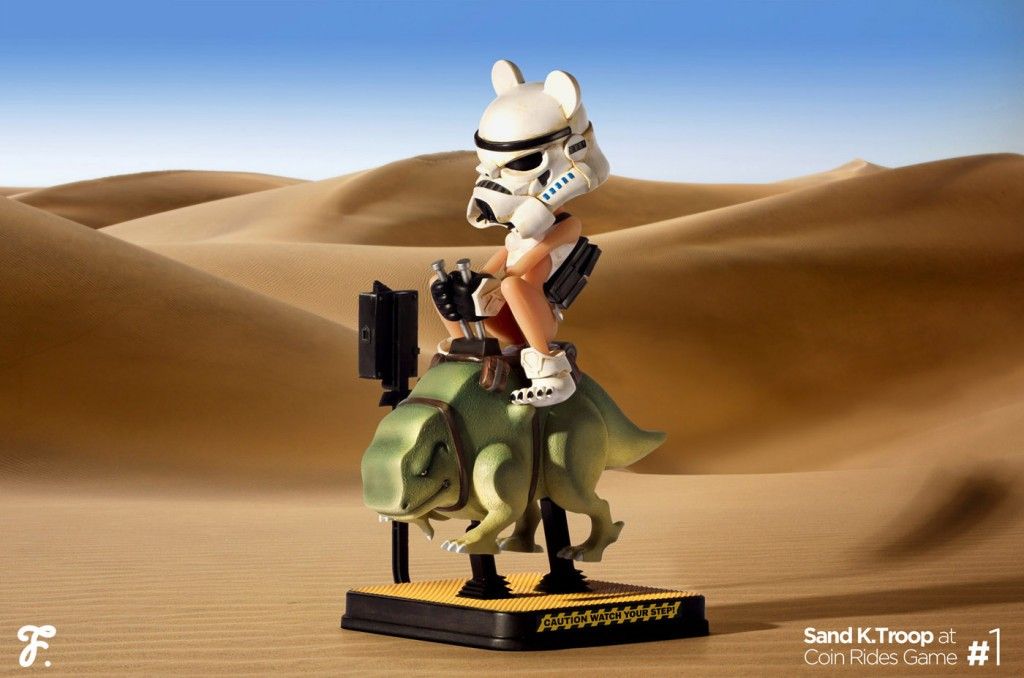 (all info and photos lifted from http://doublefools.blogspot.co.uk/ )for more Fools Paradise goodness. Find them on Facebook too https://www.facebook.com/doublefools