South Korean artist AJO777  who's part of the mighty Towooz Collective, makes her Mighty Jaxx debut with her popular character, Rony the Peculiar! Today is also AJ0777 birthday! why not celebrate with a Rony The Peculiar?
"I am now a big chunk consisted with small pieces of memories and emotions created together.I'm working to express the recombination of the pieces.As time passes, the old and new pieces are getting together in every single work of mine. In 1st art toy series, "Rony The Peculiar", came from the viewpoint of a psychic boy named 'Rony' who looks pure but dark somewhere. 'Rony' expands and explores his very own world."
 "Psychic boy Rony comes to steal your mind, giving toys and candies to please…"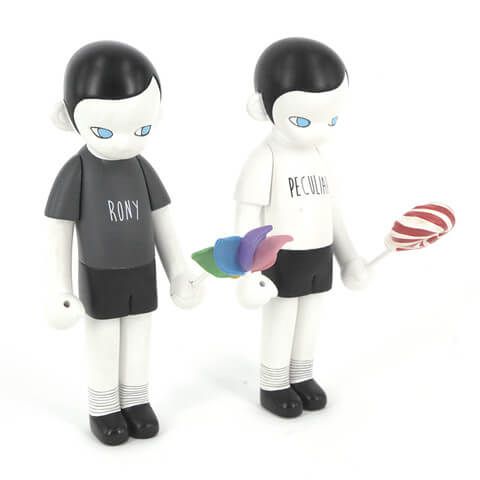 Standing at 6″ tall (15.24cm), this peculiar being is available in 2 colorways, limited to 100pcs worldwide.
Head over to http://mightyjaxx.rocks/ to pick one up,
Find AJO777 via Facebook and Instagram. Towooz :- Facebook. Mighty Jaxx Facebook , Twitter and Instagram.