John Eugene Atendido Avila officially linking up with fashion brand Project 7 to 1 to start the new year with a banger! At the time of publishing, it's 19 days until Chinese New Year and bringing the year of the OX this Luna New Year JeAA presents to you Rob-OX Urban Art Toy! Mixing urban flare with a little homage to the Chinese Zodiac in JeAA style weathering. Will Rob-OX bring more W and less L's for the year? Who knows, all we know is JeAA x Project 7 to 1 is ready to set Rob-OX free and you have the chance to own one.
"Usually people buy figures to "bring them luck". I personally believe we make our 
own! We don't just wait around for good things to happen. We work hard and
become better everyday so when opportunity comes, you are prepared.
In short, make your own luck.
Everytime you see this figure on your work desk —
remember our mantra: 8am-5pm build your career, 7pm-1am build your dreams. "
#7to1 "
February 2021, 4.5in Resin Urban Art Sculpture, Limited to 12pcs only worldwide, Price is P4,500.00 / $95 usd shipping not included, other details of release will be posted soon.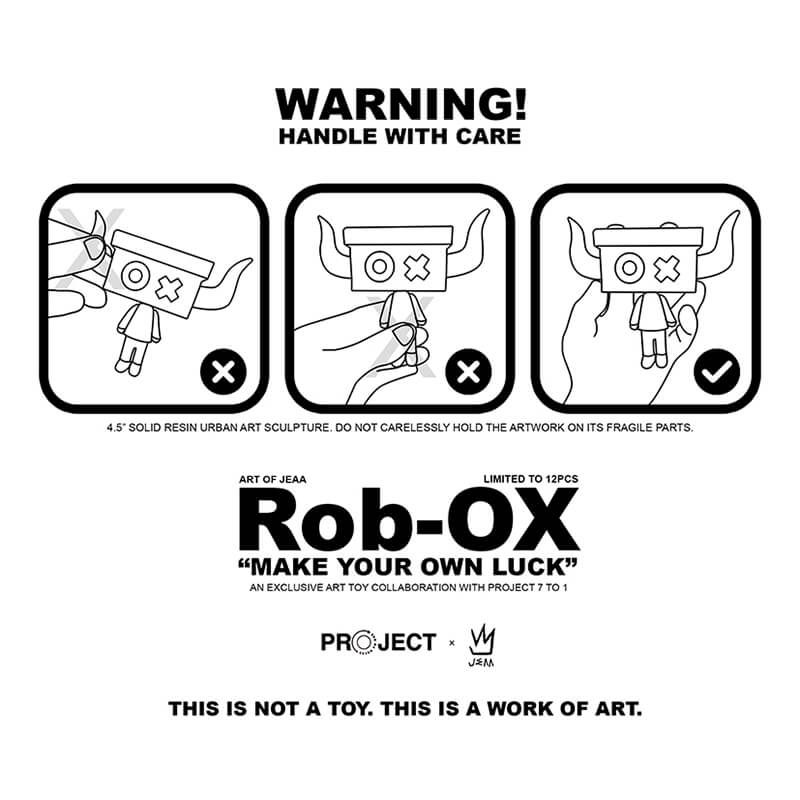 Project 7 to 1 here's their FB page https://www.facebook.com/project7to1 / web site https://www.7to1.co/
Pay him a visit at Facebook, Instagram & Twitter!
You can get your daily Designer Toy fix from our TTC Mobile App. It's free too! FREE! Download on the iPhone or Android smartphones. Search for "The Toy Chronicle" and all your Designer Toy wishes will come true! Pretty much.
IT's FREE.