We've been keeping a close eye on Tokyo Jesus as he's been working on a sculpture that's finished and now heading to Copro Gallery for the Conjoined 7 show. Tokyo Jesus doing what he does best making our jaws drop as he mixes this trademark style of Neo Japanese horror. Titled Rambha  (Little Demon) which is inspired Rhamba which is actually Hindu mythology.
Rambha (Little Demon) is all made from resin, magic sculpt, wood, acrylic fibre! We can't get enough of Tokyo Jesus and one day we hope to see a Tokyo Jesus piece in person. The use of mix mediums adds so much depth and creepiness, one perfect example is the HAIR.
Rambha in Hindu mythology is the Queen of the Apsarases, the magical and beautiful female beings in Devaloka.

She is unrivalled in her accomplishments in the arts of dancing, music and beauty. She is often asked by the king of the Devas, Indra to break the tapasya of sages so that the purity of their penance is tested against temptation, and also that the order of the three worlds remains undisturbed by any one man's mystical powers. When she tries to disturb the penance of Rishi Vishwamitra (who is doing it to become a Brahmarishi), she is cursed by him to become a rock for 10,000 years till a Brahmin delivers her from the curse.

In the epic Ramayana, Rambha is violated by Ravana, king of Lanka, who is thereby cursed by Brahma that if he violates another woman again, his head will burst. This curse protects the chastity of Sita, the wife of Rama when she is kidnapped by Ravana. Rambha is the wife of Nalakuvara, the son of Kubera. By some accounts it is he who cursed Ravana – wikipedia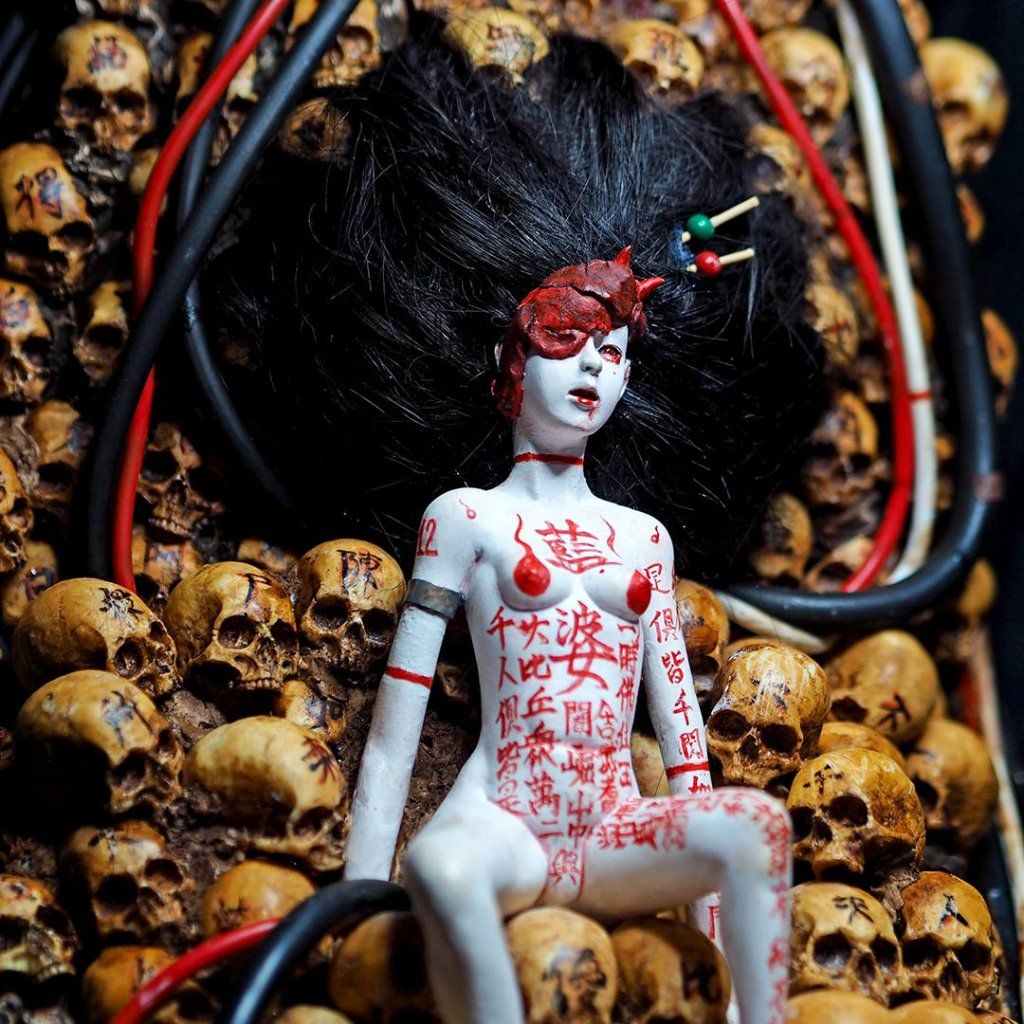 Copro Gallery presents a Dimensional Group Sculpture Art exhibition curated by Chet Zar, CONJOINED 7 Classic sculptures, Hyperreal life like models, Surreal assemblages, mixed media paintings, Art Toys, Live Performances and other conjoined works.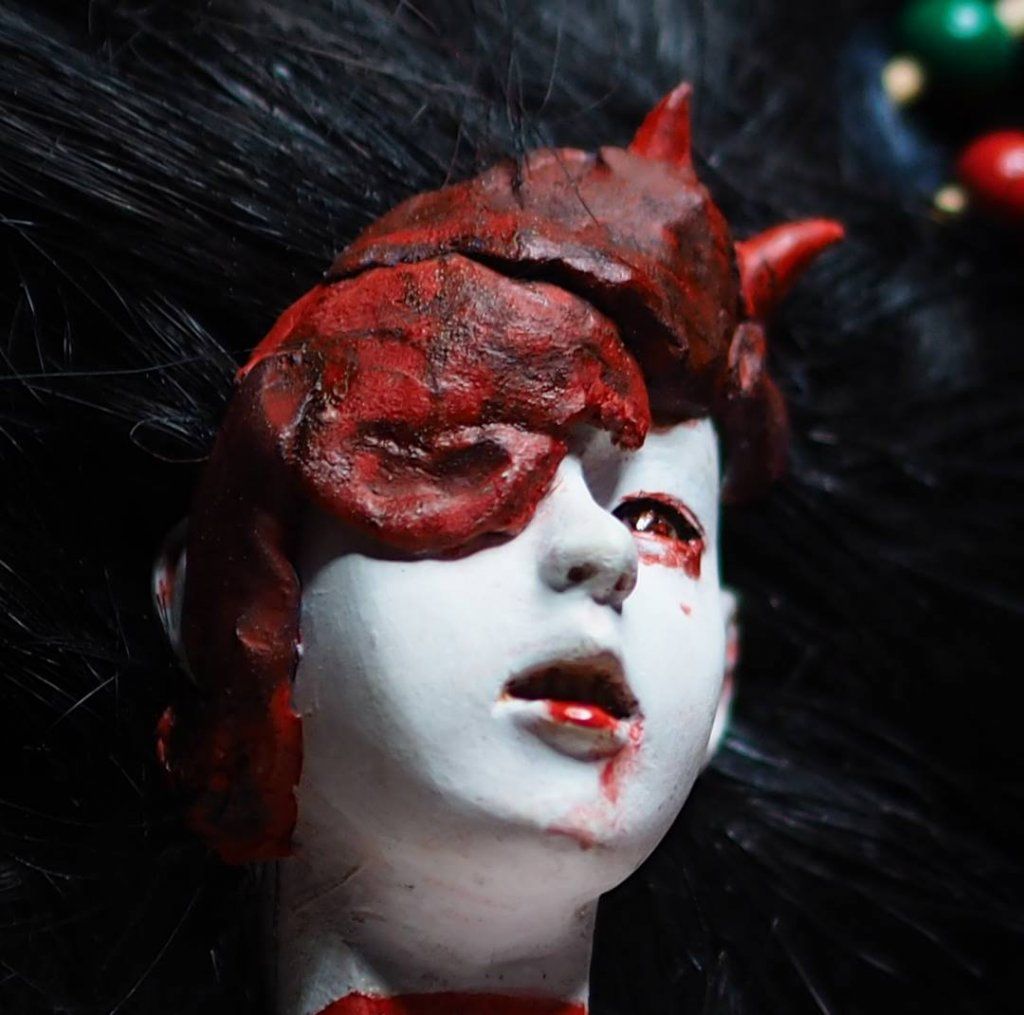 ARTIST LIST
Adam McCarthy, Aimée Kuester, Akihito Ikeda, Alex Pardee, Amanda Dempsey, Ave Rose, Ayumi Miyashiro, Beast Brothers, Ben Ploughman, Ben Schwenck, Bill Sturgeon, Brian Poor, Brian Smith, Carl Ingram, Carl Lyon, Casey Love, Catalyst Butcher, Catherine Coan, Chet Zar, Chris Haas, Chris Marchwinski, Chantal Menard, Cig Neutron, Clinton Neuhaus, colin christian, Corey Urlacher, Craig LaRotonda, Damien Echols, Daniel Saks, Dave Correia, David Richardson, Donnie Green, Doktor A, Dug Stanat, Eddie Sparr, Eli Livingston, Emi Slade, Emil Melmoth, Eric Tengren, Gregory P. Rodriguez, Hil Vinot Jack Howe, Jake Roanhaus, Jason Hite, Jason Rosen, Jason Soles, Jeffrey Kibbe, Jeremy Cross, Jessie A Fohrman , Jesse Gee, John Cherevka, John Haley III, John Pinkerton, JoKa, Josh Franklin, JRYU, Kaley Nelson, KC Mussman, Kevin Mack, Kristen Phillips, Kamila Mlynarczyk, Kevin Mack, Kristina Drake, Lana Gentry, Larkin, Lee Joyner, Lee Shamel, Laurie Hassold, Lizz Lopez, Lonehawk Whitlock, Mani Price, Manny Lemus, Menton3, Mark Edward, Mark Walker, Matthew Levin, Matt Ullman, Matthew Dutton, Meats Meier, Mike Correll, Mike Regan, Miriam Mirastchitski, Moses Jaen, Nathan Cartwright, Neil Winn, Paul Roustan, Peter Goode, Randy Kono, Robert Heckman, Robert Vinter, Rodman Edwards Sarina Brewer, Scott Stoddard, Setrakian, Shawn Coss, Stanislav, Stephanie Sciullo, Syo R, Tas Limur, Tate Steinsiek, Ted Von Heiland, Thea Saks, Tim Martin, Tod Junker, Tod Waters, Tokyo Jesus, Tom Taggart, Vega, Ver Mar, William Bryant, William Hand, Yuko Yabuki, Zach Ramsey, Zombienose & more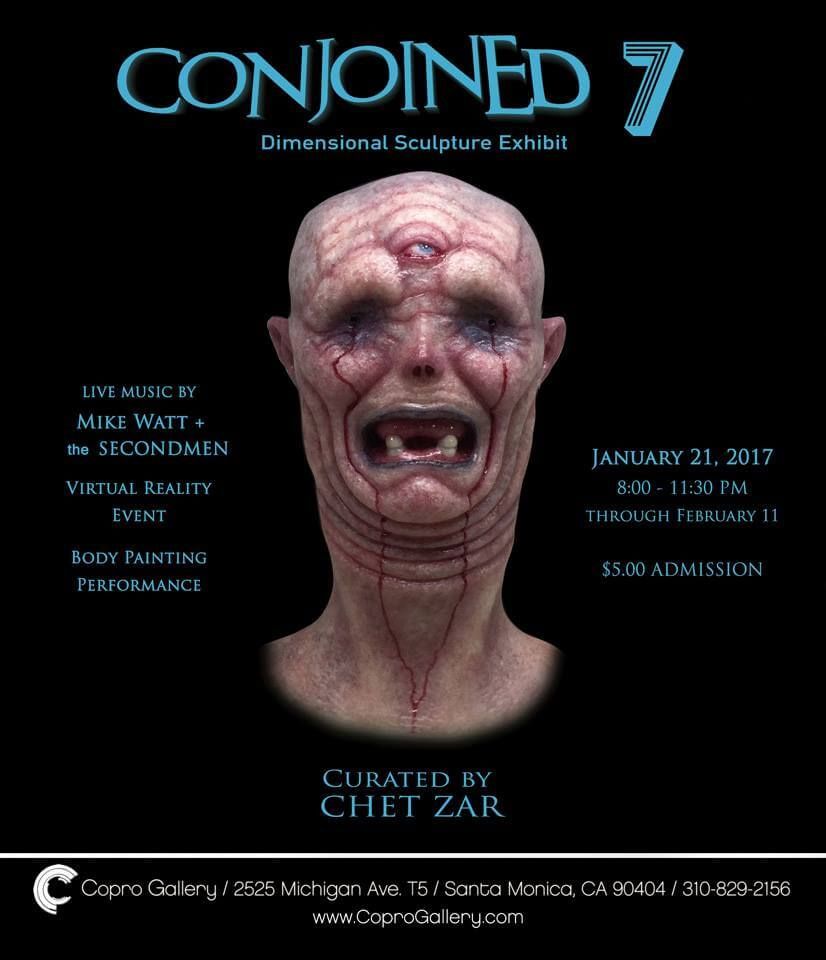 Conjoined 7 – January 21, 2017
8:00 – 11:30 PM
2525 Michigan Ave, Unit T5, Santa Monica, California.
Ph: 310/829-2156
E-Mail: [email protected]

WHAT: CONJOINED 7 – Curated by CHET ZAR – Dimensional Group Sculpture Exhibit
WEB-PREVIEW COMING
WHEN: OPENS -January 21, 8:00 – 11:30PM – $5 opening night only
Exhibit runs; January 21 – February 11, 2016
Contact:  Gary Pressman, Gallery Director Copro Gallery
You can find Tokyo Jesus via http://www.tokyojesus.net/, Instagram , Twitter and Facebook.