Easter might be over for the year but that hasn't stopped us from wanting to lick Popsicle Mon! Our alternative to the Easter Egg is 16M Design x Alieneyeland "Popsicle Mon". Filled with Sprinkles the don't melt away in the spring sun! Who's ready for the BRAIN FREEZE? We are screaming "I SCREAM you SCREAM for POPSICLE MON!" It's true, 16M Design x Alieneyeland returns with a new POPSICLE MON, this time around destroying various candy in its path, sprinkles to be exact, HA.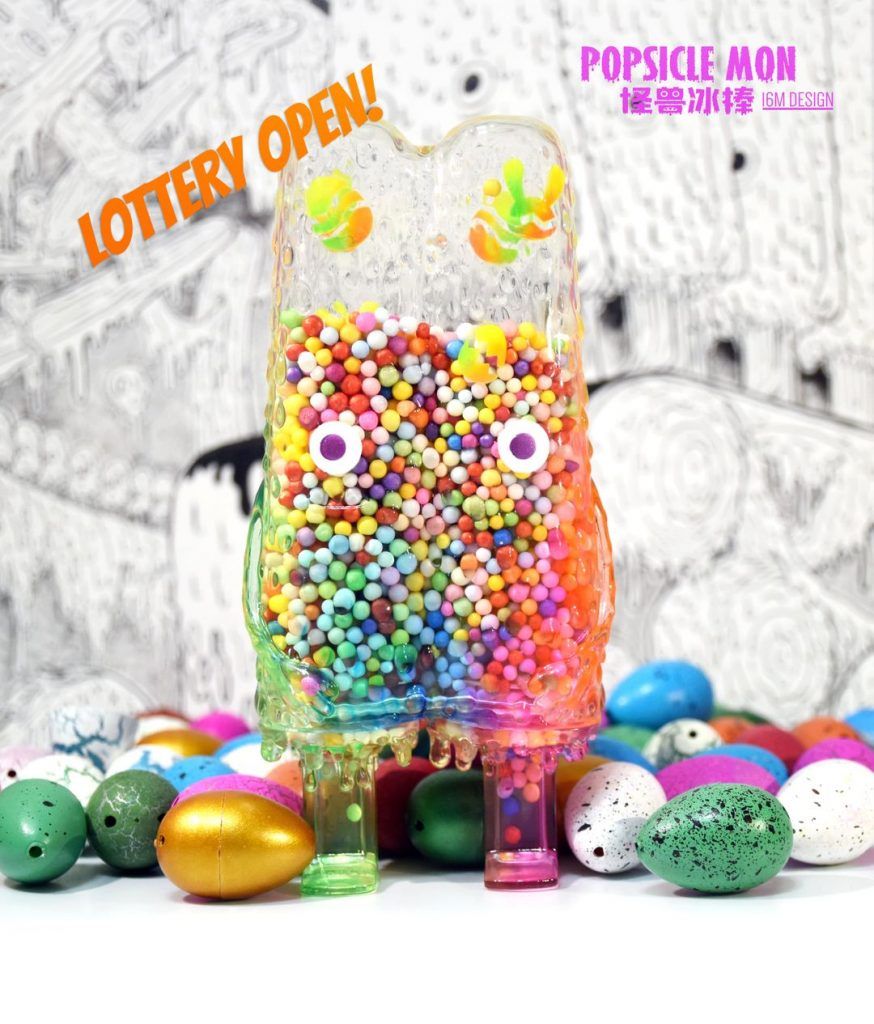 WHEN: NOW until April 6th at 11:00 pm (Hong Kong time)
Draw steps and rules:
1. Email to " [email protected]
Caption please specify " Popsicle mon summer lottery please fill in your name FB or IG name national delivery address.
2. Each person can only participate in the draw once.
3. The lucky winner will be notified by email.
4. Payment accepted: Paypal / Paypal / wechat payment
5. Selected must provide name, send address, contact number
(winners need to reply within 1 days or disqualify)
PRICE: HKD$500, $150 shipping (overseas), local $40 and China and Taiwan shipping $80
復活節版冰棒抽選
Easter popsicle mon Edition)-總數共40支
抽選版販售細節,由現在開始至星期2晚上十一時截止!
#購買請注意:
售價及運費事項-
售價:港幣HKD$500 +$150運費(海外),本地$40及中國及台灣運費$80
抽選時間:4月4日至4月6日晚上11:00結束(香港時間)
抽選步驟及規則:
1. 電郵往 「[email protected]」,
標題請註明「Popsicle Mon Lottery」,內容請填上閣下 名字,FB name或IG name+國家+送貨地址。
2.每人只可参加抽選一次。
3.中選幸運兒會收到Email通知。
4.接受付款方式:paypal / 支付宝 / 微信支付-#(付款後請提供名字核實)
5.中選者需提供名字、寄件地址、聯絡電話
(中獎者需1天內回覆否則當取消資格)
6.貨品會10天後寄出!
Check out our Facebook LIVE unboxing below.
Find 16M Design on Facebook.
You can get your daily Designer Toy fix from our TTC Mobile App. It's free too! FREE! Download on the iPhone or Android smartphones. Search for "The Toy Chronicle" and all your Designer Toy wishes will come true! Pretty much.
Did we fail to mention IT's FREE.