We've all seen the Coca-Cola 'holiday' advert, so we all know that Christmas is just around the corner and Taylored Curiosities have the perfect gift – hand sewn, clove scented, plush Raindeer decorations to adorn your tree with.
Raindeer live deep in the heart of Wytchwood, where the christmas trees grow all year round. They get their name from their magical ability to dance the rain into snow flakes.
[frame align="center"]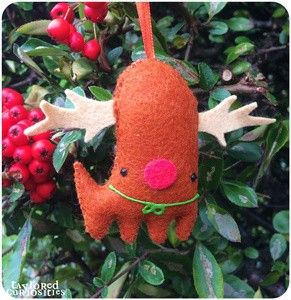 [/frame]
Each one is made from 100% wool felt, with felt and fabric paint features. Hand sewn, stuffed with non-allergenic stuffing and dried cloves to give them that gorgeous christmas smell. Completed with a ribbon to hang. These measure just under 3″ tall. The antler colour and ribbon colours will vary.
You can pick up one of the 6 Raindeers available here!