In beginning of the month bootleg overlord Dollar Slice Bootlegs announced pre-orders for the collaborative Ninja Turtle figure with HoarceeBu. (read HERE)
Pre-orders are still on the table, that means one more chance to get a piece of art from the best out there. If you don't have pre-ordered it already just say cowabunga and go for it!
In the meantime we give you exclusive photos and exclusive words from the man himself!
"I've been obsessed with ninja turtles since I learned to read in 87.  I'd borrow my dads mirage graphic novels 1-4 and go away to an amazing universe full of other loner weirdos like I already was at age 7.  I would draw the shit out of them on the sides of my tests at school or on homework well into high school.  I dunno, I just didn't care and they were mad fun to doodle.  I've never been good w pen/pencil but those mutant pizza Hoover's made sense to me.  The toys were the main focus of my collection growing up too.  I was spoiled rotten by my grandma and pretty much had all the turtle releases for many many years.  Being an only child that didn't play sports  in a small town made it kinda lonely, like a lot, so playing with tmnt toys really provided a great escape.  I'd put on GNFR and rage like only a misfit 11yro could.  Fast forward to being D$B making toys, it's like a waking."

"Dream to be making toys!!  Then recently my wife, Hoarcee Bü, and I decided to make our own ninja turtle from scratch with an all new sculpt by her influenced by my favorite aspects of the mirage and playmates turtles I grew up on.  What we came up with is hands down something that all turtle fans had been seeing in their dreams.  I feel we really nailed the heart and soul of the 80s/90s 1st and 2nd wave turtles.  We gave em one of each classic weapon and a dollar slice of pizza."
D$B decided to go full bootleg on this one  So no funny names, no wink winks haha kinda puns.' We didn't get permission. We didn't ask.' And that's a deluxe bootleg!
Stands 8 inches tall and comes with 4 classic weapons (you know the ones we're talking about) and a dollar slice! Features 5 points of magnetic articulation!
Priced at $110.00 HERE. A no brainer right?
Don't forget to check our interview with the man himself!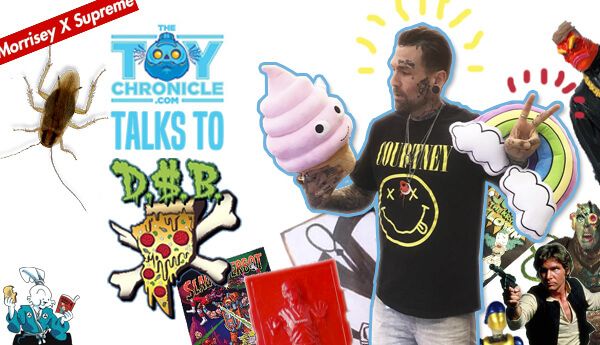 ---


---
For all badass bootlegs check Dollar Slice Bootlegs at Facebook and Instagram.