Back at the start of 2020, which now feels like fucking years & years ago, we brought you the B1 Spacer figure by Arctong. We even sold three colourways on the TTC Shop. Well, in recent times, Arctong are back with a couple new colourways of B1 Spacer and they are available to purchase directly from Arctong (unfortunately not on the TTC Shop).
Now available in Metallic Red (limited to 99) and Matt Black (limited to 199). These 8inch soft vinyl + resin figures are priced at 818HK$ (about £84) each + shipping.
If black or red ain't your thing, then you may well be interested in the Lazer Rainbow Version of B1 Spacer. This new version is limited to 199 pieces, and priced at HK$818 (about £84) + shipping. Check out the pics below. Totally psychedelic, brother.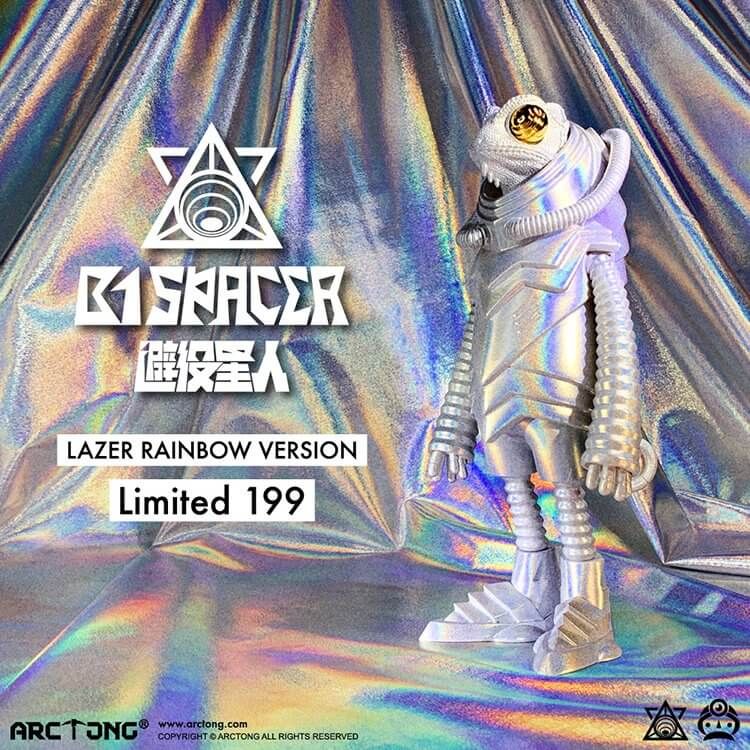 ---
Arctong Toys Social Media
Facebook: https://www.facebook.com/Arctongtoys/
Instagram: http://instagram.com/arctongtoys
---
If you want to support The Toy Chronicle, we have a number of options available to you. We have started to stock a wide range of releases that we think you will enjoy. Ranging from production pieces from Superplastic, Unbox Industries & POP MART, to original pieces from our favourite artists. Purchasing one of our pins also really help. A quick, cheap way to also support the TTC is by making a small donation. These can all be completed below through our online shop. We appreciate all the support! Thanks!