For all those waiting on the next Lottery details to own the next Robin release from muffinman, well, HERE IT IS! In the form of DracuParRobin! Taking inspiration from the Psittrichas Fulgidus, these new robin are sure to be in hot demand! Check out the PRECISE details on your chance to own one!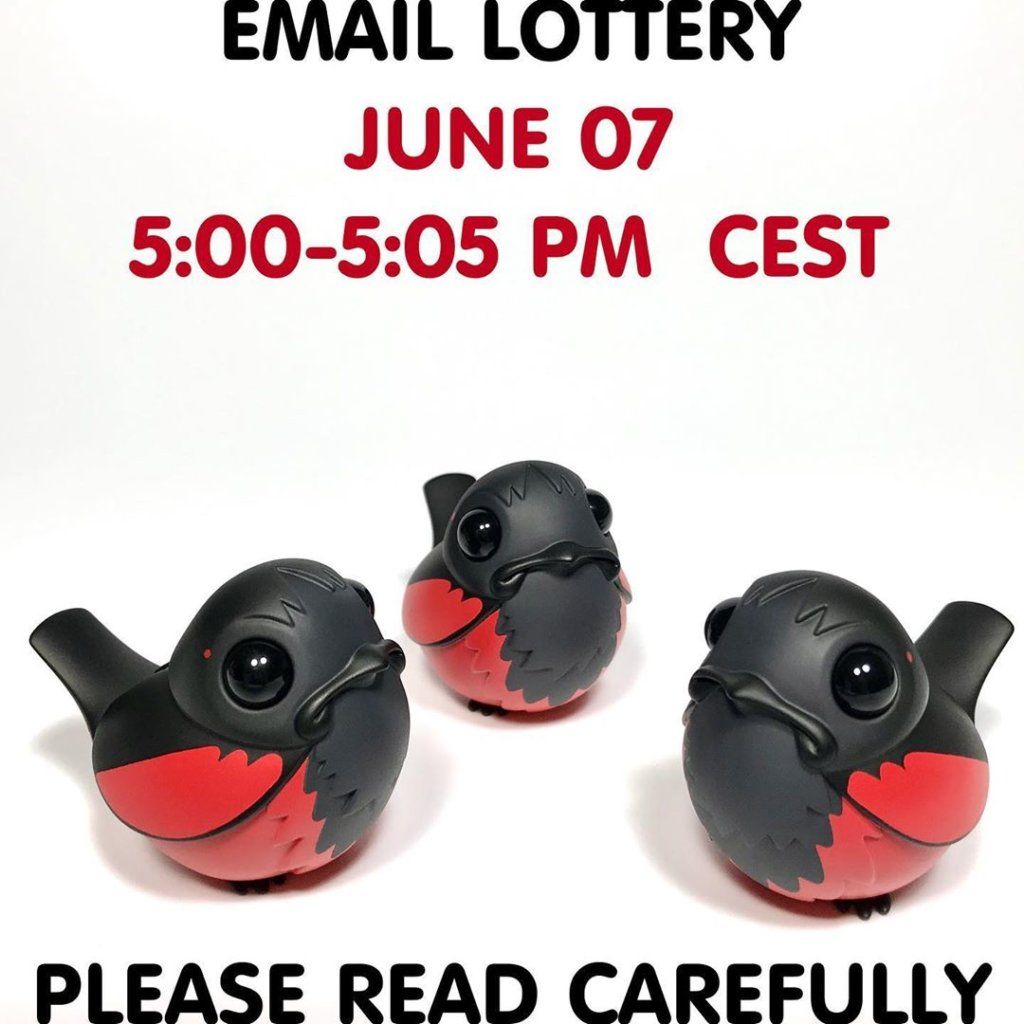 Using your Paypal email address, send an email to [email protected]
SUBJECT: DracuParRobin
MESSAGE: your instagram name (your actual Instagram name, not actually "your instagram name").

The next details are VERY specific, and need to be followed to the minute detail. If you fail, you fail and your lottery entry will be ignored.

SEND YOUR EMAIL ON SUNDAY, JUNE 7th between 17:00 – 17:05 (5:00PM – 5:05PM). This is Berlin time! CEST! This is 4pm BST (11am EST, 8am PST). You have a FIVE minute window. Don't waste it.

DracuParRobin is gonna cost 55€ (about £50) which includes FREE worldwide shipping, but note that with COVID-19 winners will receive their DracuParRobin once the shipping restrictions have been relaxed to allow shipments to be accepted worldwide.

All the entries that match the correct criteria, remember we said it was VERY specific, will be entered into a randomiser app and muffinman will pick 10 winners on Monday, June 8th. at 7PM CEST! All winners will be emailed.
---
muffinman Social Media
Instagram: https://www.instagram.com/muffinmansculpts/
---
If you want to support The Toy Chronicle, we have a number of options available to you. We have started to stock a wide range of releases that we think you will enjoy. Ranging from production pieces from Superplastic, Unbox Industries & POP MART, to original pieces from our favourite artists. Purchasing one of our pins also really help. A quick, cheap way to also support the TTC is by making a small donation. These can all be completed below through our online shop. We appreciate all the support! Thanks!