MARVEL THE INVINCIBLE IRON MAN set for Pre-order finally after much teased photos! the 1/6 scale Iron Man are up for pre-order on 13th February over Bambalandstore at 9am Hong Kong Time  (UK time is 1AM )
"Feb 13th will see the release in our ongoing MARVEL line, I'm super excited about this line! Soon we can share Doctor Doom, Ultron, Spidey, Thor and Cap and more! I grew up in Perth Australia, reading Marvel, dreaming of drawing comics for them, so to be able to make our own versions of Marvel characters here at 3A is incredible. Now If only I could make the comics based on the toys, these designs are linked in my mind, a 3A secret war if you will! 
The Prototype (3AA only) and Stealth Iron Man are exclusive to Bambaland. As a side note, the shipping version of Stealth Iron Man will have red eyes, not blue like the images show!"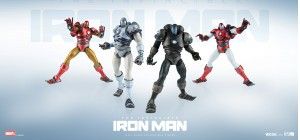 They look pretty fab I must say.
(all photos courtesy from ThreeA)