Naomi Knaff is deep into preparing for this years Toycon UK 2015!  and her booth 27 is the booth not to be missed! La Touffe is one of many pieces that will be available at this years Toycon. It is great to see something so different in the toy/art community and having a chance to see it in person too. These vibrant and crazy designs are all hand cast and painted with monster kolour, a little over 4″ high and 3.5″ wide.
These remind me of great Japanese kaiju sea monsters influences with a hints of Junko Mizuno.
[slider source="media: 21944,21945″ limit="100″ width="1300″ height="700″ title="no" speed="800″]
No word on pricing but she should have about 8 available for Toycon UK .
Hashtag #naomiknaff upload to Instagram if you are going to Toycon, there might be a surprise installed for you.
 Naomi Knaff 's  weird and colourful Cyco Bob's will also be showcased and available for you all to take home at this years Toycon. Naomi Knaff toys will definitely have your attention as I have not seen anything like it before.
"I'm inspired by the monsters of my childhood, microbes and things that grow in places were they shouldn't"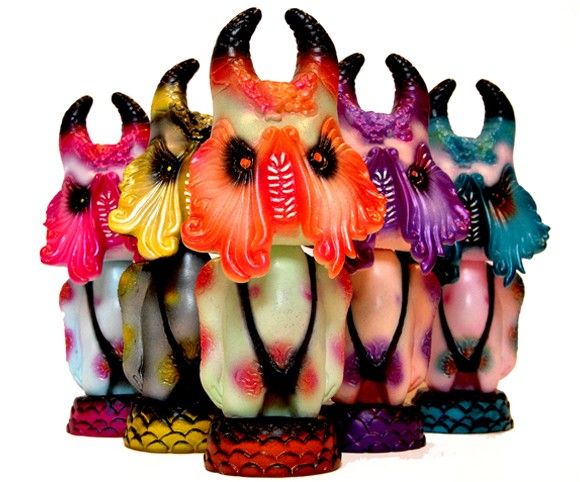 You can find Naomi Knaff http://www.naomiknaff.com/ Instagram  , Twitter