The man who pioneered the bootleg art toy movement, the one and only The Super Sucklord is preparing head to Asia as Kult Studio & Gallery presents Bootleg Toy Supervillian Show. The living legend, the man who started all this bootleg art toy or whatever you want to call it. The SUCKLORD is ready for his solo show "The Super Sucklord will be in town for the inaugural solo show, Bootleg Toy Supervillian at Kult Gallery. The exhibition aims to represent the totality of the artist's medium for the bootleg, alongside exclusive collaborations with Asia-based artists Daniel Yu (SG), Kabuki Master (TH), Mojoko (SG) and Quiccs (PH)." Visitors can expect, but may not necessarily be ready for unwholesome parodies of contemporary subjects such as meme culture, online dating and even Lady Gaga through bootleg toys. The reigning king of bootleg from New York, Morgan "The Sucklord" Phillips is coming to Singapore, and he is bringing an army of his crudely funny yet awfully bona fide work in tow.
Kult Gallery will house over 40 toys for sale from The Sucklord's expansive mind that offer ruthless commentary on different themes, including food, pornography, politics and celebrities. Some of these art toys have been specially created for the show, while others are vintage works from the artist's vaults. Joining the line-up of recent The Sucklord productions from 2018 is a bank of greatest hits from earlier years (including crowd pleaser "Gay Empire" – a neon pink Stormtrooper affectionately known as the Homotrooper Bootleg), and very exclusive new one-off collaborative pieces with pop culture artists from Kult's regional network of creatives.
Southeast Asia-based Daniel Yu (SG), Kabuki Master (TH), Mojoko (SG) and Quiccs (PH) were invited to collaborate with The Sucklord, giving him a big, bad welcome to the region. These never-before-seen collaborations on toy packaging and action figures will also be for sale.
[slider source="media: 108779,108773,108772,108778,108774,108775,108776,108777,108780,108781″ width="800″ height="800″ title="no"]
[slider source="media: 108789,108785,108784,108782,108783,108786,108787,108788″ width="900″ height="800″ title="no"]
WIP teasers below
[slider source="media: 108764,108765,108766,108767,108768,108769,108770,108771″ width="800″ height="800″ title="no"]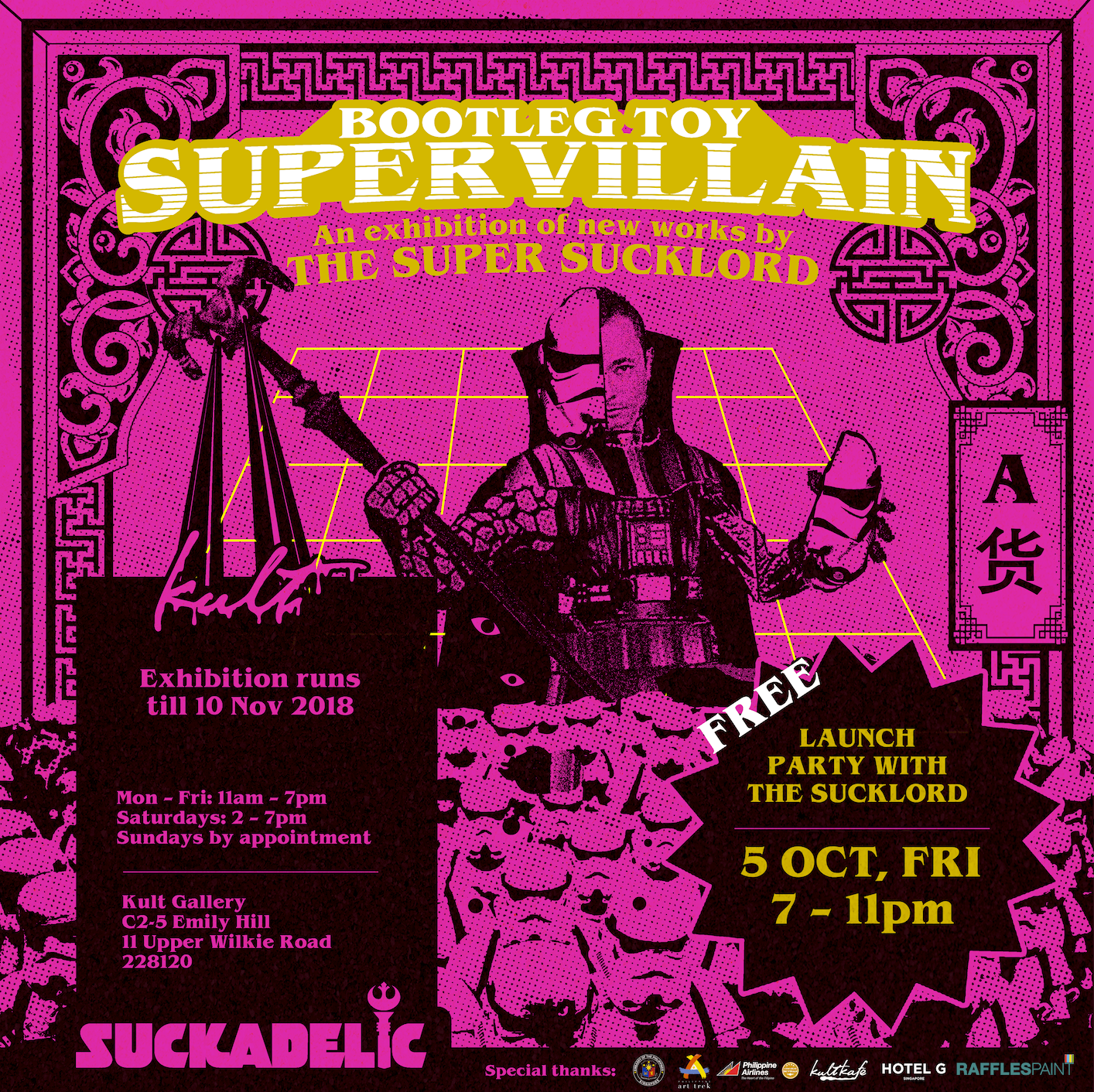 Day/Date: Grand opening, Friday, 5th October 2018 (5 Oct – 10 Nov 2018)
Time: 7 – 11pm (Media registration closes at 9pm)
Venue: Kult Gallery, 11 Upper Wilkie Rd, Emily Hill, Singapore 22812
As part of The Super Sucklord show, 6 October is lined up with events tailored for budding creatives to get cosy with the originator of the bootleg art toy movement himself while gaining insight into his "supervillain universe".
1) OVER PIZZA & BEER: THE SUCKLORD SPEAKS
6 Oct 2018, Sat, 3 – 5 pm
Kult Gallery
SGD5 refundable deposit upon attendance
(ticketing link coming soon)
Held in conjunction with a solo show by first-generation bootleg toy creator The Sucklord at Kult Gallery, the session with the artist himself will focus on bootleg art, its rules and non-rules, and its ability to be a vehicle of commentary of socio-political conversations such as food, consumerism and human rights. Pizza by Domino's. Beers by Kult Kafe.
2) PORTFOLIO NIGHT WITH THE SUPER SUCKLORD
6 – 8 PM
Free admission
Register via: bit.ly/kultsucklordportfolio
For toy makers from every point of the skill spectrum. Bring your art toys (fully done or even if it is a work-in-progress) over to the gallery. Sign up for a chance to meet The Super Sucklord one-on-one, who will deliver feedback about your work and impart valuable industry insight.
LAUNCH PARTY DETAILS: https://www.facebook.com/events/259809458192298/
Exhibition runs till 10 Nov 2018.
Hours:
Mon – Fri 11am – 7pm
Saturdays 2 – 7pm
Sundays by appointment
[slider source="media: 108797,108796″ width="800″ height="900″ title="no"]
Check out Sucklord's YouTube Channel
Find Sucklord on Instagram , Twitter and Facebook.