The foxiest of foxes JOBI The Moon Fox by OK LUNA returns for a brand new version. This time in a Elder Brother form;
"My elder brother"
My brother and I are twins, he became the elder one as he came into the world one second ahead of me.
He was born with a pair of unique blue eyes, also was born an individualist.
There's one time he messed up the soil in the field ? the harvest of that year was reduced by half.
There's another time he unlocked all gate of the cowshed and every single cow ran off ? our kind was short of milk for half year.
For the time that he had totally crossed the line ? he rashly switched the power of the powerhouse in our village to the highest, which resulted in an explosion. The explosion not only smoked his hair into black, but also leaded to a month of power outage in the whole village.
'The naughtiest child in the universe does not deserve to be one of our kind! Leave! Don't ever come back!'
The patriarch yelled at my brother in rage. Without a word, he left our village.
That was the last time I have seen my brother.
Days gone by.
There's one time I met a gopher father and his son near the field. 'Have you seen a fox with blue eyes? My son got lost in this field once, thank god the fox had found him. We haven't had a chance to thank him yet.'
There's another time I met a group of cows when I was hiking. 'Have you seen a fox with blue eyes? He let us, who had been locked up, to get a taste of freedom. We haven't had a chance to thank him yet.'
The other day I met a frog beside a lake. 'Have you seen a fox with black hair? He transmitted electricity using his own body to perform a first aid treatment for me when I was suffering from heart attack. I haven't had a chance to thank him yet.'
Where are you, my brother? Would I do the same things if I was the one who was born one second earlier?"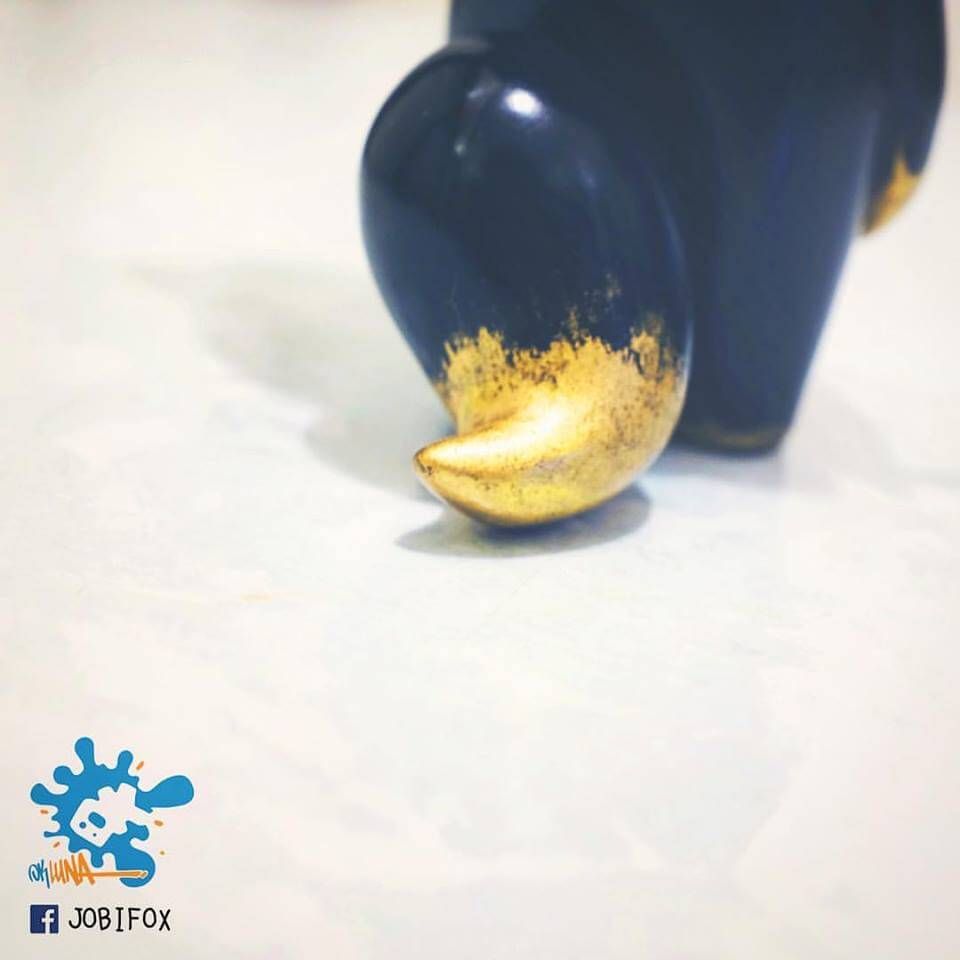 A limited pre-order to 1 piece per customer priced at US$78 (Worldwide shipping included).
JOBI The Moon Fox – Elder Brother stands about 11cm tall illustrated and designed by Kaiser Luna. Sculpted by M's production & Co.
Pre-orders start 1 March 2017 at 11:00am HKT at oklunatoys.bigcartel.com.
Comes with a Stitchwork Badge as special gift and there will be a chase/secret version, "The Naughtiest Child in the Universe" limited to 10 pieces that will be sent out randomly.
Find OK LUNA Jobifox on Facebook HERE.