We were lucky enough to get HUNG before it goes on sale and what better way to celebrate the release with a unboxing/ review. HUNG By Luke Chueh x Munky King mini figure? / ?zipper pull which is a rendition ?of one of Luke's famous paintings turned into mini figure? / ?zipper pull! under 2 inches it packs a punch and will cause a stir on how you look at the figure, it could be interpreted in so many different ways. Before we start this will be my personal view it shows awareness to a serious matter and showing support to various groups and also incorporating art at the same time to raise awareness.
A percentage of the profits will be donated to charities for the prevention of suicide. Hats off to you guys, it is a good cause and needs attention.
HUNG comes in a very nice box with appropriate artwork so you know where the idea came from and showing Luke's work. I love the dark colour with blending of colours.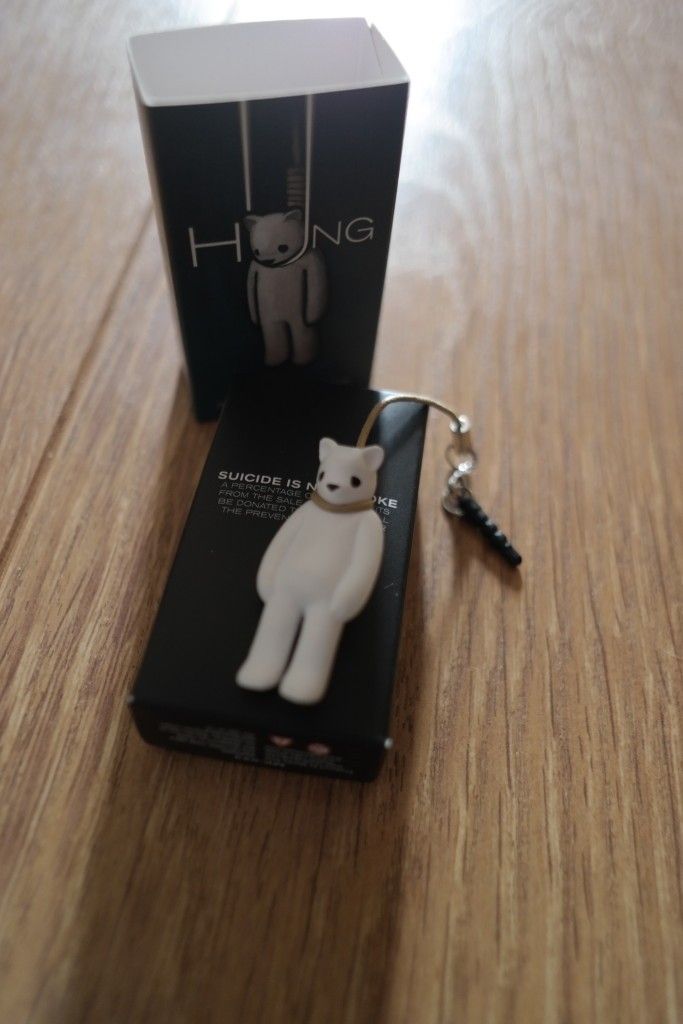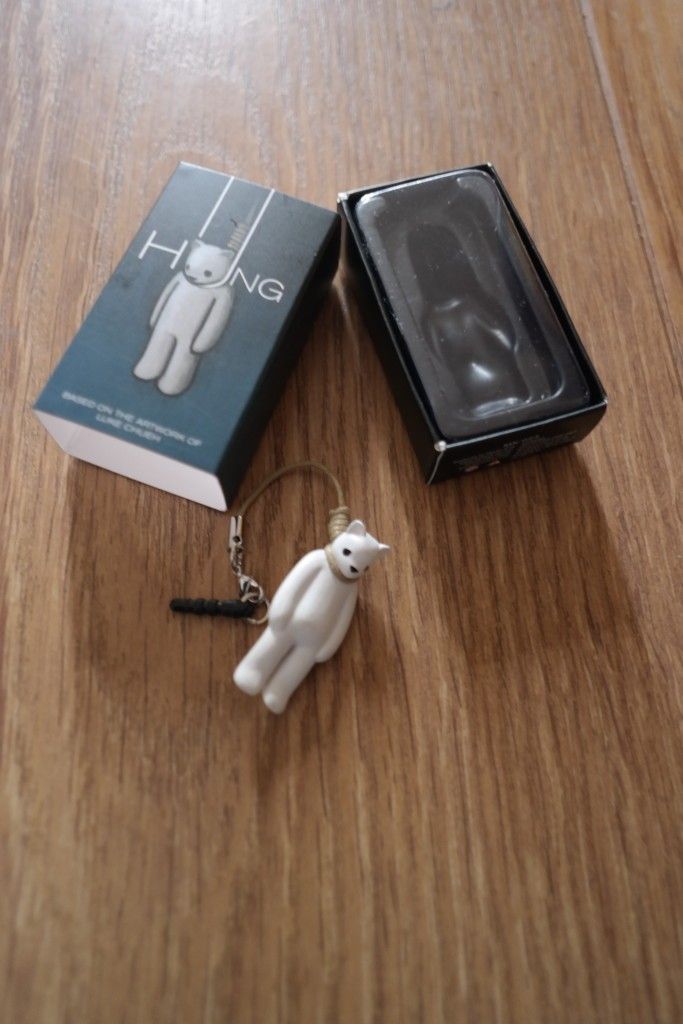 Around 4cm from head to toe the bear is a pretty good size, if you decide to use it a phone charm.
[slider source="media: 23787,23786,23788,23789,23790,23792″ limit="100″ width="1100″ height="1400″ title="no" speed="800″]
The sculpt itself is spot on and resembles Luke's artwork. For such a small figure the detail and quality is certainly there, no loss of transition from illustration to production.
Below is a Iphone 5 with HUNG so you can get an idea of the size.
"I wish other people would understand that I don't want these feelings, I didn't ask for these feelings… and I want them to go away… but it isn't that simple. I try and explain to my friends that it's like there is a huge, thick, black cloud following you around… it doesn't matter what you're doing, how good your life appears or how 'ok' you seem."
Suicide is complex. Whether someone knows why they feel suicidal or not, it can be difficult to tell others how bad they feel. As much as someone might want to die, they may also want to find another way forward. They may want others to understand how they feel, yet feel unable to talk. – http://www.mind.org.uk/
Hung is inspired by the phone charm/keychain/zipper-pull phenomenon, but with a distinct Luke Chueh twist. Though there is an obvious dark/morbid narrative to the piece, we feel it is appropriate to donate a portion of the sales to charities for the prevention of suicide.
Hung comes with a small lobster clasp, 6cm noose strap, and a phone attachment.
Overall I am impressed if I was to be picky may the seam lines could be smoother, but its not biggy really. I just hope that UK/Euro collectors won't be hit with prices over £12. 
HUNG will be released MAY 24th 2015 over at http://www.munkyking.com priced at $12.00 (around the £8 mark). We just got the news that one of our site sponsors Collect and Display will be stocking HUNG priced at £9 JOYS for UK/ EURO collectors http://www.collectanddisplay.com/
For now you can find Luke via Instagram, facebook  and Twitter
http://www.munkyking.com , Facebook , Instagram and Twitter
If you are lucky enough Luke has his own show going on at Rotofugi in Chicago.
Rotofugi Gallery is located at 2780 N. Lincoln Avenue right on the edge of Chicago's Lincoln Park neighborhood.
Headspace (Reboot)
New Works by Luke Chueh
Opening Reception on Friday, May 8, 2015, 7-10pm
One of the most iconic artists to hit the modern pop art world, Luke Chueh, is back for his second exhibit at Rotofugi Gallery where has revisited his "Headspace" series for a full gallery solo!
Exhibit continues through June 7, 2015