Last week The Blanks by Huck Gee had its official online release, we posted about it HERE. Within a matter of minutes The Blanks SOLD OUT. So whilst attending New York Comic Con this weekend, Mr Gee will be making things interesting for those looking to get their hands on the second batch of The Blanks.
[frame align="center"]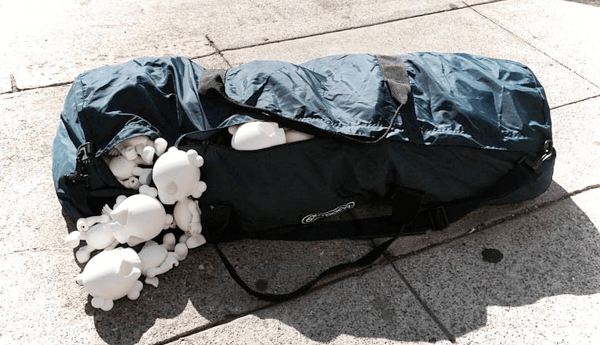 [/frame]
We'll let Huck explain…
"So Sunday afternoon… we're all going to be recovering from Saturday night DTA madness and seriously, who really wants to sit in a convention center all day on a New York Sunday? So, I've decided I'm not going to. Instead I'm going to host a Sunday Brunch / Hair of the Dog / Pub Crawl / Wild Blank Chase.
—
Errrr… what the hell does that mean?
—
On Sunday, October 11th, beginning at noon, I am going to post up in a pub close to the Javits Center with a couple of cohorts and a duffle bag full of Skullhead Blanks (see above pic). The first fans to track me down get dibs on a signed Skullhead Blank. I will have a limited quantity on hand, available for $75 each (CASH ONLY), and every hour on the hour I'm going to relocate to a new spot which I will tease via Instagram. This batch of Skullhead Blanks will be distributed on a first come, first serve basis until they're gone. Or I can't do math anymore.
—
How's that sound?
—
And if you want to buy me or my cohorts a drink, I won't stop you (I'm going to regret typing this aren't I?)
—
As for the rest of the NYCC week, I will be attending but I have a busy schedule and I'm not doing any other signings or releases. Find me on Sunday if you need a signature.
Thanks, Huck"
Well, that sounds like a marvellous idea, right? A pub crawl with Huck Gee, with the added bonus of getting your mitts on one of The Blanks. The Toy Chronicle will also be in attendance, of course. It's a pub crawl in NYC. We are definitely going to be there. We also want to get hold of The Blank too.