Tenacious Toys are thrilled to announce the launch of a new American-made soft vinyl toy line called CRYPTOZOO-FUBI, featuring the work of Weston Brownlee (Eternal Sun Studios).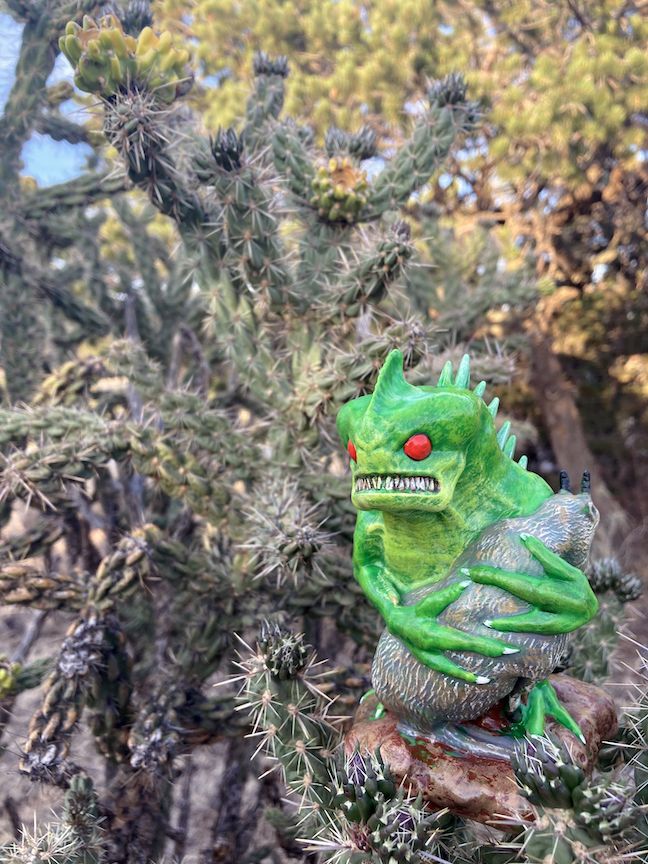 CRYPTOZOO-FUBI focuses on cryptids, which are mysterious or mythological creatures from around the world. The first creature in the CRYPTOZOO-FUBI line is El Chupacabra, the infamous goat sucker from the folklore of Mexico and Puerto Rico. Sculpted and painted by Weston Brownlee, this 6inch tall Chupacabra figure has been pulled in soft vinyl in the sofubi style in America by Mile High Sofubi.
The first release of El Chupacabra will feature a rich spring green base vinyl. The painted edition will have red eyes, a gray goat and a brown rock outcropping and will be limited to just 40 pieces at $65 each. Dropping at noon EST on Monday June 21st, on the Weston Brownlee page on Tenacious Toys website HERE.
Accompanying the painted edition will be a blank edition in the same green, limited to just 10 pieces at $40 each. Dropping at the same time as above (noon EST).
---
Weston Brownlee Social Media
Instagram: https://www.instagram.com/weston.brownlee/
---
Tenacious Toys Social Media
Facebook: https://www.facebook.com/TenaciousToysNYC/
Instagram: https://www.instagram.com/tenacioustoys/
Twitter: https://twitter.com/tenacioustoys
---
Mile High Sofubi Social Media
Instagram: https://www.instagram.com/milehighsofubi/
---
If you want to support The Toy Chronicle, we have a number of options available to you. We have started to stock a wide range of releases that we think you will enjoy. Ranging from production pieces from Superplastic, Unbox Industries & POP MART, to original pieces from our favourite artists like Sank Toys, Quiccs & Czee13. Purchasing one of our pins also really help. A quick, cheap way to also support the TTC is by making a small donation. These can all be completed below through our online shop. We appreciate all the support! Thanks!