UK graffiti artist – Banksy – the mischievous little monkey, renowned for his satirical street art & subversive epigrams combining dark humour with graffiti done in a distinctive stencilling technique, now has his very own action figure. A beautiful action figure, no less.
American artist, Mike Leavitt, has had his first (and last) Art Army vinyl piece put in to production. This 10-inch design of Banksy is limited to 1000 pieces and is promised to be only a one-run production, so if you're interested in this $100 piece then you'd better get yourselves over to Magic Bodega pretty sharpish.
Banksy, who hides his face behind the mask of a monkey, has been beautifully captured as that of a monkey in vinyl form. As mentioned, this piece stands 10-inch tall and comes with a variety of accessories to complete this production. A banana (obviously, he's a monkey), a rat dressed as a police officer of the law and a Guantanamo Bay detainee (reminiscent of Banksy's prank at Disneyland). Also packaged quite nicely too. Not bad for $100.
[frame align="center"]
[/frame]
[frame align="center"]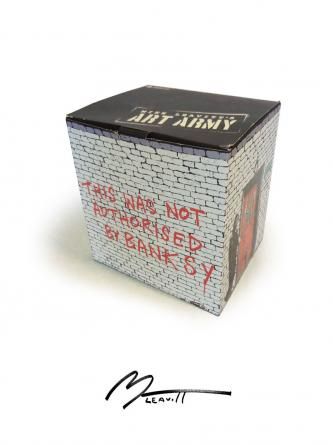 [/frame]
It should be noted that this piece isn't authorised by Banksy himself.