Angel Abby's annual main event is coming! 13 September (Fri) 13:00~17:00 at The HUB in Hong Kong is the place to be if you're a sofubi fan! All the current all start artist will be represented in this that is one of the main events in Asia.
(From A to Z):
a.a.a.
AKIHIRO ISHIKAWA
ALIENS PARK
ANRAKU ANSAKU
APOSTOYS
ART JUNKIE
A STORE EMPIRE
AWESOME TOY
BAKETANBLOG 
BLACK SEED
CANCER TOY
CANDIE BOLTON
chima group
CLOVER TOY
COJICA TOYS
COMETDEBRIS 
CONVICT
DAN
DEATH CAT TOYS
DEHARA
DIEMOUSEKAIJU
DON'T CRY IN THE MORNING 
FIVE STAR TOY
GARGAMEL 
GRAPE BRAIN
HAKURO
HAPPY LUCKY TOY
HARIKEN
HEADLOCKSTUDIO
HikariBambi
HINTS AND SPICES
IZUMONSTER 
JAVIER JIMENEZ 
KAKERURI
KAMA KITSUNE
KOKESHI SHIKEKO
KONATSUYA 
KUIDAORE TOY
KUROBOKAN 
LEEEEEETOY
MAI NAGAMOTO 
MARUHACHI GANGU
MEDICOM TOY
MITARI
NEXT LEVEL TOYS
NINE NIGHTS TOY
NOISECRET 
One up.
POINTLESS ISLAND 
RaJIRECO
RATOKIM
REDSHARK
REMJIE
RUMBBELL
RUMBLE-MONSTERS
SAMURAIDOLL
SCIENCE PATROL
SHIRAHAMA TOY
SICCALUNA KOUBOU 
SIO
SIX TWENTY-EIGHT
SKULLTULA
SUNGUTS
SYNAPSE TOY
TERESA CHIBA
TOYS STREET
UAMOU
ukyDaydreamer
UNPLUG WORKS
YAMAKICHIYA
yasu-ebinekoya
YOIKO OMOCHA
YOKAI YU
YOUKAIZAHO
371RO
5233TOYS…and more
If you want to attend be sure to check Facebook event page HERE and http://www.angelabby.hk/web/ for all the info.
WHEN?
13 September (Fri) 13:00~17:00.
WHERE?
The HUB
1/F Fortune Building,150-158 Lockhart Road,Wan Chai,Hong Kong.
While you wait for more info, check out our previous SVF recap below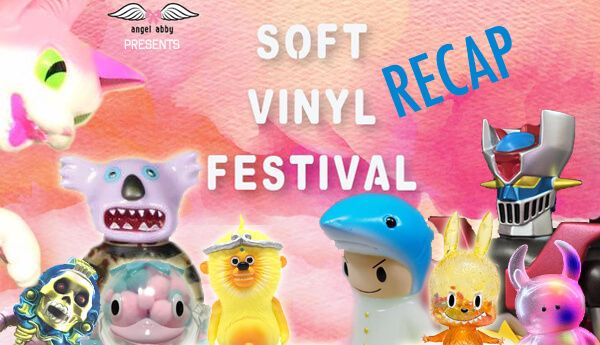 You can check out our live video at Angel Abby HERE.
---


---