Spanish artist Fer MG was kind enough to answer a few questions for us. We hope you find our little chat pleasant and hopefully we can spread the growing work of this talent artist.
1# Thanks for taking the time to speak with The Toy Chronicle. First up, tell us all about you! Who are you? And what are your backgrounds?
Hi, thanks you for the coverage! I'm Fer Mogica aka Fer MG, musician and graphic designer from Madrid, Spain.
My backgrounds in the toy world are quite peculiar because I consider myself mainly a musician who also loves plastic arts and enjoys making and customising toys. As guitarist I've played in rock and pop bands and recorded an album with Sony Music Spain, and as designer currently I work in my own project 'FM Art Studio', focused in designer toys, sculpture and other artistic projects.
Painting and sculpture always has been just a hobby, and when I've joined them into the art toys, that hobby has turned into a job thanks to the support of collectors, exhibitors and blogs like TTC. Thank you guys, your support is really important to make known new blood. In my case 'old new blood' haha.
2# You are no doubt one of the hardest working artist today. You started off doing tequila customs and then proceeded to working on Dunnys, is that correct? What is your favourite platform to work on?
I started in 2015 customising Kidrobot Dunnys and Munnys with leds, but currently my favourite platform to work on is Tequila Muttpop cause have a lot character perfect to capture the essence of monsters, superheroes, robots… After those first Kidrobot customs I customized Spiki (Kuso Vinyl) and Space Crab (Wheaty Wheat) platforms for Martian Toys.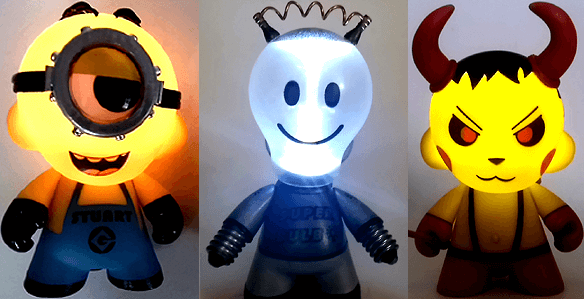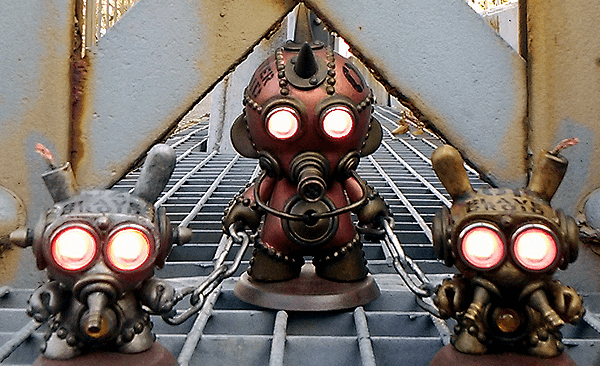 In that first year it was very important the support of exhibitors like Martian Toys or Art Toy Gama showing my customs on conventions like New York Comic Con or Designer Con. I had the incredible luck of win the 2nd place of the 'Space Crab Wars' contest at Dcon 2015, this rookie could not believe to be one of the five winners beside amazing artists like Map-Map, Daniel Fleres, Frank Montano and Michal Mizsta :O That award pushed me to go ahead and keep improving, and also some collectors began to ask for commissions 🙂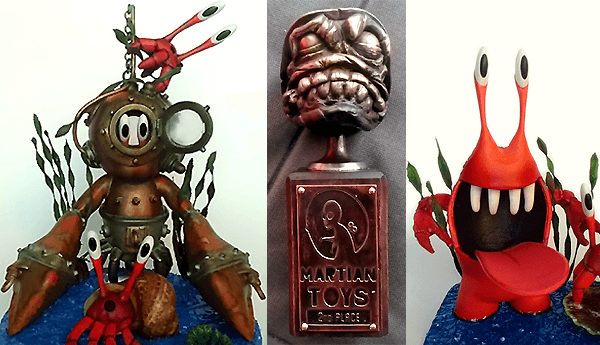 From there I started to customize lot of platforms like Gas Line (Vinyl Scape) Evo Lucio (Veneno Toys) Kidzilla (Wetworks) Stormtrooper helmet (Lucas Ltd) Raffy, Labbit, Trikky (Kidrobot) Android (Andrew Bel) Boozi (Wickedmastermind) or Tequila (Muttpop), surely the platform in which I work more besides Kidrobot, maybe because its size and appearance is perfect for shows. I have to admit that I'm hooked on that fucking Tequila toy hahaha.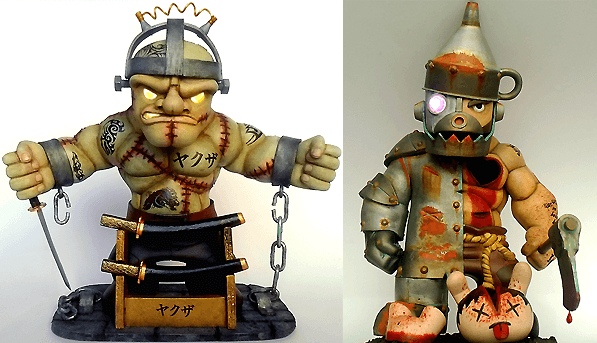 3# We can tell that you have lot of popular culture influences, like the hulk, wolverine, hellboy, Manzinger Z and more. What inspires you to create toys?
From childhood I gobbled sci-fi films, tv series and comics about superheroes (Marvel, DC comics, Dark Horse comics) about robots (Mazinger, Transformers, Iron Giant, Terminator, Robocop…) and about horror, monsters or aliens (Frankenstein, Freddy Krueger, Jason, Alien, Predator…) I could mention a huge list of childhood memories and characters that have undoubtedly inspired my work.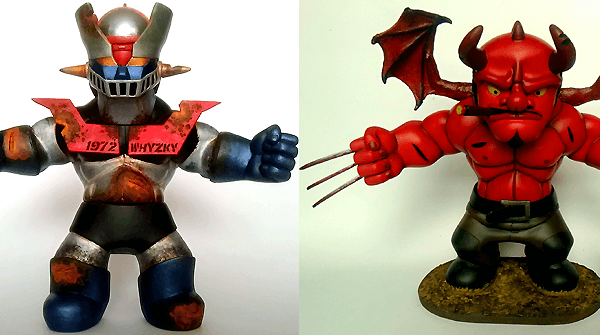 Other themes that appeal me are skulls, zombies, halloween, blood… but don't be afraid ha on the other hand also I'm a fan of fine clean designer toys like Coarse, Luke Chue, Kaws or Tim Tsui.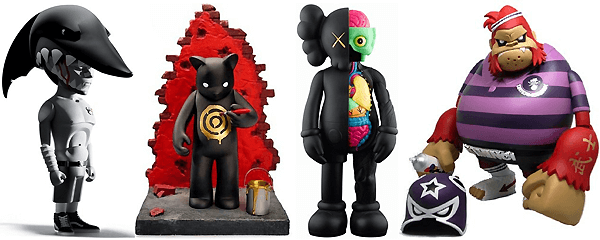 All those influences are reflected in lot of my toys, but I'm fundamentally an open mind to very different
styles and trends however different they may be, I try don't limit myself to any technique or influence.
Maybe that's why I do from 'dirty-rusty-creepy-angry' toys to 'clean-pop- cute-happy' toys 😀 I like both
worlds and many of my toys have two different faces, so I can join in each side two ideas into the same toy.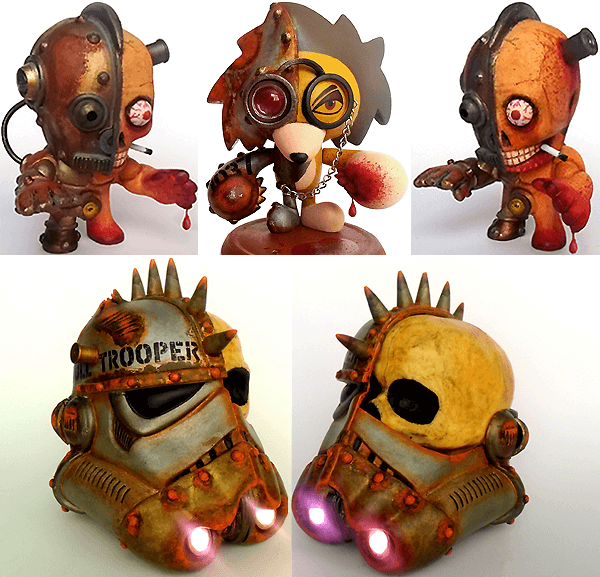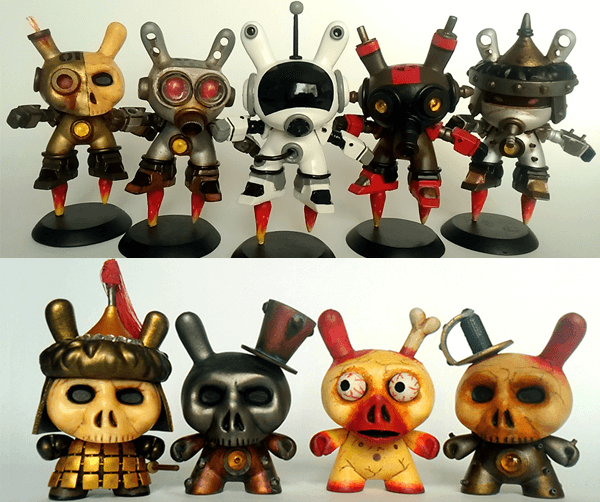 4# Do you have favourite artists?
I have weakness for Mark Landwehr (Coarse) and I'm currently in love with Fool Paradise, their
Batman/Superman figures are really insane.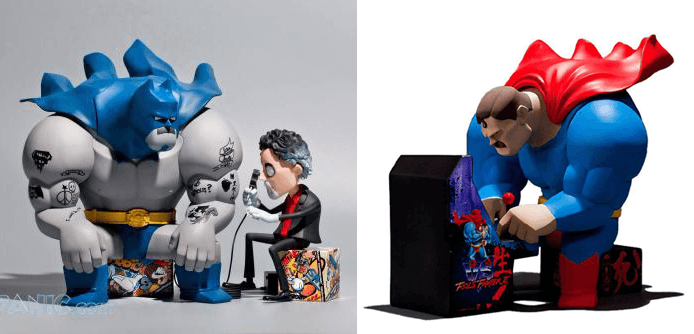 5# What do you think of the current toy scene. Is it expanding? In what way?
I'm really a newcomer in the scene but I'm optimistic, I think the toy scene is growing in popularity and acceptance in the mainstream, and besides the big vinyl toy manufacturers there is a way of more and more self-produced resin toys, much more affordable and fast than the vinyl for the "independent small artists" who want to do their own toy production. Allows more people to produce more and at faster pace, you can have a big quality resin run in a week instead of waiting months to have a vinyl production.
I also believe that it is necessary to educate some collectors to realize the value of the work and time required by independent artists to do handmade toys, and convince them that small runs of self-produced resin toys obviously cannot have the same price as big vinyl manufacturers productions. By the way, I hate Funko POP haha ;D.
6# Do you have a favourite brand of toys?
I like DaTeamBronx, Munky King, Medicom… and undoubtedly the most requested brand of collectors for my commissions is Kidrobot, especially the Dunny platform with 4 different sizes now. It cannot be denny that Kidrobot was a revolution especially in the custom world with their blanks, and it's success with the main audience has helped to grow the toy scene..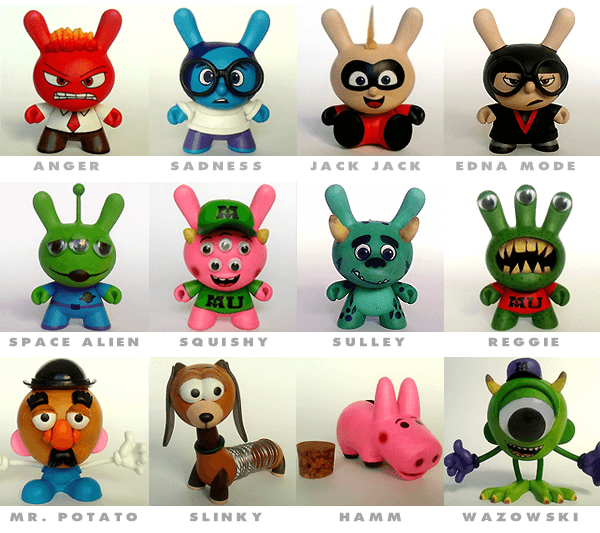 7# We know that you are also a musician. So you are a creative person per nature? Does music influence your way of working?
Yeah, I could define myself essentially as a curious and creative person who enjoys experimenting with
different artistic facets like music, painting, sculpture, designer toys… I think I would have been very happy in the Renaissance period ha.
Music influence my way of working cause I always work with music, when I listen hard rock the result is
'creepy angry toys' and when I listen pop ballads the result is 'cute happy toys' 😛 hahaha No, talking
seriously, I think there may be a parallelism between my way of playing music and making toys, as musician.
I'm eclectic, I like many genres and I play many different styles, from "heavy-distortion-dirty" guitars to "pop-happy-clean" guitars. In the toy world I do the same, as I said in a previous question I'm open to many different styles and trends and I try not to focus only in a single technique or influence.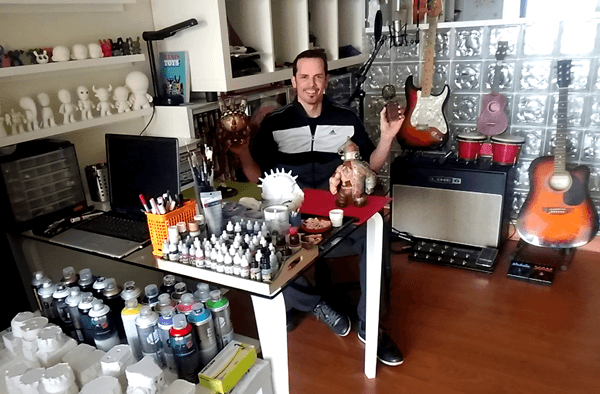 8# Recently you release your first resin toy! How did you feel working with casts and resin?
Really I made another resin toy before called "Pepe", a mini-bull toy platform inspired on my spanish
heritage and culture. But I quickly started to make customs for commissions and Cons, and I had not time to make more resins until last Christmas, when I released the 'happy fingers series'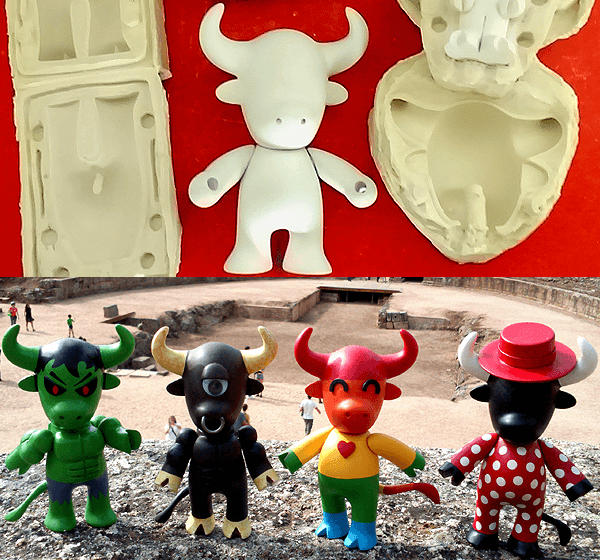 Currently making customs on an existing platform allows me to produce at faster rate, however making my own toy from zero takes longer, I have to close commissions list and income decreases. Many artists have to debate between doing elaborated expensive works that really love or have incomes ('fast shit'commissions) hahaha. I hope that in the future I can focus on doing fewer jobs but only high quality.
I want to do more resin pieces, very soon I´m going to release a little resin run of 5 pieces, the 'happy fingers family edition'. Until now I have tried to make easy resin pieces with simple shapes, easy to clone, but this year I'll be able to make more elaborated resin series, I'm improving my resin and silicone casts technique.
9# Lately you've experimenting with 'dunnysculptures' can we expect that style in other platforms?
I like to make abstract sculptures, in fact, I have a only sculptures section on my website www.fmstudio.es. One of the 'things to do' in my 'toys list' was make 'toysculptures' mixing abstract sculptures with toys.
T.E.D. (twisted ears dunny) is the first of a dunnysculptures series, and yes, I want make more toy sculptures in other platforms, maybe could be one of the significant features of Fer MG in the future, who knows 😉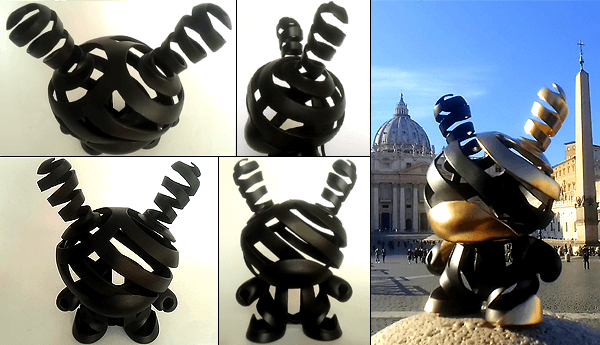 10# Do you think you've found your FER MG style?
Yeah, my style is the 'multi-style' hahaha It´s eclectic, composed of diverse influences and techniques. I'm a curious person who likes investigate and experiment new things, and art is partly about that. I still have many things to do in the toy world, it's only my 2nd year and I want continue playing and having fun with many different styles. I have a huge list of different 'toys-ideas' in my phone, and I have to do them all ha. Surely in a few years I will focus on two or three styles in which I find myself more comfortable and which I can express myself better, but right now I can´t lock myself in just one style or use always the same technique, if I do the same a long time, I get bored. Meanwhile I will continue investigating, learning and trying new things, I'm not afraid to make mistakes, sometimes I will do shit that people don't like haha and sometimes I will do cool things, but meanwhile I will have fun risking and doing what I want, just play!
11# Any words to our readers?
NEVER STOP PLAYING!
Quick fire questions:
Favourite color? Right now I'm in my black and gold period ha.
Favourite food? Sushi/Teppanyaki.
Favourite Movie?  Toy Story saga ;D.
Favourite Music? I listen all kind of music, I'm not from styles, I'm from songs, if I like a song I don´t care the style. As guitarist I play from pop to heavy, but probably the most I have play in my life has been rock-blues.
Favourite Toy? One of my favourite toys of all times is PAW by Coarse and lately I´m in love with the Jeff
Koons' Balloon Dog version by Whatshisname or the Coarse Can Can Mágoa.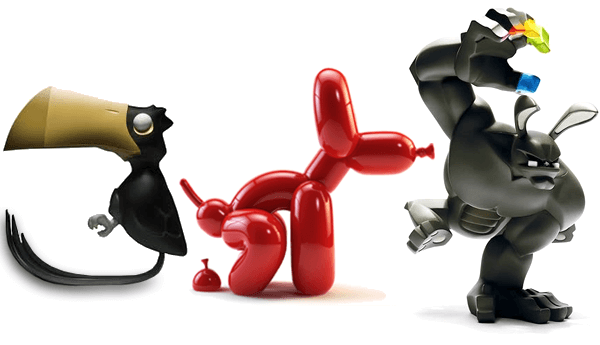 Your dream trip?  Bali (Balinese wedding included ;).
Fer MG´s commission list is open so feel free and drop him a line at [email protected].
You can find Fer MG on Instagram, Twitter & Facebook.