The final day of 2014 is upon us. 2014 is drawing to a close. 2014 has been a crazy year, but it has also been great too – personally & professionally speaking. The Toy Chronicle has only grown stronger & stronger throughout 2014. We set this blog up in late 2013 and I honestly thought that maybe 7 people would read our daily nonsense about the UK Designer Toy scene. Never did I expect that over 40,000 people, over the course of 2014, would visit The Toy Chronicle.
One of my major highlights in 2104 was to be named one of the six finalists at the 2014 Designer Toy Awards for Best Blog. To be named alongside Spanky Stokes, Toysrevil & Toy Break was a huge honour for The Toy Chronicle. Congrats to Spanky for his third consecutive win! Really impressive work to 'three-peat'. Spanky is the kingpin of the Designer Toy blogging world, one that we massively look up to & admire. John and his team are the inspiration for us to set up the TTC blog in the first place. We definitely want to be back in the running for the Best Blog at the 2015 DTA show. Maybe next year we can push Spanky a little bit further and make him sweat a little. Who knows.
Another highlight for The Toy Chronicle was attending the second annual ToyConUK show in April. The Toy Chronicle were lucky enough to own a booth this year and we went crazy trying to represent all that is great about the UK & European Designer Toy community. Maybe too crazy. We met a lot of cool folk though. Lots of inquisitive eyes and smiley faces. We can't wait for ToyConUK 2015 to roll by. We have some cool ideas in the making. Hoping to impress you all, more than your minds can handle. April 25th 2015. Be there.
Talking of shows, it was great to host the TTC First Birthday back in October. Joined by many of our friends, we had a giggle whilst sinking a few beers & eating cake in London. Hopefully a regular tradition every October now.
[frame align="center"]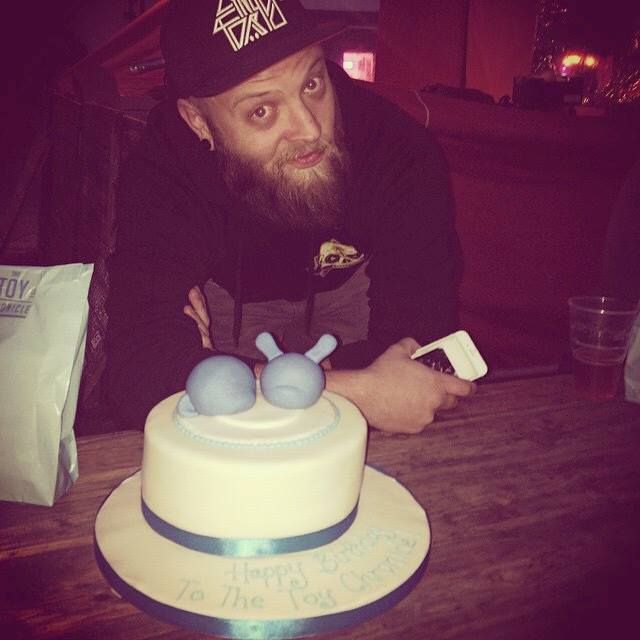 [/frame]
Although, 2014 wasn't all about highlights though, there were one or two low points. One of our early followers, ?Roman Shevchenko, sadly passed away earlier this year. Roman was a strong influence in the Designer Toy world. Loved amongst many and it was indeed very sad to hear he is no longer with us. Losing Roman from our community showed how widespread and tight our scene is. The response from all over the world, for a man I'd met once in real life, was immense. More than deserved too. RIP Roman. Greatly missed.
[frame align="center"]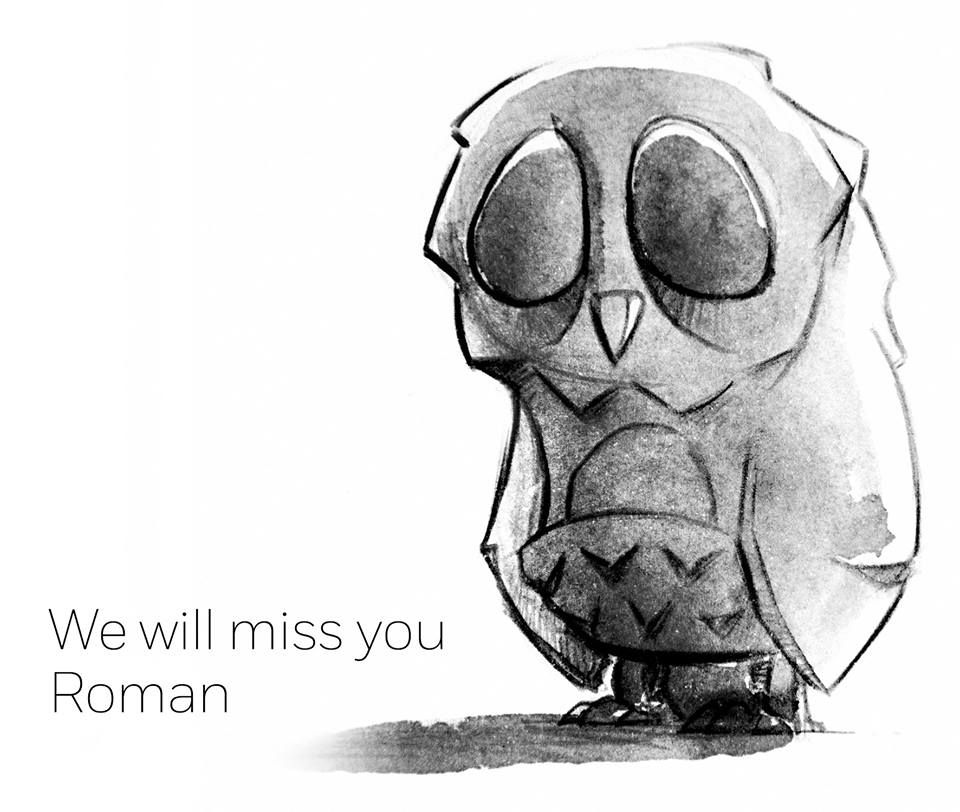 [/frame]
Lets talk about production pieces in 2014. Is it just me or have production pieces not been a high pointin 2014? Of course, Coarse Toys have continued to produce some great work with their Omen collection but it would seem that 2014 was the year of the DIY. Well, even more so in 2014. If you want to get noticed you need to be designing & producing your own pieces. One artist who has taken all steps to become Resin King of the UK is UME Toys AKA Rich Page. Rightfully taking home the Best Resin DTA for his Geekwok creation. Rich has created countless new characters during 2014 and it has been great to see them take shape through his sketches to the finished article. Take PoxPop as an example below…
[frame align="center"]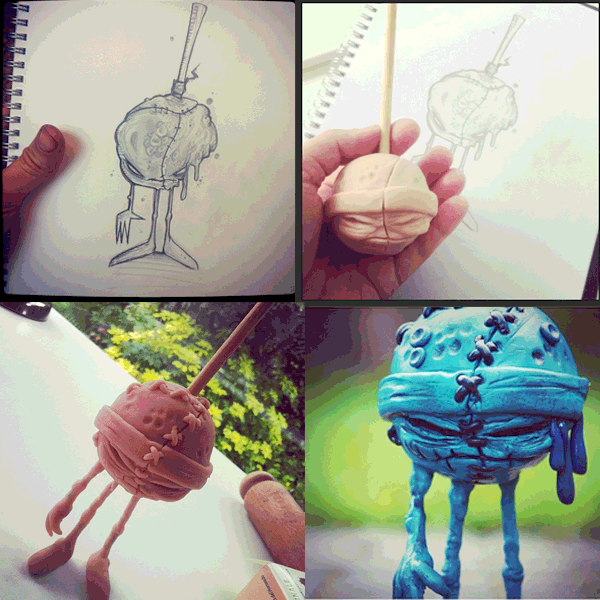 [/frame]
You can see plenty more awesome work by UME Toys on his Instagram page here!
We say our mantra is focusing on the UK Designer Toy scene & artists, but that doesn't stop us wandering our eyes to other shores and that is where we find one of my favourite artists in 2014. Based out of Singapore, Wetworks has been smashing it up this year with his custom pieces. Two of my favourite pieces by Wetworks are his two mcbess inspired musicians. Quality.
[frame align="center"]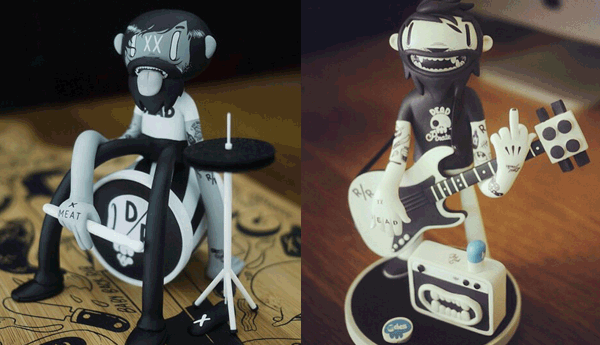 [/frame]
Go check out our posts on Wetworks over the last year: http://thetoychronicle.com/?s=wetworks
You may say I am a little biased with my next artist, but our boy Rich Sheehan AKA Toy Terror has been quietly producing some extraordinary pieces of art throughout 2014. Rich's meticulously attention to detail is something to behold. Rich may not have a huge portfolio of work, yet, but each and every piece is a crazy piece of delicate artwork. You'd be silly not to go check out what Rich has available in his store here!
My favourite piece by Toy Terror in 2014, was his custom Coarse Omen – Pavomen. We covered it here: http://thetoychronicle.com/customs/pavomen-the-peafowl-custom-coarse-omen-by-toy-terror/
[frame align="center"]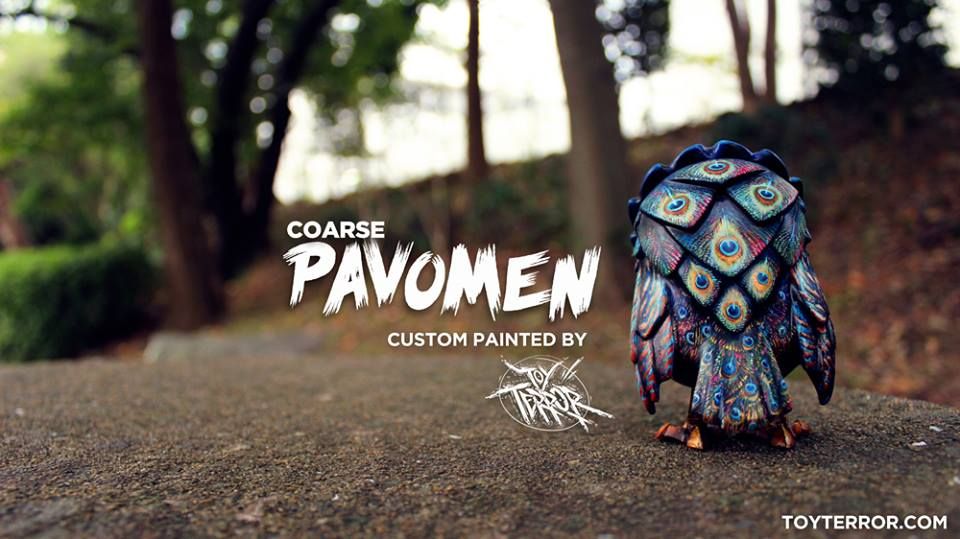 [/frame]
Finally, it could be quite easy to be blasé about the work of JPK, but when the man is constantly putting out top-notch quality work you have to tip your cap to Jon. Jon-Paul is up there with the hardest working artist on the circuit. Throughout 2014, JPK has delivered numerous pieces that could easily be the my custom of year and it's not only me who has this thought neither – Jon had two pieces in the DTA Custom of the Year. Deservedly so. Although I feel that this may have had a detrimental affect on Jon's chances at winning*
Although, my own personal choice for Custom of the Year goes to Rose & Sky by JPK.
[frame align="center"]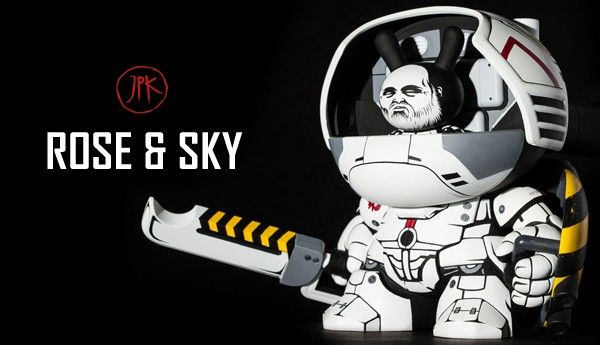 [/frame]
Go check out what I had to say about this back in August: http://thetoychronicle.com/customs/rose-sky-by-jpk/
Artists that I can't wait to see what they bring to the table in 2015 include:
The bearded beauty: Uncle Absinthe and his Shit Unicorn creation!
[frame align="center"]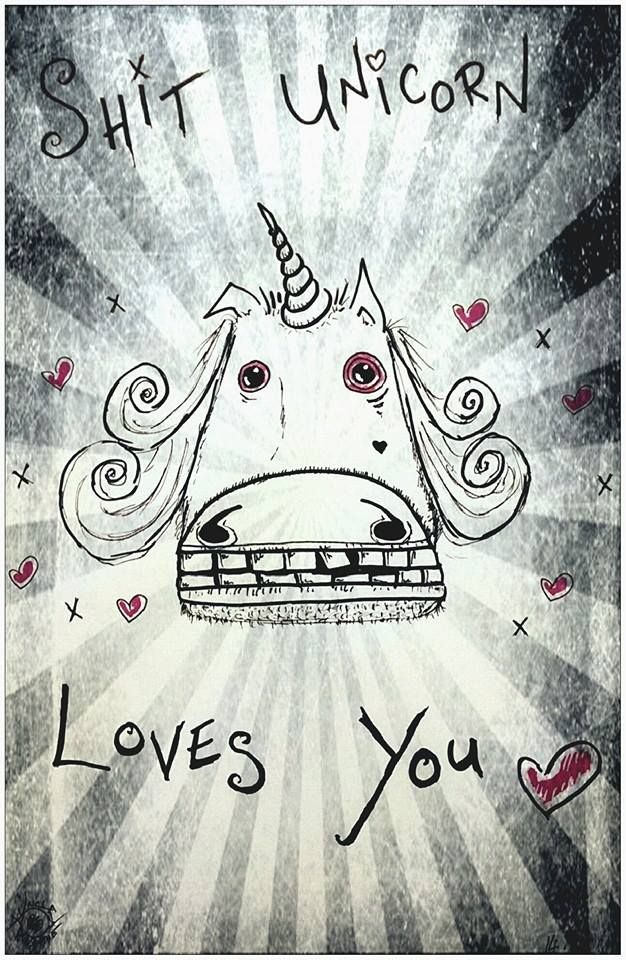 [/frame]
Absinthe's partner in crime: Gary 'Bluefrog' Boon and his Bohna Skully project!
[frame align="center"]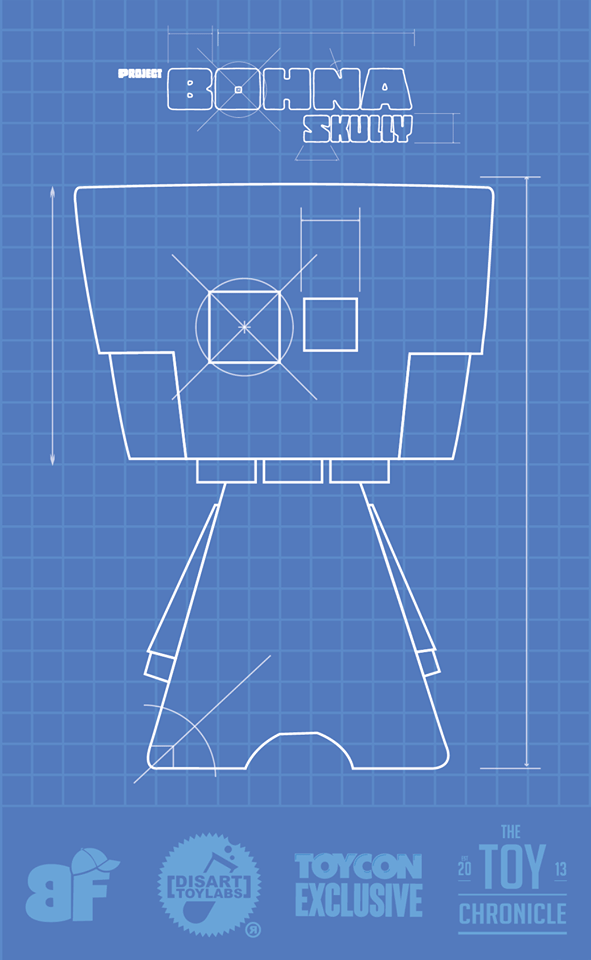 [/frame]
Beer & Vinyl DIY: Brewce – Hophead Vinyl Toy
[frame align="center"]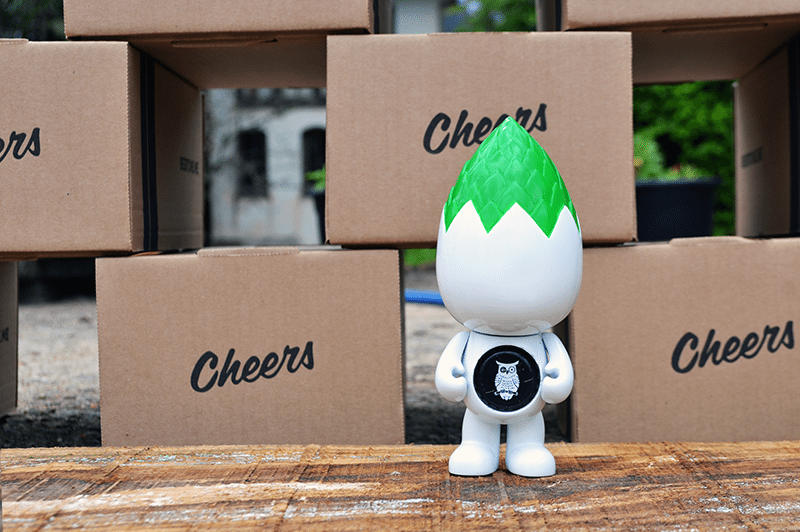 [/frame]
and finally…
The Creator of the New TTC Logo: Mr Lister
[frame align="center"]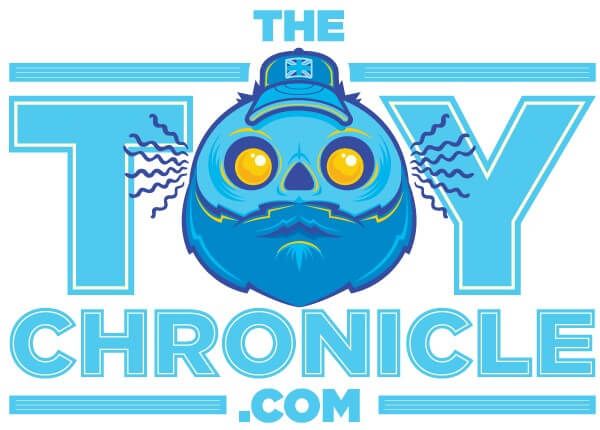 [/frame]
Yes, that is right. The Toy Chronicle will have a new logo in 2015. Mr Lister has kindly supplied the artwork and we are sure you will agree – this is fucking awesome – right?! We shall be slowly making the change to the new logo over the start of the new year. Can't wait. Let us know what your thoughts on the new logo.
So, 2014 is at an end. Many thanks for all your support and readership. 2014 has been great. 2015 will be better. See you on the other side x
* You could you only vote once per category – meaning your JPK vote was split. Booooo.