As one of the first people in the toy scene that I met up with, when the opportunity arose to interview artists for The Toy Chronicle, Sneaky Raccoon was one of the first to spring to mind. Sneaky was more than happy to talk to us., let's just get straight into it…
So…Introduce yourself, what's your name (other than your artist/business name) and tell us a little about yourself?
Hello — I'm Anna Mullin, otherwise known as Sneaky Raccoon which is my artist name. My work is diverse in that I create lots of different creative pieces which range from making toys for exhibitions, as well as working freelance in the areas of illustration, graphic design and art direction on bespoke projects for my clients.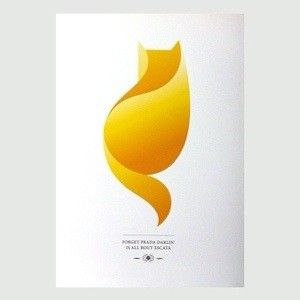 Are you an artist from the get go, or developed through time and being in the hobby?
I have always drawn. I can't remember going anywhere as a child without a pencil, pens and something to draw in or on. They were the first tools that I picked and packed before my clothes for going on holiday with my parents — that and my Gameboy. Obviously, since then years have gone by and over that time I have developed a style for myself through my illustration and continued to produce work around the subject of animals and nature; two things that I am very passionate about including conservation and animal rights.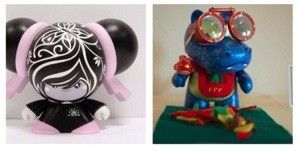 How did you discover the world of designer/art toys?
I discovered vinyl toys in their designer form as collectable art pieces while studying in my third year at university when I was feeling disconnected from the traditional methods of art I was practicing. I wanted a change, something new and exciting and toys and characters reignited the flame from my childhood memories of cartoons and animated films. I decided to push myself to explore characters, which led to participating in shows and exhibitions and eventually into the eyesight of toy giant Kidrobot.
What inspires you?
I grew up abroad and travelling as a child, mostly in green areas of Germany and around Europe so I had an abundance of wildlife and landscapes to draw inspiration from, including the traditions and crafts of those countries I travelled to. Animals are inspirational, nature provides such an abundance of both fascination and curiosity for me personally, hence why I tend to make work based on those themes.
Who/what is your biggest influence?
It's always hard to say what inspires me because every day I find something new. Animals played such an important part in my younger life what with pets and horse riding as a sport, as well as music. I love colour and I tend to lean towards palettes that work together harmoniously.
To name a few people who I find inspiring I'd say Takeshi Murakami whose work in kawaii made my eyes light up and realise that I didn't have to painting boring portraiture any more and could move into a more commercial market, a fun market rather than the staleness of fine art as it were. Charley Harper is a new fascination as his work is impeccable and as fresh now as when he created it his work during his lifetime.
A friend of mine introduced me to the work of Tado, (Mike and Katie) which was lovely and inspiring. Okkle, Peskimo and Pete Fowler are all big softies i'd also put on that list of inspirational people — their work is very particular and i'm often drawn to well crafted pieces of work. I have been fortunate to have had such great friendships with everyone in the toy scene since starting out, reinforced by hosting shows with only the best artists I felt would enhance the show as a collection. There are simply too many toy friends to mention, more than their work, its their passion for what they do that I find inspiring. The most inspirational and important thing you can have in your life are your friends and family because they bring out the best in you.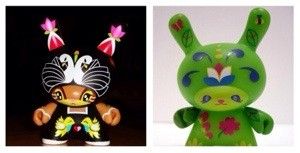 When you sit to create, can you describe your ideal setting? For example: do you have music playing, if so what kind or artist, what kind of drink do you have next to you and what are the tools that are a must for you to have on your desk?
I like both silence and also music when I work. It depends on my mood. Lyrics I find are very distracting so I only tend to listen to electro, ambient, house, drum and bass tracks while I work. I find it drives me to get the work done without distracting me to think about anything emotionally. A cup of tea never goes a miss obviously and something sweet for the afternoon dip where I feel a nap coming on. Sitting in front of my screen or work for many hours a day can be both tiring and also bad for my health! My desk has toys on it, plants and colourful items such as books, magazines, pens and pencils, paint and often food and snacks.
Do you have a favourite piece of art, that you created, that you cannot part with?
I find that most of the work I make I hate to part with. Everything I do is bespoke, unique and normally a one of one edition. I enjoy making it so much that I am emotionally attached to everything so giving it away to the buyer at the end of a project is both satisfying but also a little saddening. So much craft goes into my work both compositionally and time based too that the work becomes an extension of myself as so much attention has been paid to it. Clients are happy so that is good and all that matters in the end after my happiness that is.
Is there anything you're working on that you can tell us about?
At the moment I am prepping artwork for prints and products too to launch at this years London Illustration Fair which this year is near to my studio in Hoxton in East London. Watch this space for more exciting things. As for toys I am not currently in any shows and my work of late has been more focused on illustration again, but I have a show in December in Denmark with the art collective Shh… for a show about childhood, so I will begin making work for that soon.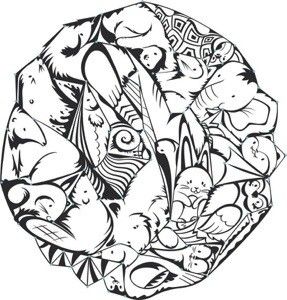 Who are some of your favourite toy artists?
As mentioned previously, I love Okkle's work and I knew that from the moment I set eyes on it. My best friend Gavin at Jamfactory is an obvious choice too as he has been both the greatest friend to me over the many years we've been mates but also his massive bundle of energy that spews into his work on a daily basis is inspiring. I feel horrible picking out toy artists as they are mainly my friends and I love them all and encourage them in all that they pursue.
What do you think of the current designer toy scene?
The current UK toy scene is dying because the buzz died here. It's had it's peak a few years ago and now that we (the artists) have no central hub in London anymore everything has gone back online. I hope the community can find new ways to invigorate their passion for it and continue to inspire new artists. The scene is ok, but it's nothing compared to what it was.
Have you got any shows coming up within the next year?
There is always something. I have projects of course I can't talk about or disclose information about as per usual. This year, 2013 was all about Gromit and his massive celebrations. It has been the highlight of my year, everything from designing the 5ft giant dog, to painting him, seeing him in the exhibitions in Bristol and then being auctioned for £19,000 — it was worth every second. Who knows what the new year holds — that's part of the fun and why I'll never give up my freedom to do anything else.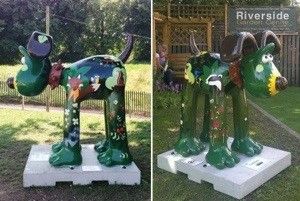 Do you have any words of wisdom for an aspiring artist wanting to begin showing his/her work?
Promote yourself and get your work out there. Social networks, forums, whatever you feel works best for you. Connect with other artists and ask nicely for them to consider your work for their future projects and shows. Being creative in the creative industries is about being genuine and remembering that it is a 'people' business. Communication is key and being friendly can go a long way to open doors. Get your own website or some online presence somewhere where you can direct other artists too, even if it's a Facebook page for your work. It provides a base for which you can push work to and push the word out about everything you are doing. Get some promotional fun goodies, cards, badges or stickers and attend events and leave them or share with other artists. People love a goodie to take home with them. Never be afraid to ask for advice whether it's technical or not — you'd be surprised how nice people are and I've always been taught to ask. If you don't ask, you don't get.
Thanks for taking the time out to talk to us, finally where can people check out your work/contact you?
If you'd like to check out my work you can find me here:
Website — www.sneakyraccoon.com
Email — [email protected]
Twitter — @SneakyRaccoon
Instagram — http://instagram.com/sneaky_raccoon
Facebook — https://Facebook.com/sneakyraccoonstudio
behance — http://www.behance.net/SneakyRaccoon