Rich Sheehan the graphic designer and illustrator based in London, UK.
Seeing Rich work on his first custom and the amount of time he spent making it right and making his concept the way he wanted. I knew I had to get a commission from him  as soon as possible , before he becomes firmly established as a fully fledged toy artist.
What made me ask him for a commission piece? Simple, his designs are dark, exposing flesh, truly gruesome in the kind of style of Attack On Titan  a Japanese Manga.
Rich has a keen eye for Japanese culture and art and his Toy Terror platform will be a winner.
So lets get on with the review and so that I stop rambling.
Welcome Dora Gon by Toy Terror    (Photos do not do it justice)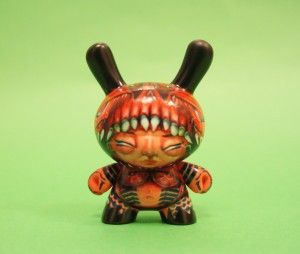 Flesh like paint work is great, with tones that are just about right. I love how the teeth are not over powering the face.
The shadows are good but I do think his symmetry needs a bit more work.
There's some great detail on skin including the belly button and the little tear marks which I adore.
Would of liked to see a matt cover instead of gloss finish for this custom.
One thing I must admit I didn't really get was the feet area. I must ask Rich about that. I would have preferred pure skin or flesh, as having the black markings just lost it a little, but that's just me.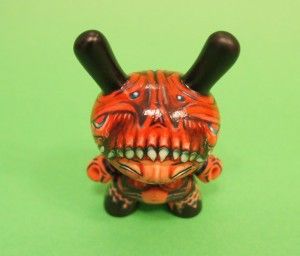 View from the top, you can see the skull. The shadows are great not too much of a bright red which is awesome.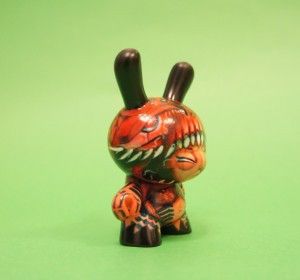 I really like the hands and the flow of the teeth marks along the side.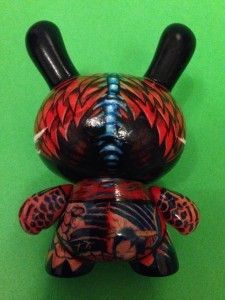 Now the back has hell of a lot of detail for a 3 inch dunny.  I think as time goes by, he will get a lot better with his line work but it's promising.
The central spine and tattoos need a little work and he knows it, but trust me, its hard working on such a small figure.
Overall, such a nice custom. I would have  happily paid more.  He's still learning and can only get better. Hope I'm not too harsh on you Rich. I cannot wait to get my next custom from him, with the next one will be a bigger one.
See Rich at ToyConUK 2014