Legendary UK graffiti artist Hoakser takes on DMS x ALTO Skelevex. Outcome FREAKING awesome sauce. How did Hoakser put his style on such a small platform. These OOAK Defaced' Skelevex Die Orama custom adds that extra street cred. Hoakser adds his grungy graffiti style over them, great cavas for Hoakser to work on, even with those low polygon angles.

These definitely makes us look at the Skelevex in a different light and has to be a pick up for Hoakser and Skelevex fans.
Defaced' is a collaborative Skelevex Die Orama custom series, featuring the Birmingham UK graffiti artist known as Hoakser.
Measuring at 3″ long, handmade polyurethane resin cast Skelevex featuring the amazing hand painted graffiti style designs of Hoakser.
The first five, each a one of a kind, pieces will be on sale on Saturday 13th  August at 6pm BST. Priced at £14.99 each (approx $19) plus shipping, from skelevex.com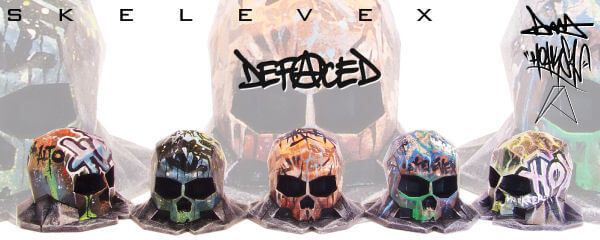 Keep your tabs on Hoakser Via his Website  , Instagram, Twitter  and Facebook
Skelevex is designed by Alto & DMS, produced by DMS.
You can get in contact with DMS Via  Instagram, Facebook  Website .