Two of the designer toy power players Scott Tolleson & Huck Gee unite together to bring you custom Skullheads: The Crimson Skull. Scott Tolleson really did a stella job on the Skullhead. The slight weathering around the eye sockets gave the Skullhead much more defined look and depth. I do wonder does the calligraphy glow in the dark?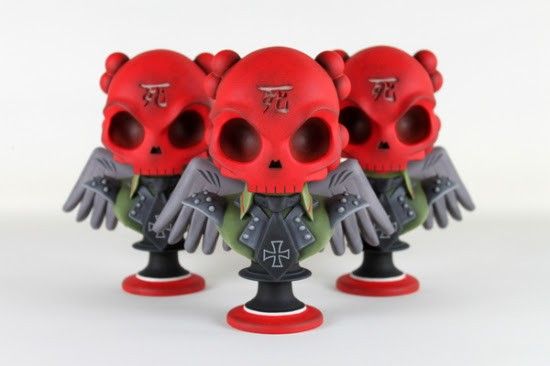 The German Iron Cross and that deep red with the army colours reminds me a little of the Hellboy. 
"It took a bit longer than originally planned (hey, we're busy guys!) but Scott's Skullheads finally arrived in all of their glorious crimson glory: The Crimson Skull. Scott killed it."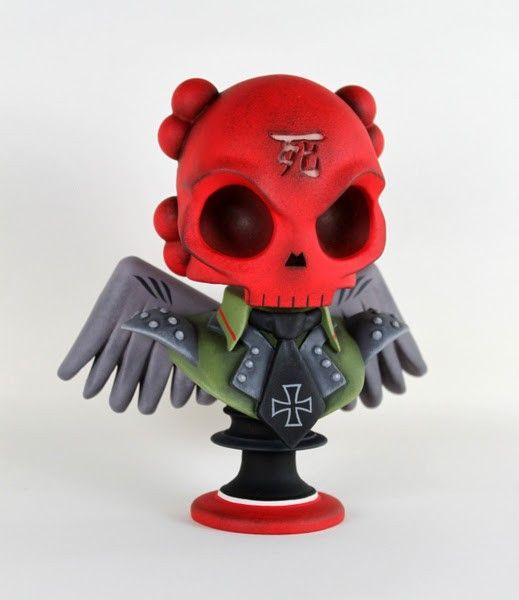 Of course the Skullhead had to have Scott's signature argyle.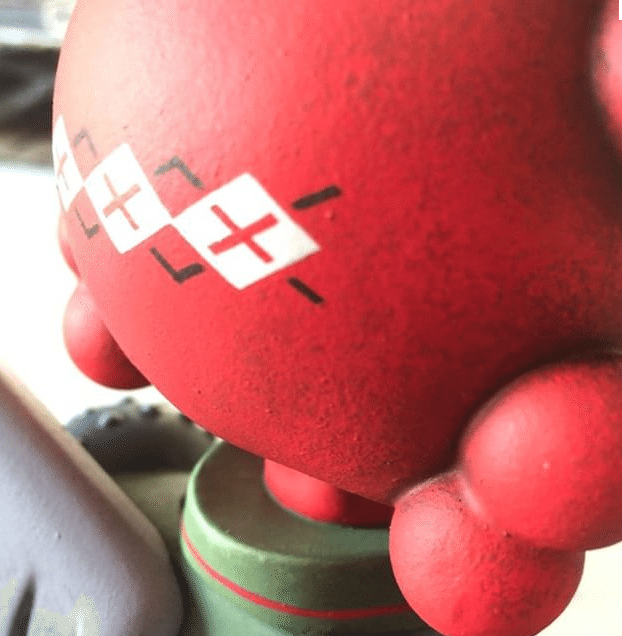 Now for the bad news! Only three of these badboys will be available standing at 6″ these are priced at $450 each. Signed and numbered by Scott and Huck. Available Wednesday, 7/8 at Noon PDT only at www.HuckGee.com.
If you're around for SDCC them make sure you hunt down Huck as he's doing a signing for the latest edition of Color Ink Book. We have a few Color Ink Books in our own collection and this has been a long time coming, we will wait for it to go on general sale. If you don't know what Color Ink Book is then head to http://www.colorinkbook.com/ can check out all the cool art work. Don't blame us for making you spend.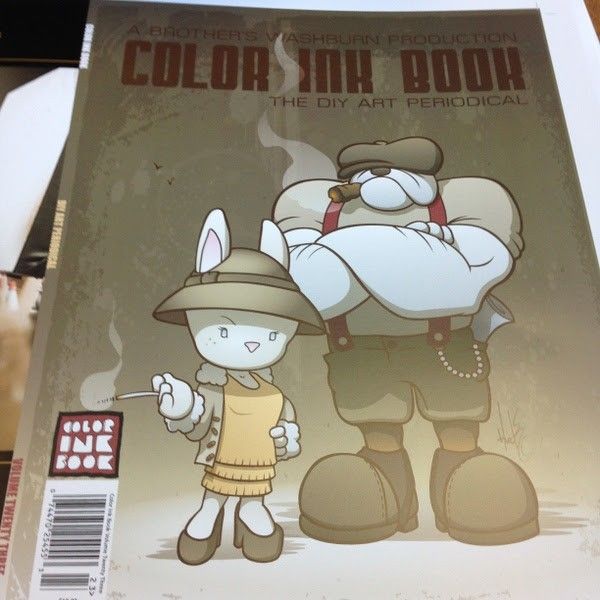 "This year I will be flying into SDCC for only one day. In at 9am, out at 5pm. Meetings, lunch and one signing. A perfect SDCC. You'll find me only at Color Ink Book's booth #4531 on Saturday, 7/11 from 2:00-3:00pm slinging the latest edition of Color Ink Book.
You have no idea how many years these guys have hounded me to do an issue.Might be close to a decade. They've been really awesome about it though. It was never that I didn't want to (I love their concept) it was just trying to find the time to fit it in. This year, I made the time."
[slider source="media: 26582,26583″ limit="100″ width="1000″ height="1400″ title="no" pages="no" mousewheel="no" speed="800″]
You can find Scott via http://www.stolleart.com/  Instagram and Twitter.