While the West Coast has SDCC popping off. This Saturday sees Peter Kato Bedtime Stories a custom bedtime bunnies custom show at NYC 's MyPlasticHeart. Artist from around the world including a few UK/Euro artist including our very own Doktor A, Haus of Boz, Jon Paul Kaiser, Map-Map, Nange Magro, UMEToys, Sneaky Raccoon and last but not least TADO! huge respect for the UK/Euro community.
This will be the first custom exhibition of Bedtime Bunnies, an original character created and designed by Peter Kato. This exhibition will debut a 4.5 inch version of the character made specifically for the exhibition.  Showcasing the work of over 30 artists exploring the theme of bedtime stories.Peter Kato ?& MyPlasticHeart invited them to revisit some of their favorite classic fairytales.
Here are a few sneak peek photos of our UK/Euro artist.
[slider source="media: 26806,26803,26805,26808,26809,26807,26804″ limit="100″ width="1200″ height="1200″ title="no" pages="no" mousewheel="no" speed="800″]
Bedtime Stories Custom Show features the work of:
64 Colors
Alyce Benevides
Andrea Kang
Bjornik
Boykong
Candie Bolton
Doktor A
Doubleparlour
Haus of Boz
Jellykoe
Jenn and Tony Bot
Jeremiah Ketner
Joanne Hsieh
Jon Paul Kaiser
Justin Alan Volpe
Kelly Denato
Kyle Kirwan
Lou Pimentel
Map-Map
Mariangela Tan
Nange Magro
Nathan Jurevicius
OddFauna
Onell Design
Rich Page
SKULL TOYS
Sneaky Raccoon
Stickymonger
Sugar Fueled
TADO
Teru Fujita
( Please head to MPH for more detailed photos and info on all the pieces as these are screen grabs and don't do them any justice)
*BONUS*
To commemorate the opening of the Bedtime Stories exhibit, each purchase of a custom Bedtime Bunnies figure will be accompanied with one complimentary Bunny Box Mini, Peter's latest creation. This exclusive color way will only be available for this show and only to those who purchase a custom piece! what a DEAL! 

About Bedtime Bunnies
Peter's Bedtime Bunnies are original resin figures hand made and produced by Peter himself in his Brooklyn studio. They have garnered much popularity and a huge following through this past year. This will be the first time the figures will be presented in an exhibition of custom works.
"Bedtime Bunnies Imagined on a late night inspired by fairy tales and children's books the image of bunnies wearing bunnie-slippers came to mind and so became these sleepwalking companions to those long magical nights. It's been one full year since the bunnies debuted last Spring with many colors, variations and form. We continue to bring you new things from their world. Stay up with them. Peter Kato is an artist who explores the subjects of imagination & sleep through toy sculpting, illustration & painting. He spends his time in his Brooklyn studio dreaming up curious bunnies, robots and clever animals."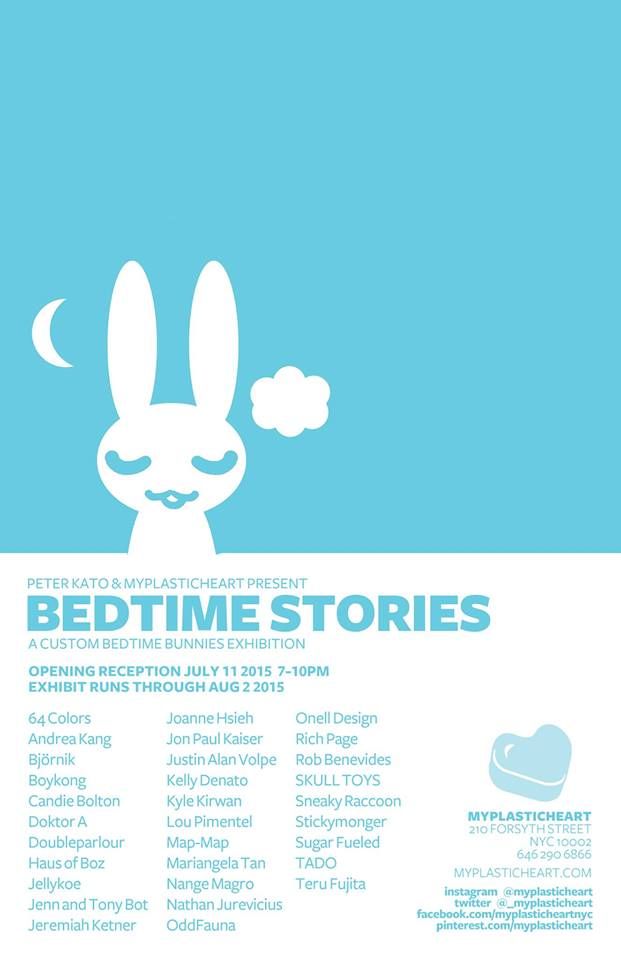 Bedtime Stories – A Custom Bedtime Bunnies Exhibition
Opening Reception Saturday, July 11th, 2015 7 – 10pm
Exhibition runs through August 2nd, 2015
myplasticheart
toy store & gallery
210 Forsyth St.?New York NY 10002
646.290.6866
http://www.peterkato.com
http://www.myplasticheart.com
Requests to purchase artwork for this exhibit via email [email protected] beginning TODAY Friday 07/10 at 2:00PM EST
Join the conversation and see sneak peeks of some of the pieces here – https://www.facebook.com/events/778677588914897/
Join the Bedtime Stories – A Custom Bedtime Bunnies Exhibition Preview List – http://eepurl.com/ba9hl1