So what happens when you get a top toy custom artist to do a commission on a knife? AWSOMNESSSSSSSSSSSS!
I asked Jon-Paul Kaiser if he would be interested in pushing the boundaries and customising something non toy related and maybe something not in his comfort zone. He took on the offer and boy did he do a good job.
So lets take a look.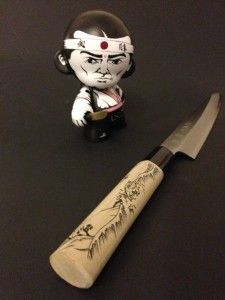 The thick strokes of black just combined well with the natural wood colour. Still easily recognisable that it's JPK's work, with his distinctive brush strokes and fine lines.
The waves flow naturally but the finishing touches for me was the little gold touch on the fish's eye. Up close I don't know how he's done it, but on a few water splashes, he's actually painted little white splashes, and outlines these in black. Dam he has a steady hand!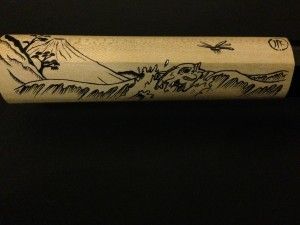 Where the mountain is, the knife handle is slightly curved but he managed to get the perspective spot on.
On the other side of the knife, the fisherman was simple, but it just didn't need anything else adding. He could have just so easily gone with a typical Koi fish or just waves or something predictable. He finished it off with another couple of fine brush strokes of gold in the sky. The detail on the fisherman was great too.
I ask myself what I would have liked to see? To be honest I don't know myself. If I really wanted to be nit picky I might have wanted art on the knife itself. But then, would art on the knife itself be overkill? And take away the focus on the handle? I don't know the answer.
Here's a short video of the knife
[youtube url="http://www.youtube.com/watch?v=jBJS5kZwujw"]
Well the conclusion is I am happy with the outcome and that's all that matters. Shame I won't be using the knife, but instead displayed in all its glory.