A little strangers 'Cavey' character has been on fire this past week or so, releasing a new DIY colourway, a Collect And Display glossy red exclusive and now to top it all off the insanely cool Frankenstein's Monster Cavey. "This adorably grumpy little monster is ready to melt your heart this all hallows eve". This awesome little plush is limited to only 50 pieces which will be number and accompanied by a purple enamel Cavey badge and a 'cavey cube' carry case to ensure that your plush never will never get the abuse that it most certainly does not deserve.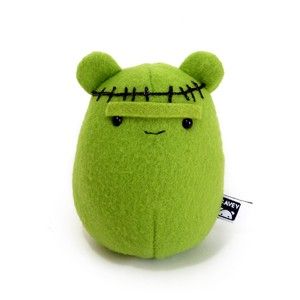 If you are wanting one of these frighteningly cute fluff balls which go on sale at 8pm GMT then head on over to the Cavey website here.
Also check out their Instagram, Facebook and Twitter.