Andy Blowers the creator of ChompStomp is the home to a varied collection of monsters, critters and creatures.
One of many characters are
CamoKids – Resin figures trying to hide.
2? or so high resin casts of an original figure given some camouflage by way of a lick or two of paint.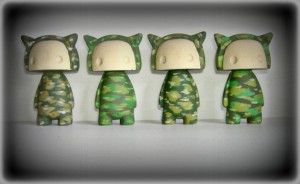 Pretty dope  I must say the camo works well with the character and at £4.99 not a bad price too.
Maybe the paint work might need a little work but I cannot really judge till I have one in hand. But the the character I do like,kinda simple but nice.
Right now he's  offering free worldwide postage on all items! Take a look around and give one of my critters a home!
Use code 15OFF13 for 15% of your purchase over at his Etsy shop HERE
You can also contact him Via