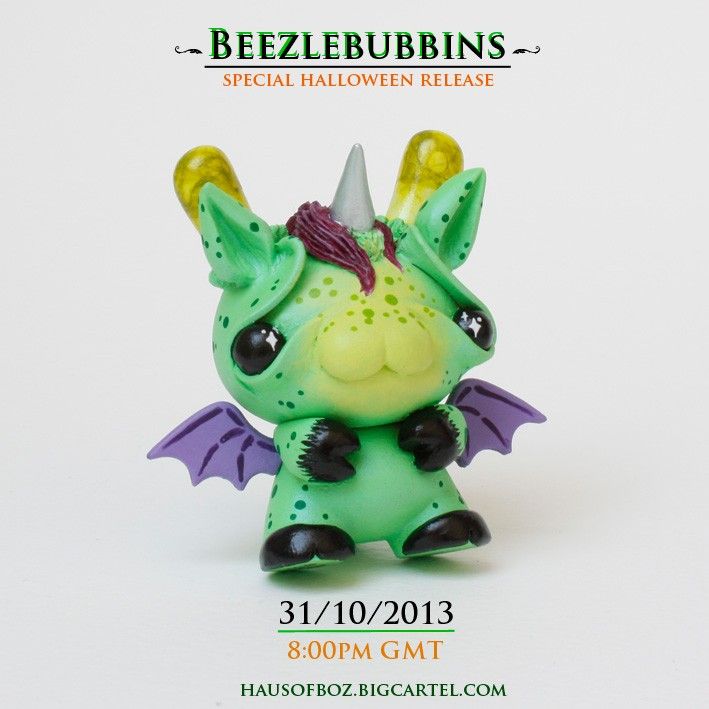 Set your clocks for 8pm tomorrow (31/10/2013), as this Haus of Boz one-off Dunny custom is heading our way. This special Halloween release is, as you may notice, a custom Okkle Dunny from the 2013 Side Show Dunny series. Hand-painted, with hand-scuplting to make Beezlebubbins – or Bubb for short – a cute little devil.
Bubb, he's a big fan of trick or treating, so make sure you leave some candy on your porch for him to swipe, or you might find your seance disrupted and your quiet evening of reading the complete works of Poe, over a brandy in the drawing room, put asunder, as Beezlebubbins enters by way of the letterbox in search of hijinks.
Various jinks include: Putting sticky tape on your cat's tail, swapping the contents of the sugar and salt shakers, ripping little holes in the tea bags, and drawing on your face while you're asleep.
How do you like those apples?
The correct anwer is: Candied!
Bubb is completed by a coat of UV resistant varnish, and gloss.
Bubb is available at 8pm GMT on 31/10/2013 over at Haus of Boz's BigCartel. Bubb will cost £64.99 plus shipping.