SET your Clocks for the 9PM GMT release of the Second wave of the GeekWok after being begged/harassed for more. Geekwoks first lot sold out super quick, there will be a new colour way released TONIGHT 10th Jan 2014! get your F5 ready and head over to UMEToys Shop HERE
So TheToyChronicles had a chance to see the makings of GeekWok. You can check out the other posts and Videos HERE Part One and Part Two .
Lets take a look before this little chap is released and what you all be getting.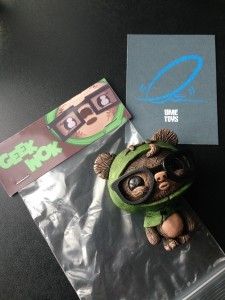 Say hello to GeekWok the cutest nerd this side of Endor. Standing a hairy 3 inches high this little chap is cast resin, hand painted, signed and numbered on the base.
This release sees him sporting an Endor green cowl. Only 20 Geekwoks will be available worldwide for this drop.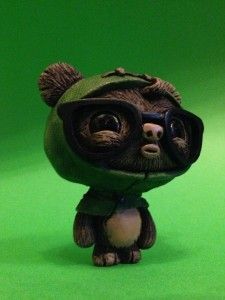 Great detail all round with the cheeks just swill puffing away where the glasses are. SO KAWAII!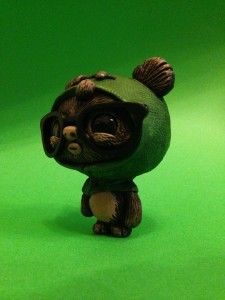 I thought the first colourway was nice but this green is on par. would love a whole army of GeekWoks!
I really like the little details like the little quiff and the big sticking on the hood.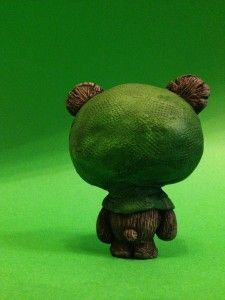 Even this little back side is cute, makes me want to pinch it.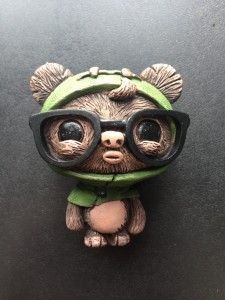 Even Jay-Z would be proud of GeekWok lips.
This is the second casting of GeekWok and he said that the mould is a lot better then the first one. So all you people who missed this release drop him a line and get a commission from MR UME.
I think UME Toys should make an accessories pack and more colour ways. Nudge nudge wink wink.
Happy F5 -ing
Visit Richard