BE PREPARED! Naomi Knaff and Planet X team up to bring you all a soft vinyl edition of "LAMORRTT", Blank or fully painted the ETA should be around MARCH. Naomi Knaff's signature creatures nearly ready to take over your collection. Lord knows if they bit or not, but what we do know is they will take a chunk outta your bank account. Great to see the queen of resin kaiju's transition into soft vinyl with  Hong Kongs Planet X!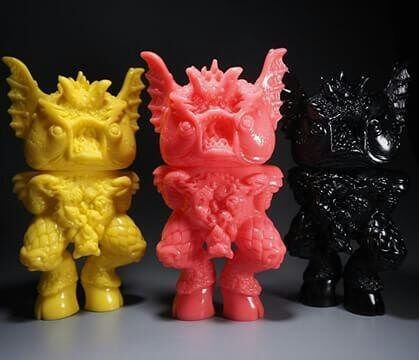 Right now they are in colour testing stages, stay tuned for further updates.
Need some Naomi Knaff Kaiju right now? http://www.naomiknaff.com/ has the answer.
If you want to get your Designer Toy news first, you should look to download our new TTC Mobile App. Designer Toy news direct to your smartphone. No dealing with social media algorithms.
It's FREE! 
Show Naomi Knaff some love on http://www.naomiknaff.com/, Instagram, Twitter & Facebook.