Can you believe we are almost at the middle point of 2017 already?! Where have the past few months gone? With the first half of 2017 coming to a close, so is the first part of the Paper & Plastick Soda Skulls & Alcohol Monkey Assassin Subscription series. Fear not though, that means the second part of this series is about to launch!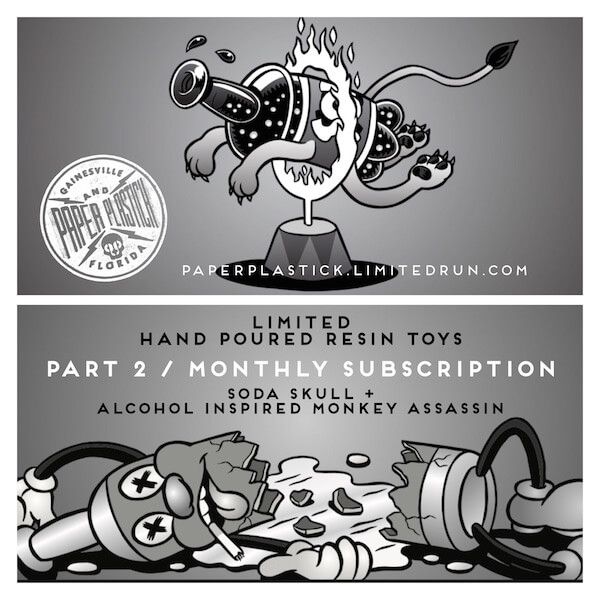 Dropping tomorrow (6th June) over on the Paper & Plastick site,  you can pre-order the Soda Skulls HERE and the Alcohol Monkey Assassin series HERE.
The second part of this bi-annual series sees the Alcohol Monkey Assassin series take on the following alcoholic beverages:
JULY- HURRICANE
AUGUST- BLUE HAWAIIAN
SEPTEMBER – BLACK AND TAN
OCTOBER- SANGRIA
NOVEMBER- MOJITO
DECEMBER- MIMOSA
With the Soda Skulls, you'll be able to enjoy the following flavours:
JULY- FANTA PINEAPPLE SODA
AUGUST- BIG RED SODA
SEPTEMBER – GREEN APPLE JONES SODA
OCTOBER- JOLT COLA
NOVEMBER- BAJA BLAST MOUNTAIN DEW
DECEMBER- HUBBA BUBBA BUBBLE GUM SODA
Something for everyone!
Whilst we don't have any official pictures to share of the next six-month releases, to give you an idea of what you're looking to receive let us take a look at the Jack & Coke release from January… these are the Alcohol Monkey Assassin series… makes you thirsty, right?