Oh, my days… Moon Crane Press just added another version of Capricorn by Camilla d'Errico! Like we said before, Capricorn by Camilla d'Errico x Moon Crane Press had our jaws on the floor when it caught our attention last month. Yesterday, Camilla updated the progress on Capricorn and lord save our bank account as its looking fantastic! Like we said previously HERE, Capricorn is a take on her Capricorn painting (pictured below) and we are very impressed with MoonCranePress how Capricorn progressed. NOW two versions have emerged and it looks like Moon Crane Press have started to take pre-orders!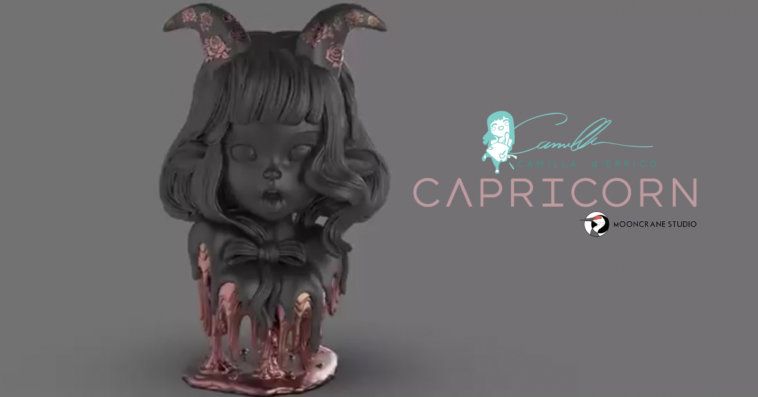 Who's ready for a Capricorn Sculpt update? 🙋‍♀ @mooncranepress is ready to start taking pre-orders of this incredible sculpture. Email them at [email protected] to get on the list ☺ There's 4 possible colorways that I'll be posting in the lead up to the launch and you'll pic.twitter.com/9Bl2Lp9v7J

— Camilla d'Errico (@Helmetgirl) September 3, 2019
There are 4 possible colourways that I'll be posting in the lead up to the launch.
14 Inches Tall.
Price: $350 + Shipping Shipping – (US, CANADA, ASIA  – $100) ( Europe – $130 ) (South America – $170) 
Payment by installments available.
Shipping ETA – First Quarter 2020
Colourways: – White/Gold- White/Blue/Gold- Black/Copper- Black/Silver

For those that are interested to email [email protected] to register your interest.
You can check out Camilla d'Errico on Facebook, Twitter & Instagram.
Find mooncranepress on Instagram.
---
---