Flat Bonnie's Flatness art show at Giant Robot Gallery (GR2) Los Angeles. The show opens this weekend. Flat Bonnie will be debuting new wall art Flatties and several new colorways of Flat Bonnie plush characters. We love the new wall art concept too, the Flatties are vinyl pleather versions of Flat Bonnie characters, stuffed and sewn onto a vinyl canvas! excellent idea and with about 40 plushies and wall art pieces on display it will be designer plush heaven.
[slider source="media: 27866,27867″ width="1000″ height="1000″ title="no"]
Hello, I'm Flat Bonnie!
I'm ready to go to my forever home.
I want to go everywhere with you,
and love to get my picture taken.
Flat Bonnie helps raise awareness of abandoned animals, and the importance
of adopting when you are ready for a new friend.
A generous portion of sales is donated to bunny/animal rescue
organizations monthly.
Flat Bonnie plushes are made with 100% animal friendly products.
[slider source="media: 27873,27869,27870,27868,27871,27872″ width="1000″ height="1000″ title="no"]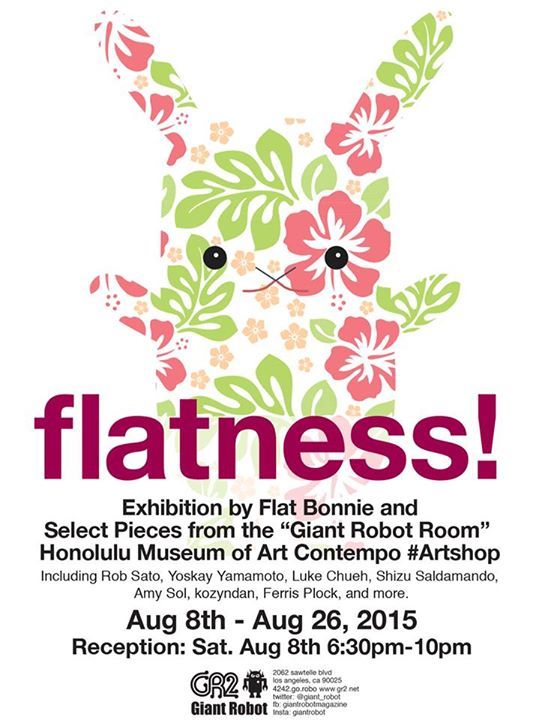 As always, FlatBonnie only use animal friendly products such as vinyl pleather and
faux fur.
GR2 Gallery is located at
2062 Sawtelle Blvd Los Angeles, CA 90025 4242.GO.ROBO (424.246.7626 new number!)
www.FlatBonnie.com
instagram.com/FlatBonnie
facebook.com/FlatBonnie
twitter.com/flatbonnie