From the artist who brought you the adorable and tasty Breadcat and Boxcat comes "YOHOREN" a whole different style compared to Breadcat and Boxcat but with a glimpse of what Korean artist Rato Kim did before the super successful Breadcat! Could YOHOREN be Korea's answer to Harry Potter? Who knows what the future holds, what we do know YOHOREN has a story behind it and YOHOREN looks so much like Rato Kim herself. Homing in on Rato Kim's love of Cosplay?
1. YOHOREN

I like mystery, myths, horror stories or movies.

I wanted to create a completely different genre from the cute BOXCAT I made in the meantime, and I wanted to make a toy that expresses me.

Motive of YOHOREN is Korean Jang San Monster.

The original [Jang San monster] was said to reside only in the mountains of Busan [Jang San] in Korea.

It does not know when it has existed since. In the meantime, it has appeared in Korean ghost stories, webtoons, novels, etc.

Even now, it is said that it is seen sometimes.

[Jang San monster] imitates a person's voice well, and psychologically says it harasses the prey. (* Similar to the Greek myth [Seiren]

It is called [Jang San Tiger] because it runs like a tiger in a silver hair. (* Its appearance is similar to Korean folk masks [lion masks].)

YOHOREN expressed in my personal interpretation is blind.

It is more sensitive to hearing because of lack of eyes, and big ears.

He has no soul. Good and evil are not clear, and they hunt according to instinct.

"Human fears are the most delicious." YOHOREN says with a smile.

2. HUNTER BOY

Hunter boy는 요괴를 잡는 헌터이다.

세상을 어지럽히는 요괴들을 잡아 [제 2세계]로 데려가는 것이 그의 역할이다. 그는 yohoren을 쫓고 있다.. 하지만 쉽지 않다.

YOHOREN은 산과 산을 통해 날아다닐수 있기 때문에 잡기 힘들다.

YOHOREN 이 인간을 해치기 전에 잡아야한다.. "방해하지마"

2. HUNTER BOY
Hunter boy is a hunter who catches the yokai.

Disturb the world is 'hunter boy' have to take them to the second world. He's chasing YOHOREN. But it is not easy.

YOHOREN is difficult to catch because it can fly through mountains and mountains.

YOHOREN must be caught before hurting human beings.

"Don't interrupt."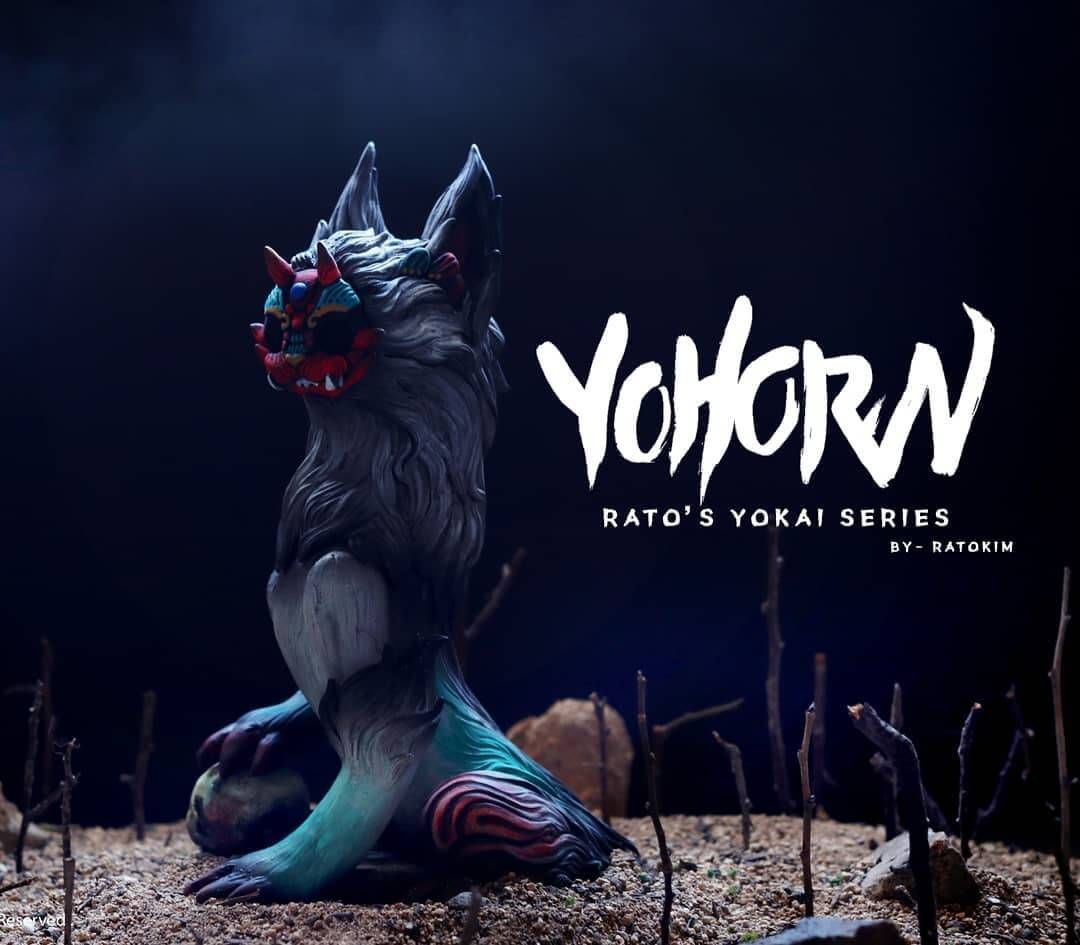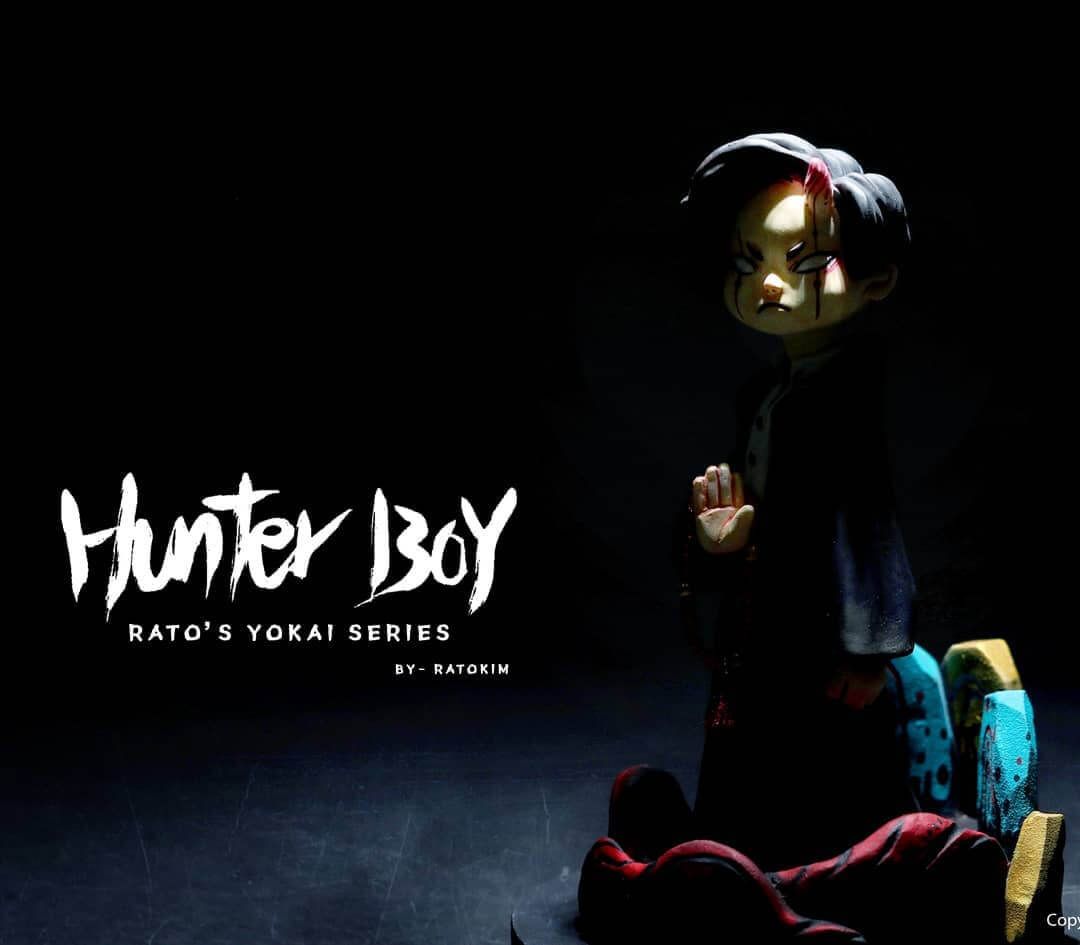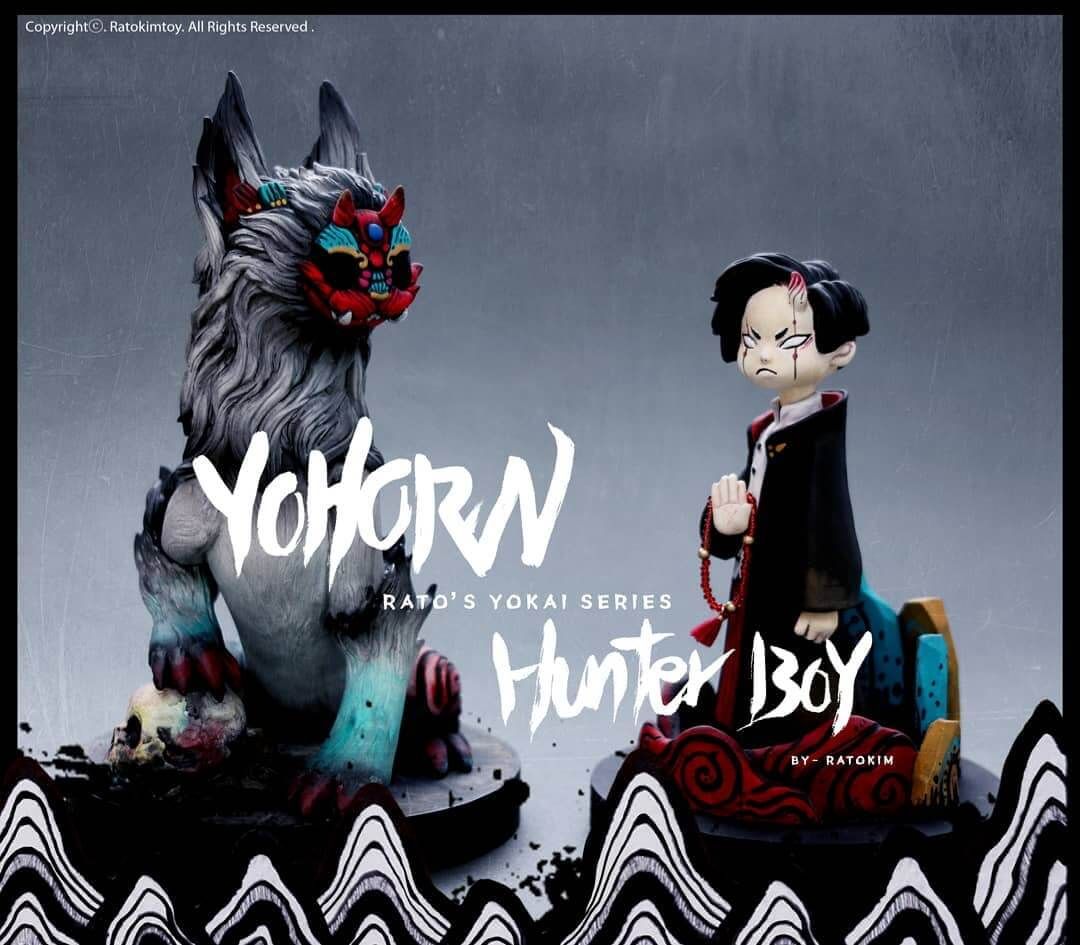 1. YOHOREN

나는 미스터리, 신화 , 공포 이야기 혹은 영화를 좋아한다.

그 동안 만들었던 귀여운 BOXCAT와는 전혀 다른 장르를 만들고 싶었고 , 나를 표현하는 스타일의 토이를 만들고 싶었다.

YOHOREN의 Motive는 한국 요괴 [장산범]이다.

오리지널의 [장산범]은 한국의 부산 [장산]이라는 산에서만 출몰한다고 알려져있다.

그것은 언제부터 존재하게 되었는지 알수없다. 그 동안 한국의 괴담,웹툰,소설 등에서 등장했었던 요괴이며, 현재까지도 가끔 목격된다고 한다.

[장산범]은 사람의 목소리를 잘 흉내내어 심리적으로 먹이[사람]을 괴롭혀 잡아먹는다고 한다. (*그리스 신화의 몬스터 [ Seiren ] 과 비슷하다.]

은빛 털을 휘날리며 호랑이 처럼 달린다 하여 [장산범]라고 불린다. (마치 사자탈과 비슷한 형상을 가지고있다.)

나의 개인적인 해석으로 표현한 YOHOREN은 눈이 없다. 눈이 없기 때문에 청력에 더욱 민감하며, 귀가 크다.

그는 영혼이 없다. 선과 악이 명확하지 않고 본능에 따라 사냥을 한다.

"인간의 두려움이 가장 맛있다"고 YOHOREN은 웃으며 말하고있다. – Rato Kim
We've spoken to Rato and she confirms the release will be very soon. Good to see Rato bring new art into the scene and everyone can have Rato as an art toy, HA! Yokai Series looks promising and can't wait for more updates. In the meantime, Rato has updated her Etsy store too filled with more Breadcat and Boxcat.
https://www.etsy.com/uk/shop/RatoKimTOY
Need a review of the soft vinyl edition Breadcat? Check our Facebook LIVE stream below.

Why not take a read of our interview and a little behind the scenes with the artist behind Breadcat  
HERE 
in our TTC Talks to Rato Kim.
You can get your daily Designer Toy fix from our TTC Mobile App. It's free too! FREE! Download on the iPhone or Android smartphones. Search for "The Toy Chronicle" and all your Designer Toy wishes will come true! Pretty much.
Did we fail to mention IT's FREE.
Don't forget to check out Rato Kim on Facebook & Instagram too!