Hands up if you're looking forward to the upcoming Vinyl Thoughts Art Show? Ok, ok, we're a little premature but, when Vinyl Thoughts posted their new banner (above) for the show, we got a little excited. Hosted in Dallas in September 2015, we already know that UK boys Gary 'Blue Frog' Boon and Uncle Absinthe will be flying the flag for this great Designer Toy nation. We are sure there will be more announced over the coming weeks/months. This years Vinyl Thoughts theme is Cinematic! So all the customs will be related to the big screen releases. Can. Not. Wait.
The Toy Chronicle loved the art work that was available last year at Vinyl Thoughts Art Show 5 – which you can check out the post HERE!
[frame align="center"]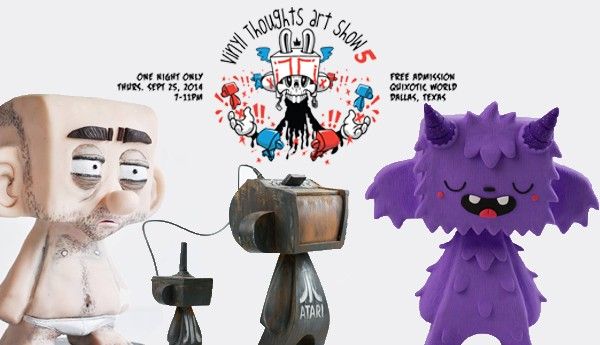 [/frame]
If you want to follow the Event on Facebook, you can do so HERE!