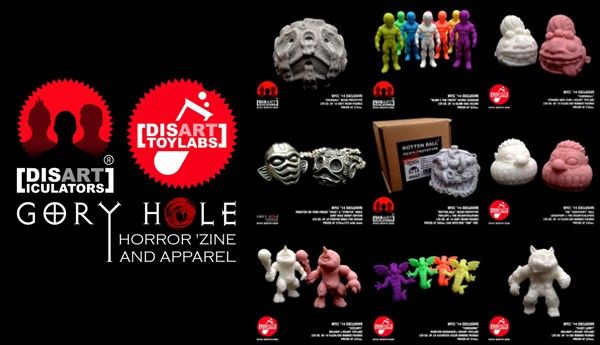 Having released a number of different exclusives under The Disarticulator, Disart ToyLabs and Gory Hole brands throughout NYCC last week,Tru:Tek are proud to finally reveal details of the leftover online sale! Featuring a number of figure debuts, limited prototypes and of course, THOSE "MoYF" rings, at least 2 of each of the original line-up have been held back for our online customers so there should be something there for everyone! Touching down in the Man-E-Toys store next Friday, October 24th at 9pm London time, here's a quick rundown of the goodies that'll be on offer…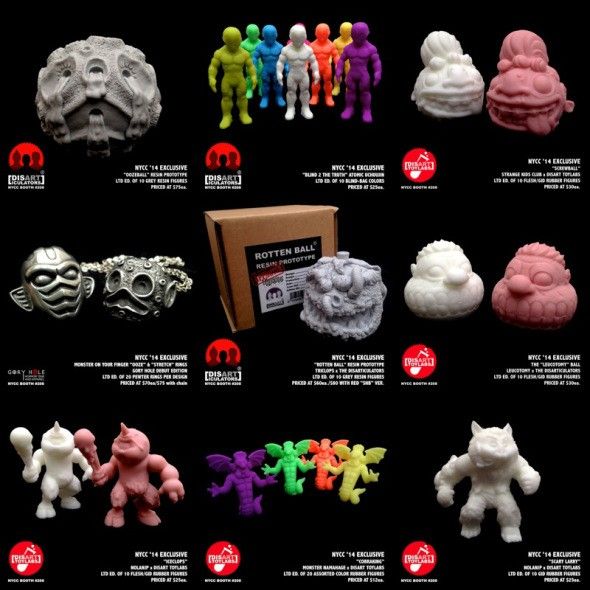 The Disarticulators
Oozeball Resin Prototype: It's finally here… the long awaited sofubi Oozeball! A follow-up to last years hugely popular keshi-ball release, the DA's Tru:Tek has completely redesigned the figure from the ground up for the new medium, opting for a more organic, Ooze-It like face, paper clay-style textures and the pièce de résistance… a hidden face inspired by Georges Méliès iconic 1902 silent movie, Le Voyage dans la Lune! Beautifully sculpted by none other than Zectron, the 2-part design has been upscaled from the original 2? diameter to little over 3?- making it both more in-keeping with the classic Madball scale, and, more interestingly, compatible with a wide variety of mid-sized kaiju with the base removed…

Debuting at the con in prototype form, a strictly limited batch of 10 grey resin casts were produced by Tru:Tek, each coming packed in a custom dated, signed and logged box for added authenticity. Priced at $75 a piece, only a couple of these guys remain… Stay tuned for details of the first online preorder in an unpainted, squishy "Ooze-It" green soft vinyl next week!
Rotten Tomato Resin Prototype: In celebration of the release of Triclops x Rampage Toys x Skull Head Butt's Rotten-X, The Disarticulators have decided to bring back the original Rotten Tomato figure as a super-limited resin prototype! Designed by Triclops, sculpted by The Disarticulators' Zectron and produced in a proto grey by Tru:Tek, the gross, maggot infested 3? ball comes safely packed in a similar custom dated, signed and logged box as the previously mentioned Oozeball…

Limited to a run of just 10 pieces, The Disarticulators are offering 5 of the protos alongside an extra special item- a blank red soft vinyl cast of the Rotten-X head from Rampage Toys and Marmit! NEVER to be repeated again, this could be your one and only chance of bagging a slice of unpainted SHB in the West… Priced at $60 for the standard release and just $80 for the set, again, just a couple remain of each!
Atomic Uchuujin "Blind to the Truth" Mystery Bag Edition: Having previously only seen 2 very limited con/event releases in the past, The Disarticulators' infamous Atomic Uchuujin returns for a special one-off blind bag release! Inspired by banned Ultra 7 character Alien S'Pell (head over to Ultraman Wiki here to find out more), the Zectron designed/sculpted figure has been produced in a UV resistant keshi-style rubber courtesy of Tru:Tek. Limited to an edition of 10 one-off tints and finishes – including the elusive "gift only" neon purple – the 2.5? tall figures come packed in premium foil bags, available for just $25 each.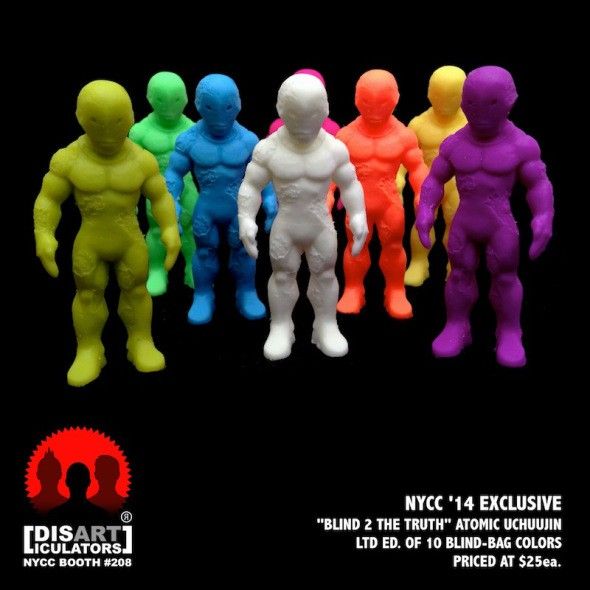 The Leucotomy Ball: UK apparel brand Leucotomy have teamed up with The Disarticulators for the release of their very own signature ball toy! Designed by Leucotomy's Gabe Mackenzie and sculpted by the hugely talented Zectron, the 2? ball – roughly the same scale as the previously released Oozeball – has been inspired by a Manga short story compilation (name forthcoming), blending a macabre, exposed flesh design along with elements from Cure's Thorn Ball Boogieman to devastating effect.

Debuting at the con in both flesh and GID colorways courtesy of Tru:Tek, both editions were limited to just 10 piece each, coming bagged and headed with art from Gabe for just $30 a piece. On top of the main runs, a number of blind-bag one-offs are also up for grabs, so be sure to head over to the store early to avoid disappointment!
Disart ToyLabs
"Bootleg Black" Bartholio (not pictured): Conceived by AshMadeThis and kit-bashed by our very own Tru:Tek with sculpted elements from NolanJP, the booted Beavis bendy toy has been recast in hard resin, this time around coming with a paint scheme by Ash inspired by the classic bootleg Bart Simpson tees of the 90's. Limited to an edition of just 10 figures – each coming with a unique shirt slogan – each comes bagged with a custom header from AshMadeThis for just $45 a pop…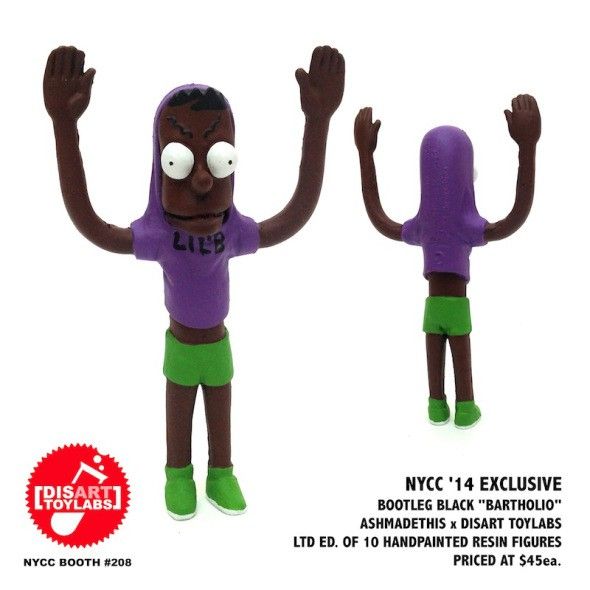 Iceclops: Originally revealed as a near-finished clay proto way back here in early July, NolanJP's second movie themed GPK-style figure, Iceclops, finally made his debut at NYCC this year! Paying tribute to Ray Harryhausen's iconic beast from 1958?s The 7th Voyage of Sinbad, the ingenious mash-up of monster and doll stands at around the same height as the previously released Scary Larry at 2.5?, coming complete with – in true GPK style – an icecream cone horn and lumbering mace. As with the Leucotomy Ball, Iceclops was produced in 2 of Disart's favourite colors; flesh and classic green GID, both coming cast up by Tru:Tek in a UV resistant, keshi-style rubber. Limited to just 10 of each, both editions have been packed in a GPK inspired foil pack for just $25 each… Calling all customisers! On top of the standard release, we will also be offering up a number of Icelops figures in a blank white resin- perfect for those looking to paint the little guy up! Packed in the same foil bags as the main release, these will set you back a slightly cheaper $20 each…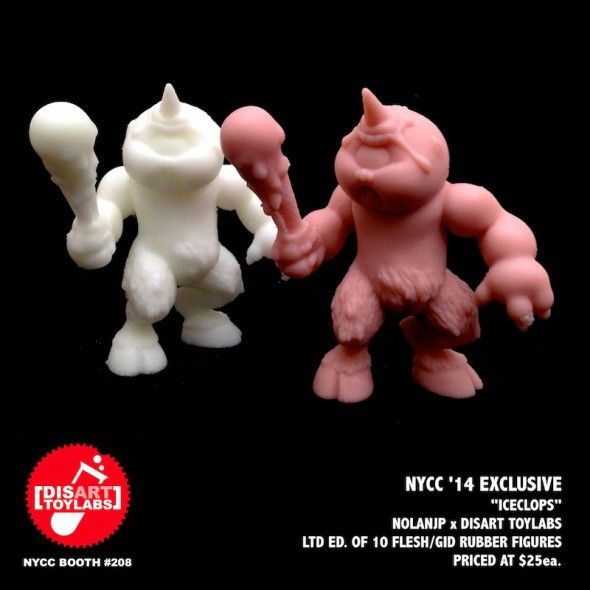 Scary Larry "GID" (My personal favourite and I hope to get this when its released ) : Joining Iceclops, NolanJP's original movie themed GPK-style figure, Scary Larry, returned for a special NYCC exclusive colorway! Bowing to the constant requests of fans, the wicked werewolf has finally been produced in a classic green GID rubber courtesy of Tru:Tek. As with Iceclops, Larry has been limited to an edition of just 10 figures, each coming packed in a premium foil bag for just $25 each…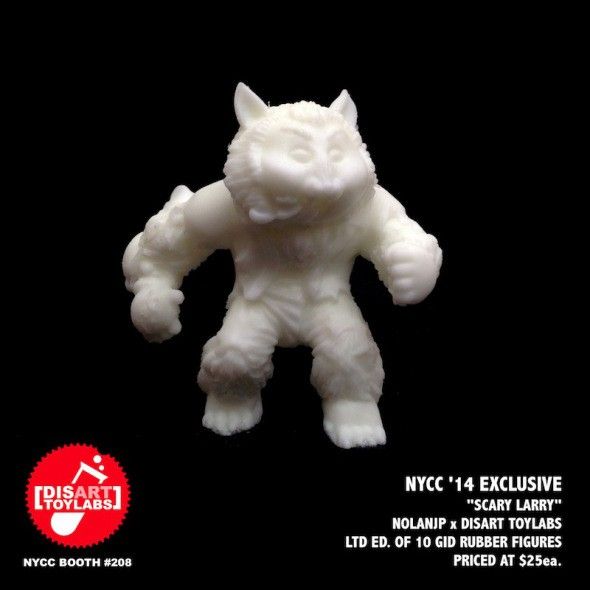 The "Strange Kid" Screwball: Originally debuting right here way back in June, the Disart ToyLabs' debut collaboration with Strange Kids Club – the Screwball – returned for an all-new NYCC exclusive release! Based on an illustration for SKC's ongoing Circle Jerks sticker line, the stunning gross-out sculpt was originally undertaken by artist Jose David Cifuentes Ulloa as a fan project, quickly sparking the interest of SKC editor, Rondall Scott III, and ultimately leading to a full scale toy release. 3D printed, prototyped and produced courtesy of Tru:Tek over at Disart ToyLabs, the 3? x 2? figure has been cast in both GID and flesh-toned rubber, limited to 10 of each and priced at just $30. As with the Leucotomy Ball, a number of blind-bag one-offs will be available, so be sure to check stock early to avoid disappointment!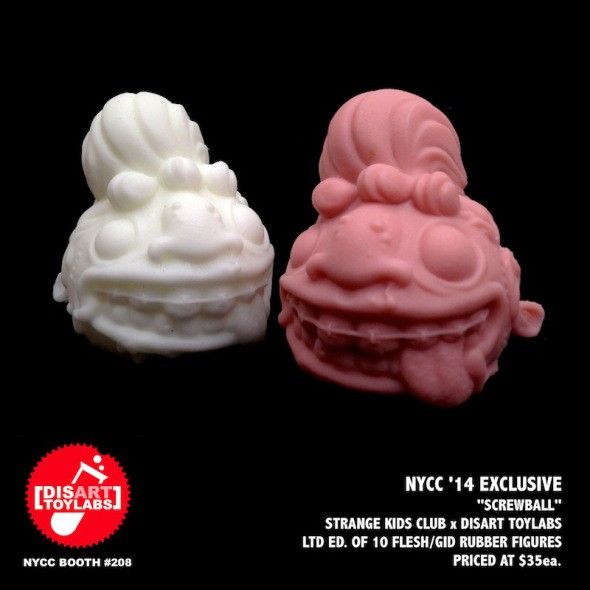 Pachi in Ya Packet "Cobraking": Waiting in the wings since it's first reveal way back in June, Disart ToyLabs' collaboration with Monster Namahage, the "Cobraking" custom bootleg mini will finally see the light of day at NYCC as part of Disart ToyLabs' "Pachi in Ya Pocket" series! Meticulously kit-bashed and re-sculpted from a mix of vintage mini figure designs, the 2? piece has been cast in a MIMP-style UV resistant rubber. Available blind bagged in a selection of classic neon hues, these will set you back just $12 a piece…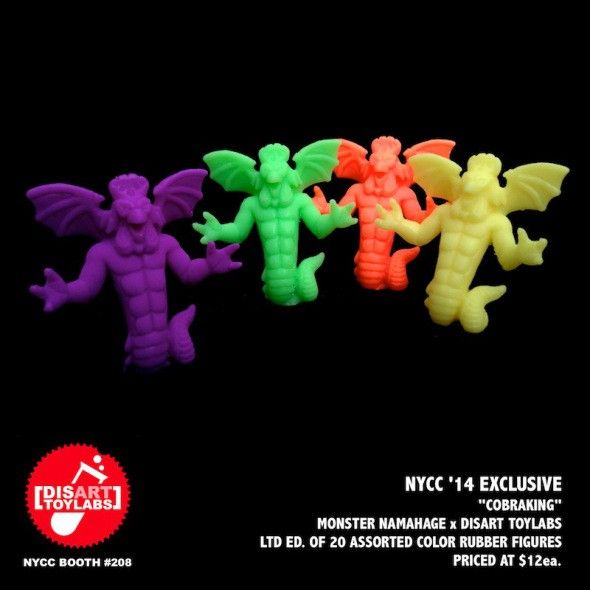 Gory Hole
The Ooze and Stretch "Monster on Your Finger" Rings: Previously unveiled here a couple of weeks back, the hotly tipped "Monster on Your Finger" series debuted at NYCC with 2 different designs on offer! Based on infamous bootleg monster toys of the 70's and 80's, the rather aptly titled "Ooze" and "Stretch" have been directly inspired by the Cosmos' Alien Ooze-It knock-off and the Japanese Stretch Monster bootleg. Produced in a patinated pewter courtesy of Baindots, the standard US size 10 rings have been limited to just 20 of each, coming packed in a drawstring bag with collector tag for $70 each. Worried the rings may be too big or too small? Well, along with plans to release more sizes in the future – albeit in a different material – we will be offering the rings with 24? silver plated chains for an extra $5 each…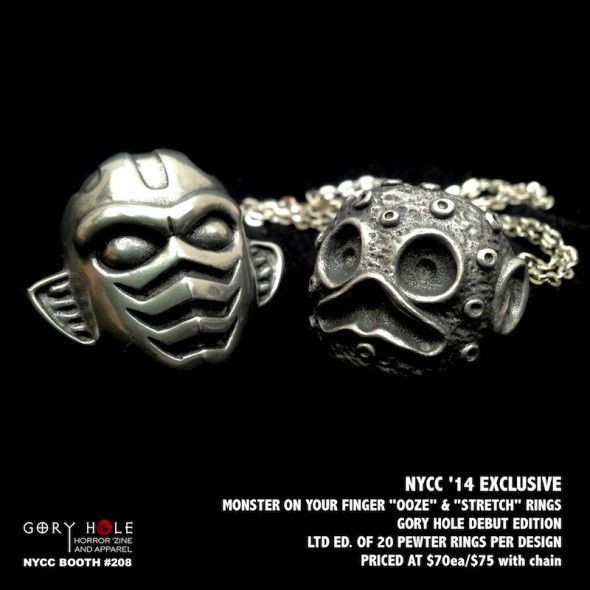 ( All information and photos lifted from man-e-toys)