Like they say "small packages come with big surprises" and Emelie Jensen aka Tomodachi Island gave us a surprise with her six custom Sleepwalker Offspring's from Kurobokan. A breath of fresh air seeing Emelie take on different platforms and silhouettes and judging from the photos it looks like Emelie enjoyed theses 6 mutts. Reading Emelie's blog post about these 6 made us like them even more as she goes through the thought process with each version. If you like the look of these 6 you'll have a chance to give them a new home.
My main objective was to create a nice gradient not only on each individual piece, but I wanted them to look like a gradient standing next to each-other too. So I started with spray painting them in the scale I thought would look nice. I tend to stick to certain colours that appeal to me and pink is something that is always reoccurring in my creations. It's just such a beautiful colour and it really works with everything! I tend to stay away from black however, but since it was the best contrasting colour to white I had to get out of my comfort-zone and go black black black…. Might do more of that in the future. Black is after all my favorite colour to wear, so I shouldn't really be as affraid of it as I am…. maybe? – Tomodachi Island 
I must say that my love for Sofubi is just growing bigger and bigger, and so is my collection of them too. They are so unique and special and like nothing else out there. I don't think you can fully appreciate them until you hold them in your hands or maybe that's just me…- Tomodachi Island 
[slider source="media: 109756,109751,109752,109753,109754,109755″ width="740″ height="740″ title="no"]
[carousel source="media: 109759,109762,109761,109760,109758,109757″ limit="56″ width="900″ height="900″ items="1″ title="no"]
Available from  BigCartel Store https://tomodachiisland.bigcartel.com/ on Friday the 28th of September @ 9.00 PM BST! They will be priced at £130 with Free WorldWide Shipping of course.
Will we see more Kurobokan and Tomodachi Island collaboration in the near future? WE hope so for our eye's sake.
Check out our interview with Tomodachi Island HERE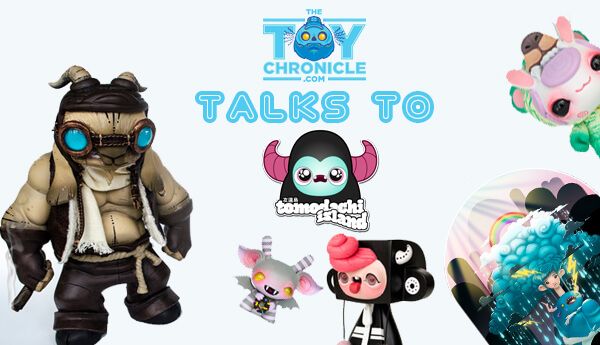 If you want to get your Designer Toy news first, you should look to download our new TTC Mobile App. Designer Toy news direct to your smartphone. No dealing with social media algorithms.
It's FREE.